'I wanted to achieve something myself' – An emotional Mick Schumacher opens up after F2 title win
Having clinched the Formula 2 title, Mick Schumacher knelt beside the PREMA machine that had just won him his second single-seater championship and took a moment. He would need a few of these in the aftermath of the Sprint Race, as he attempted to come to terms with what had just happened, pausing briefly during an interview, and apologising: "I am sorry, it is hard for me to talk. It might take some time [to sink in], but it is definitely a good feeling."
Schumacher – who will drive for Haas in Formula 1 next season – fittingly sealed his promotion into the pinnacle of motorsport with the F2 title, winning out over Ferrari Driver Academy rival Callum Ilott, thanks to an incredible tally of 10 podiums, including two wins.
ROAD TO F1: Schumacher seals F2 title in dramatic fashion as Daruvala takes maiden win
Asked whether taking a title into his rookie season of F1 would make a difference, the 21-year-old replied: "I think it's very important. Bringing a championship title with you on your CV into F1, that is great. I had one in [European] F3 and now I have one in F2 as well – one of the top championships to compete in.
"To win against great competition – Dan Ticktum in F3 and now Callum [Ilott] in F2, who I know very well from the FDA – has been a great challenge. The better the competition, the more you develop as a driver. I will carry everything through to F1."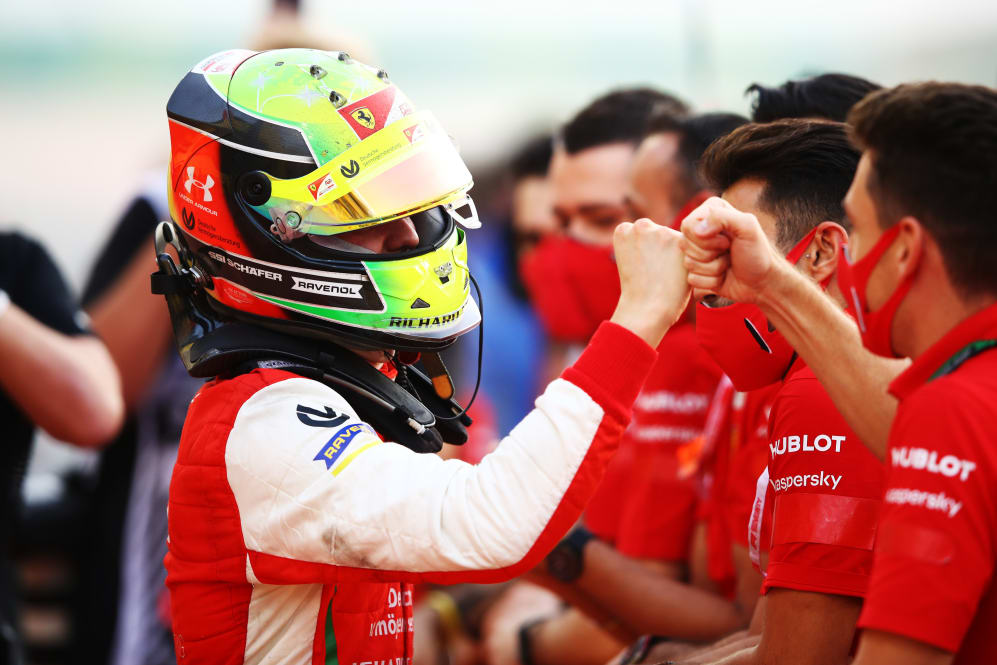 Finishing outside of the points for just the fourth time this season – and the first since Round 4 – it was a nervy final race for Schumacher. The German locked up heavily on the very first lap and damaged his tyres, which forced him into an unwanted pit stop after several further lock-ups.
Returning in 20th position, Schumacher would have lost the title had Ilott – then third – taken P2 and the fastest lap. But the UNI-Virtuosi racer suffered from heavy degradation and ultimately crossed the line 10th.
ANALYSIS: The inside line on how the Schumacher name returned to F1 - and what we should expect from Mick
"My goal was to win the last race, so I am a bit disappointed with my performance," conceded Schumacher, who finished in P18. "Nevertheless, we have done enough over the whole year to give us the opportunity to have a bad race.
"Today was anything but easy. It was very windy, very gusty, and very sandy – but what matters is that we are here now."
Schumacher clinched the F2 crown two decades on from his father's first F1 world championship with Ferrari, carrying with him a level of pressure that F2 has never seen before.
From the outside looking in, the German has always seemed so cool and collected, but was this actually the case?
"It was mainly that I had an expectation of myself," he explained. "I wanted to achieve something myself and I wanted to prove to myself that I am here for a reason.
READ MORE: Vettel happy to tell Mick Schumacher 'everything I know' ahead of young German's F1 debut
"Obviously, the start of the season wasn't what we planned – we didn't put everything together and that was mainly from my side; I think that the team was great all year long. But step by step, the podiums started rolling in, and those two victories as well.
"I think the relationship that I have with the team, it is really about that. I have known my F2 team for two years and the whole PREMA team for five years. I think that creates a bond, it creates trust and that is very important in a championship.
"When times were tough, we managed to stick together and motivate each other to keep on pushing, to keep on working on ourselves, to keep on striving to try and move forwards – and that is what we did."