'I wanted to see if I could help' – Russell on his brave post-Zhou crash reaction, and why he was frustrated not to take the restart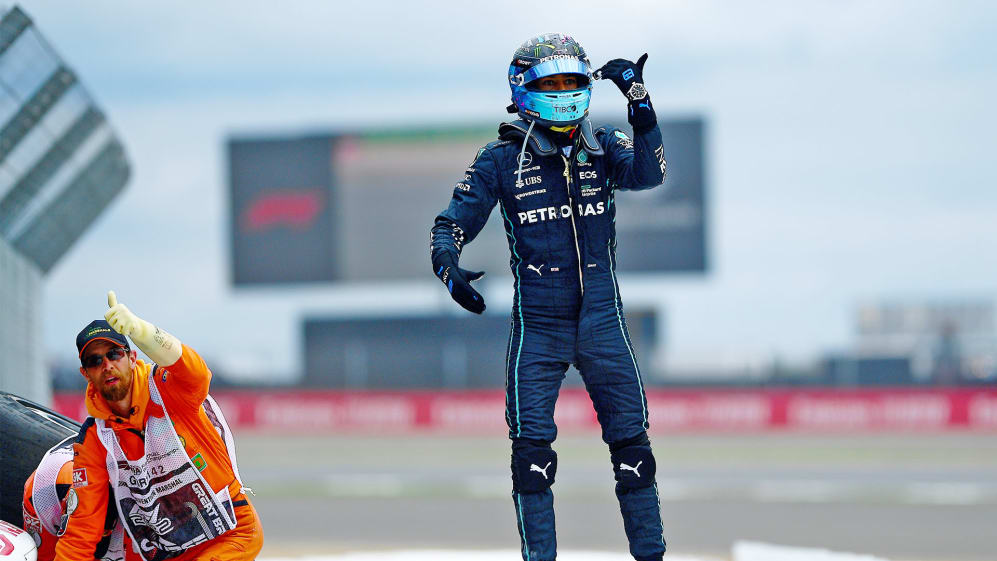 George Russell has described his collision with Zhou Guanyu at the start of the British Grand Prix, which sent the Chinese driver's Alfa Romeo flying into the catch fencing, as "horrible to see" – while opening up on why he rushed over to help the marshals, and why he was frustrated to not be able to take further part in the race._
Russell qualified in eighth and was the only driver to start the race on the hard tyres, with the hope of fighting for the podium at the end of the Grand Prix. And the Mercedes driver believes that decision cost him performance at the start – and played a contributing factor in the crash with Zhou and AlphaTauri's Pierre Gasly.
"We took a gamble starting on the hards because I didn't do a good enough job in qualifying, and we were starting out of position," said Russell. "We felt like it was our best opportunity to fight for a podium today, and it was.
READ MORE: Binotto says there was 'no way' for Leclerc to win the British GP after the Safety Car – but is he right?
"But we knew it would have been very difficult on Lap 1 and it turned out to be extremely difficult. I couldn't get any temperatures on the tyres on the formation lap, and I just got swamped by all the cars and next thing I know I got a touch from behind, [went] in the side of Zhou and we saw the rest."
After the crash, the race was red flagged and all the remaining drivers lined up in the pit lane, but Russell was seen running towards Zhou's Alfa Romeo, before standing on the barriers and beckoning the marshals to come to his aid – with the Chinese driver needing to be extracted from his car, which was lying on its side.
And Russell – one of the directors in the Grand Prix Drivers Association – opened up on his decision to run and try to help Zhou, while adding that he would have liked the chance to retake the start in his Mercedes W13.
READ MORE: 'That was Formula 1 at its best' says Hamilton after battling to P3 in home Grand Prix
"I saw the race was red flagged, so I knew it was safe to jump out," said Russell. "I wanted to go see if [Zhou] was okay and if I could have helped in anyway. When I came back, I couldn't get the car turned on, but I don't know, there was no reason why I shouldn't have been able to because the car was fine.
"I ran back to the team to check and when I came back, the car was on the flat bed [truck] already. I asked the marshal to make sure that they didn't pick the car up and as it turned out there was nothing wrong with the car bar a puncture. It's really frustrating because we had the pace to definitely come back through to P6 as a minimum. So many emotions... [but] glad to see that Zhou is doing okay. It's horrible to see an incident like that."
Meanwhile, on Twitter, current IndyCar racer Callum Ilott paid tribute to Russell's brave actions after the crash, writing: "The first time I flipped a go kart, [George] stopped on track to lift it off of me. He's always been a good egg since day 1, great role model for anyone."