'I was hopeful we were going to get a 1-2' says Hamilton, as he apologises for angry Dutch GP radio outbursts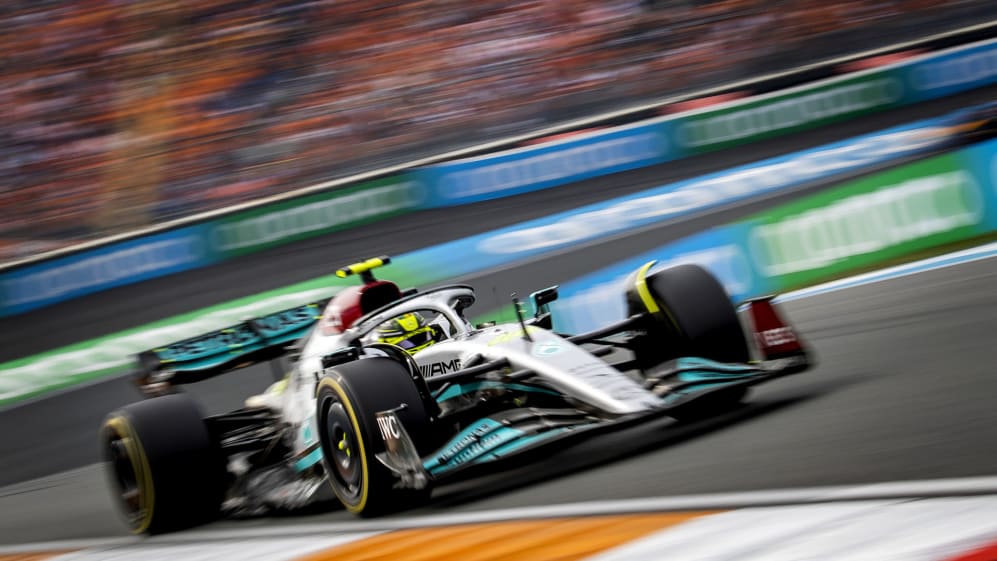 Lewis Hamilton turned the airwaves blue in the final stages of the Dutch Grand Prix, having seen a possible chance of victory snatched away by a late Safety Car. But a becalmed Hamilton was taking the positives from his Sunday despite finishing P4 – as team mate George Russell climbed past him to P2 at the flag.
With Mercedes showing strong pace throughout the Dutch Grand Prix, Hamilton had made his way up to P2 and was just 12s behind eventual winner Max Verstappen when racing resumed on Lap 50 of 72 after a Virtual Safety Car.
However, a Safety Car was called six laps later after Valtteri Bottas pulled up on the main straight, Verstappen, Russell and Charles Leclerc diving into the pits for soft tyres as Hamilton stayed out on his mediums, inheriting the lead.
READ MORE: Verstappen wins dramatic Dutch GP as Russell and Leclerc complete podium after late Safety Car
However, when green flag racing resumed, he was immediately passed by Verstappen, with Russell and Leclerc following suit to leave a furious Hamilton P4 by the chequered. "I can't believe you guys ****ed me. I can't tell you how ****ed I am," yelled Hamilton into the radio.
But fortunately for the awaiting media, he'd calmed down by the time he faced the cameras post-race.
"My apologies to the team because I don't even remember what I said," smiled Hamilton. "It was like I just lost it for a second, but I think they know it's just so much passion.
"We were just challenged with a lot of things, with the VSCs, and the Safety Cars," added Hamilton. "I think the strategy and the car had been so good up on to that point, the pit stops were fantastic, the best that we had had all year. It was geeing me up, I was thinking the guys are really, really on it today, we are all on it. I was really hopeful that we were going to get a one-two together as a team.
"Especially after – we've had not a great year, an up and down year, we've not had a win since Brazil. And it's finally there within our grasp but the Safety Car really didn't help. I was just on the edge of breaking point with emotions.
READ MORE: Sainz calls his Dutch GP a 'mess' after pit stop trouble and penalty drop him to P8
"I want to look at it as a glass half full, we came here struggling from the last race. We were fighting against the Red Bulls today. We were quicker than most at many points; without the Safety Car, we would have been challenging them for the win on the one-stop, which I don't think the others could do.
"So, many great things to take from it. The car was finally working. If this can be the same in the future races, we are going to continue to breathe down their necks and we are going to get that win."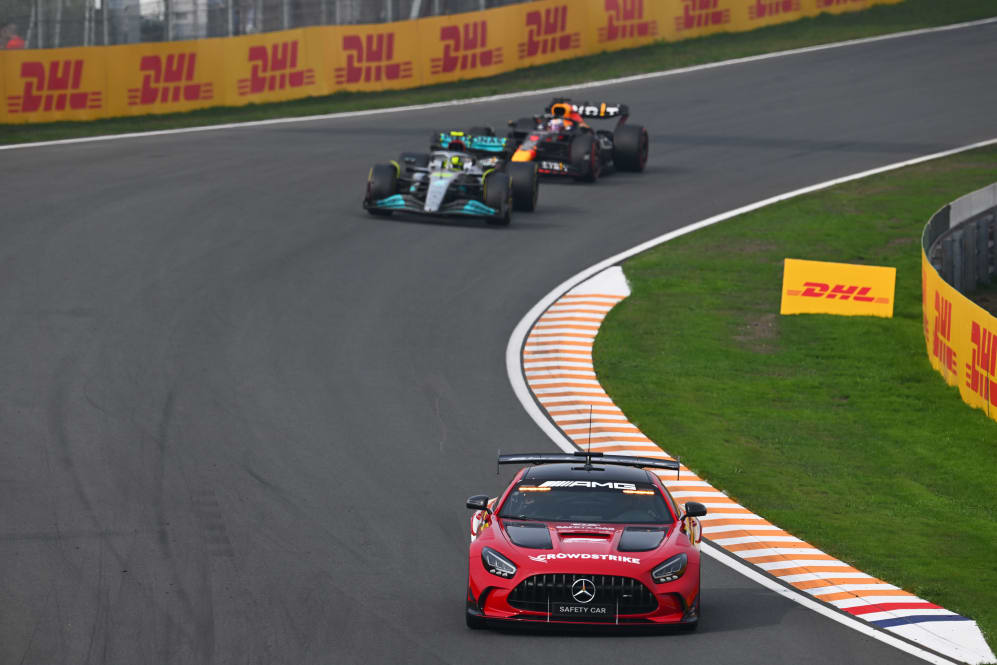 Despite the positives, Hamilton couldn't hide his frustration after a missed shot for a first pole of the season on Saturday – Sergio Perez spun in front of him in Q3, bringing out yellow flags – with the Mercedes man feeling that that could have helped his race prospects further, as he started P4.
"The thing is, last race [in Spa] we were miles away – we couldn't even understand how we could be that far away, 1.7s or whatever it was, two seconds," said Hamilton. "And then yesterday I was pole up until the last corner. I was 0.7s up on Max.
FACTS AND STATS: A career first for Verstappen with four wins on the bounce
"They are quicker than us on the straight, so even if I had got through the last corner quicker than them, most likely they would have just pipped me by the line, but still there is a huge positive to take from that.
"And then our race pace seems to be better or as good as everyone. So, if we can just close that up – if we finished the lap yesterday, we would have been third or second perhaps and we would have been in a much different position in that race.
"So, I'm taking all these positives forward. So grateful for the team and their hard work because it's been a tough slog for all of them. And yeah, let's not give up."