Hamilton and Russell hope to fight Ferrari and Red Bull on Sunday after 'unfortunate' end to Zandvoort qualifying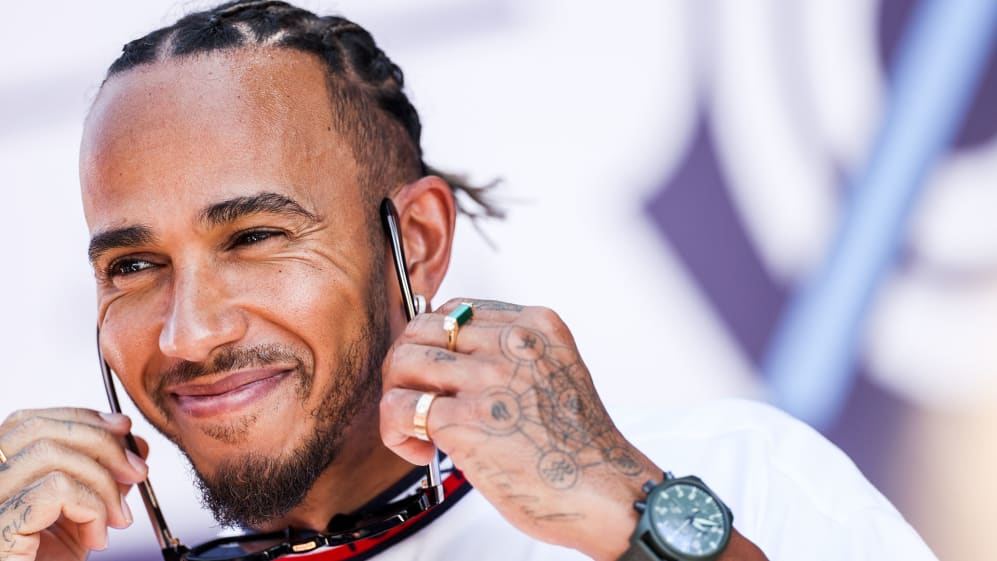 Lewis Hamilton and George Russell had their final Q3 runs cut short by Sergio Perez's spin in qualifying for the 2022 Dutch Grand Prix. And while both were left frustrated, the Mercedes drivers had plenty to look forward to for Sunday's race.
Hamilton qualified three-tenths off pole position and didn't have the chance to improve when Perez spun at the end of Q3. But the Briton still ensured he would start ahead of the second Red Bull in P4 on the grid for Sunday's Dutch Grand Prix.
READ MORE: Verstappen says he took 'full risk' to nail pole position for home race as Perez explains Q3 spin
"I generally feel good," began Hamilton. "I'm really happy that the car has finally felt alive this weekend. And… only being a tenth behind a Red Bull was a great feeling and really gave me a lot of hope that I could fight for the front row, but then obviously the yellow flag at the end was a bit unfortunate, but that's motor racing.
"We've closed the gap somehow on [a single] lap. I can't really understand why but anyways. But I am hoping that that means we are closer and even closer in the race and if we are that would be fantastic. If we can fight these guys and have a battle with these three ahead of me, that would be an amazing experience."
Russell was less happy in qualifying sixth – behind Perez – for the race as he will share the third row with the Red Bull driver, but said he could still fight for a podium on Sunday.
Asked how he was feeling, Russell replied: "Not brilliant to be honest. The car was feeling great all weekend. I had a really strong feeling after FP3 but it just didn't really click for me today.
READ MORE: 'It's good to finally be back' says Leclerc despite losing out on Zandvoort pole to Verstappen
"I don't really know why and ultimately it was the lack of performance in Q2 that cost me in Q3, because we had to take that second set of tyres, so I only had the one set available in Q3, and then obviously with the yellow [flag] I couldn't get my lap in. So, a little bit frustrating.
"You can look like a hero or a zero, and today it didn't quite work for us. But P6 is not a terrible place to start. It's going to be vital Turn 1, first few laps, but I see no reason why we can't fight for a podium."
Russell added that with both Ferraris attacking Verstappen on Lap 1, and Perez starting fifth, Mercedes have an even better chance to usurp their rivals.
"I hope they [Ferrari] put all of their focus on Max because that may leave them vulnerable to be honest, because I think Max is just going to clear off into the distance. I think we probably will have a faster car than Ferrari and Checo tomorrow. So, we've got to go for it.
"I hope it's as hot as possible, I hope it's as many stops as possible to give us that opportunity. Some teams did long runs this morning and the degradation seemed better than expected. It doesn't take a lot, a couple of degrees of track temperature can swing it one way or another, so as I said, I hope the sun comes out."