'I was just playing around' says Bottas as he denies team friction over fastest lap attempt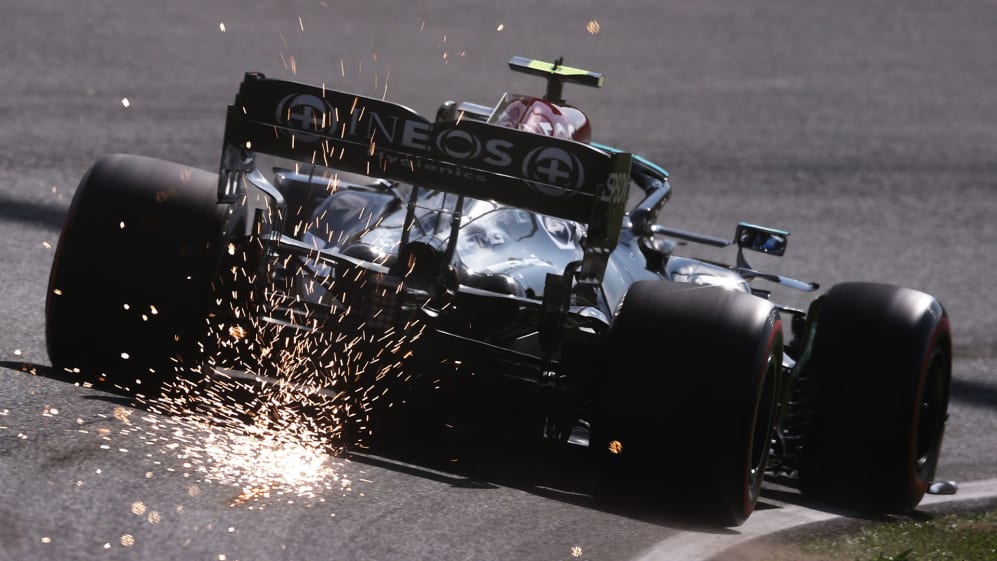 There appeared to be tension on the Mercedes pit wall at the tail-end of the Dutch Grand Prix as Valtteri Bottas briefly snatched fastest lap, and the bonus point that comes with it, away from team mate Lewis Hamilton. But Bottas, who eventually finished P3 behind Max Verstappen and Hamilton, denied disobeying team orders when he faced the media after the race.
Having failed to match the front-running pace of eventual winner Verstappen and Hamilton throughout the Dutch Grand Prix, Bottas was brought in from third place for new soft tyres on Lap 67 of 72, but instructed not to attempt fastest lap – with Mercedes telling him the stop had been "precautionary" after the Finn had questioned the move.
READ MORE: Verstappen sends home fans wild with victory over Hamilton amid party atmosphere at the Dutch GP
But Bottas then proceeded to set the fastest first two sectors of the race on his next lap, forcing Mercedes' Chief Strategist James Vowles onto the radio to tell him to "abort" his fastest lap attempt. Bottas was nonetheless quick enough to take the fastest lap away from Hamilton with his effort, only for Hamilton to respond by reclaiming it on the final lap of the race, having made his own late stop for softs.
So, had there been tension at Mercedes?
"To be honest, there was quite a big gap ahead, a big gap behind. For safety reasons, it was a good thing to stop," said Bottas, whose future at Mercedes is in question, as rumours continue to link George Russell to his seat for 2022. "I was pushing on the first lap, Sector 1 and 2 like flat-out and then they started asking me to slow down at the end of the lap.
"I was just playing around really," he added, "because obviously Lewis needs that one extra point more than me. He's fighting for the world championship in the drivers', and as a team, we're trying to get the maximum points, so that's how it is.
"I knew Lewis was going to stop as well, that information I had and I knew that with a decent amount of lifting in the last sector [from me], he will get it, so no drama."
READ MORE: 'It's an amazing day' says Verstappen after retaking title lead with emotional home win
Hamilton, too, denied that there had been any issues at the team, telling the press: "It doesn't really matter. If Valtteri had got it, that would have been fine. At the end of the day, we needed to get the fastest lap, as many points as we can as a team, so if Valtteri gets it or I get it, it doesn't really make a huge difference.
"I didn't even know that Valtteri had stopped, I was completely unaware of that. It was my choice to stop, I needed that extra point, so I did. It was fine."
That wasn't the only drama in Bottas' race, meanwhile, with the Finn also having to take avoiding action after Sebastian Vettel spun his Aston Martin on the banking at Turn 3 on Lap 37 (see the video above), with Bottas explaining how he'd viewed the incident.
"[Seb] was battling with another car in Turn 3," said Bottas, "and then I don't know if they touched but Seb suddenly spun and was going up the banking and then down, so I had to choose if I go left or right. I decided to go right when I saw he was starting to come down, so luckily that was the right choice. One of the big highlights of my race…"
READ MORE: Mercedes got it wrong on strategy says Hamilton – but admits Verstappen was 'on another level'
Bottas and Hamilton's 34 points to Red Bull's 29 at the Dutch Grand Prix – as Sergio Perez recovered from a pit lane start to take P8 – saw the Silver Arrows move 12 points clear of Red Bull in the constructors' standings, as F1 now heads to Monza for the Italian Grand Prix on September 10-12.