'I will never give up' – Bottas elated to answer critics with Russian Grand Prix victory
"A nice moment to thank my critics. And to whom it may concern…" – you know the rest. Valtteri Bottas signed off with his signature radio message and was clearly delighted to show those who have questioned his ability what he can do after cruising to a second Grand Prix victory of 2020 in Russia.
Bottas secured his first win since the season-opener with a consummate performance in Sochi, jumping Max Verstappen off the line to run second, before moving into the lead when Mercedes team mate Lewis Hamilton - facing 10-second's worth of time penalties - pitted on lap 16.
He eventually won by seven seconds from runner-up Verstappen, with Hamilton another 15s back, before delivering that pointed radio message. The Finn maintained he wasn't affected by internet trolls and harsh messages on social media before the Grand Prix, and was seeking to inspire, not denigrate with his message.
READ MORE: Bottas eases to Sochi win over Verstappen as penalty leaves Hamilton P3
"No, it's not been playing on my mind," he said of the criticism, "but I don't get people who have the need to criticise people. And there's been people telling me that I should not bother, and I should give up but, how I am, I will never do that. I just wanted to send my best wishes to them. It just came out.
"But the main thing is I am confident when I come to every race weekend, I believe I can do it and that's how I am always going to be. You have to have that mindset. I'm glad.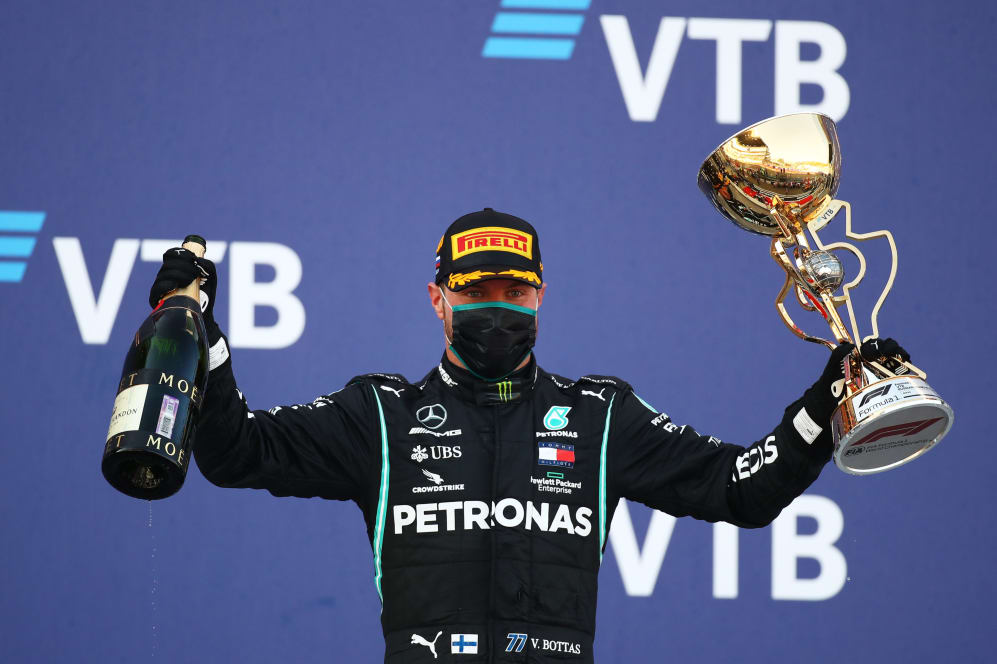 "Yesterday was tough; I didn't give up, I knew there would be positives and there would be opportunities. Things came to me today. I hope it can encourage people not to give up because that's the biggest thing you can do in your life."
READ MORE: Punk rock and pizzas – Getting to know the real Valtteri Bottas
Bottas's job was made easier thanks to a 10s time penalty for polesitter Hamilton that saw the Finn win his ninth career race, with an extra point for fastest lap. After bad luck at Silverstone with a tyre issue and a near miss at Mugello, he said it was about time things went his way.
"It's been so close many times and I feel my race pace, especially this season, has been quite a bit better than any season before," he explained. "It's been a bit annoying that it's been close but nearly there [in past races].
Things can't go against you forever...
"Things definitely did go my way today, but as I said, things can't go against you forever. So definitely, really satisfying today to get the win. Felt like it was well earned.
"Obviously I consider myself lucky as well with Lewis's penalty but yeah, otherwise it was a strong race and really I feel that it can give me a good confidence boost and good momentum for the next races."
READ MORE: 'Ridiculous he didn't get a penalty' – Stroll furious with 'sloppy' Leclerc after Lap 1 clash
A week-long break follows, but Bottas surely won't be letting up as he readies for the 11th round of the championship at the Nurburgring. What seemed like a near untenable 55-point gap in the championship to Hamilton before Russia is now down to 44 points.
2020
Drivers' standings after the Russian Grand Prix
POSITION
POINTS

1

Lewis

Hamilton

Mercedes

205

2

Valtteri

Bottas

Mercedes

161