Feature
IDEAL LAP: How much scope is there for Ferrari to improve?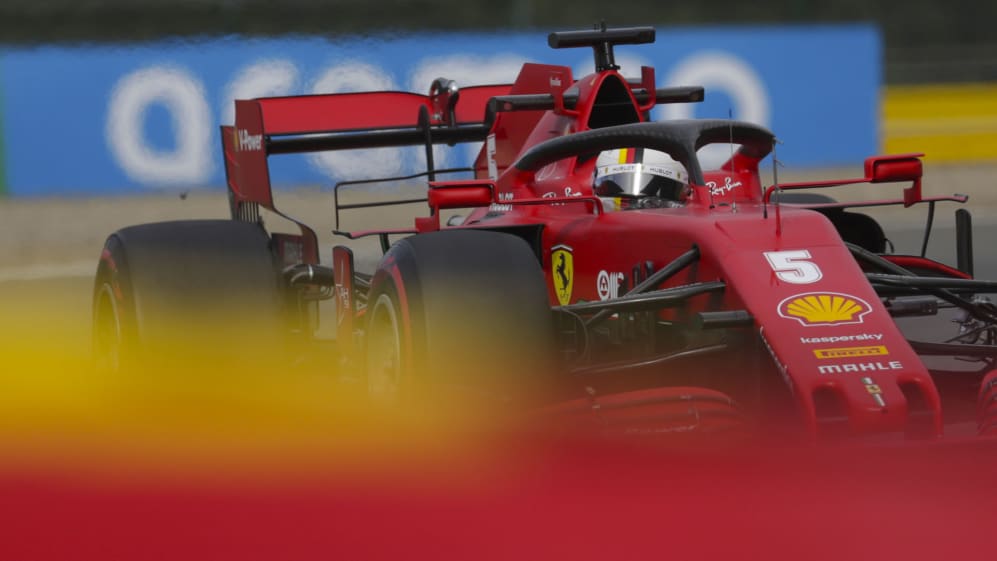 Red Bull's Max Verstappen set the pace at Spa Francorchamps on Friday, but as our data shows, had Lewis Hamilton combined his best mini-sectors, he would have been a second quicker - and top of the pile. And what of Ferrari - is it really as bad as it looks?
The graph below plots a driver's classified lap time against his ideal lap time. What's an ideal lap time? Allow us to explain…
Ideal lap explained
An F1 track is broken into three sectors for timing purposes. However, those sectors are also split into smaller 'loops' or mini-sectors. In our ideal lap calculation, we add together a driver's quickest individual loop times from a session, regardless of which lap they were set on.
This gives us a theoretical best lap for each driver i.e. what their fastest lap time would look like if they set their best times in each loop on the same lap. If there is a large gap between a driver's actual lap time and their ideal lap time on the graph, that suggests they are potentially able to lap a lot faster than they showed in any given session. All they need to do is hook up a perfect lap…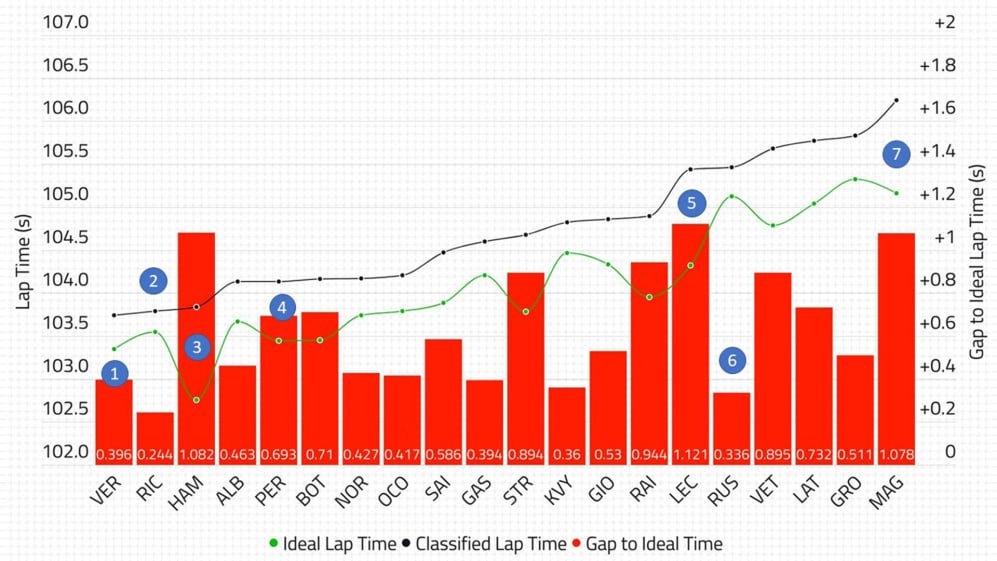 What the graph shows
1. Red Bull appear to be in the fight
This was not a circuit Red Bull will have marked out as one where they could challenge for top honours, but on the evidence of Friday's running, they are very much in the mix. Max Verstappen was quickest of all on the timesheets, but left 0.4s on the table based on our data, which overall would have put him in a very impressive second.
2. Ricciardo should still be cheerful
No one likes to pull over with a mechanical issue at any point during the race weekend, but that's what Daniel Ricciardo was forced to do after the team requested it as a precaution following a loss of hydraulic pressure. At that point, he was second on the timesheet. But was it real? Well had he combined his best mini-sectors, he had an extra 0.25s in his pocket and was very much in the mix for a top three spot.
3. Hamilton left plenty on the table
For a change, Mercedes did not take their customary position at the top of the timesheet in Friday practice – with world champion Lewis Hamilton 'down' in third place. But if he had managed to hook up all his best mini-sectors, the Briton would have been a staggering one second quicker, which in turn would have put him comfortably ahead of the rest of the field. Food for thought for the rest...
4. Perez in the hunt for a podium
Racing Point were desperate for Sergio Perez to recover from his positive Covid-19 test and return to the car – and on Friday he proved why yet again. The Mexican could have nailed a lap that was 0.693s quicker had he got everything together, which would have put him inside the top five and within a smidgen of the second-best time.
5. Ferrari in a spot of bother
There were glum faces at Ferrari after a dreadful Friday practice at Spa and our ideal lap data doesn't really give them any more reason to be hopeful. Charles Leclerc said the team were surprised to be so far back, but even if he had got all his best mini sectors together, he would have only finished one, maybe two places higher, and still well adrift of the top 10.
6. Ferrari flatter Williams pace
George Russell beat one of the Ferraris in FP2, something which he admitted was "unexpected" but our mini-sector data shows that had everyone hooked up their best lap, while Russell had 0.336s to gain, he would have dropped down the order, behind his team mate Nicholas Latifi but still ahead of both Haas cars.
7. Haas firmly on the backfoot
This was not the Haas team's day. They didn't set a lap in FP1, because of engine issues, and while they eventually got out in FP2, they were always playing catch up. Kevin Magnussen left a second on the table, according to our data, but even then, he was among the slowest two cars, quicker only than his team mate. Work to do overnight.