Feature
IDEAL LAP: Is Bottas's Sochi speed advantage real – or does Hamilton have more in hand?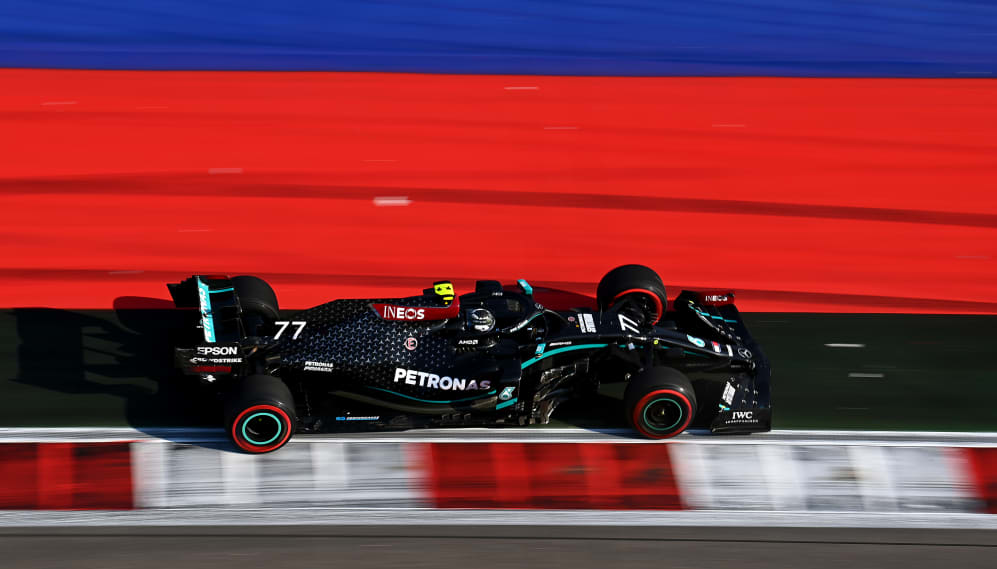 The Sochi Autodrom fits Valtteri Bottas like a glove, the Finn having performed well in Russia for Williams, before claiming his first win at the venue in 2017 and then following it up with two successive second places. He was quickest again in Friday practice for this weekend's race – but if every driver had nailed their perfect lap, would he still be on top? Let's have a look at the numbers.
The graph below plots a driver's classified lap time against his ideal lap time. What's an ideal lap time? Allow us to explain…
FP2 REPORT: Bottas heads Hamilton in second practice at Sochi as Ricciardo impresses in P3
Ideal lap explained
An F1 track is broken into three sectors for timing purposes. However, those sectors are also split into smaller 'loops' or mini-sectors. In our ideal lap calculation, we add together a driver's quickest individual loop times from a session, regardless of which lap they were set on.
This gives us a theoretical best lap for each driver i.e. what their fastest lap time would look like if they set their best times in each loop on the same lap. If there is a large gap between a driver's actual lap time and their ideal lap time on the graph, that suggests they are potentially able to lap a lot faster than they showed in any given session. All they need to do is hook up a perfect lap…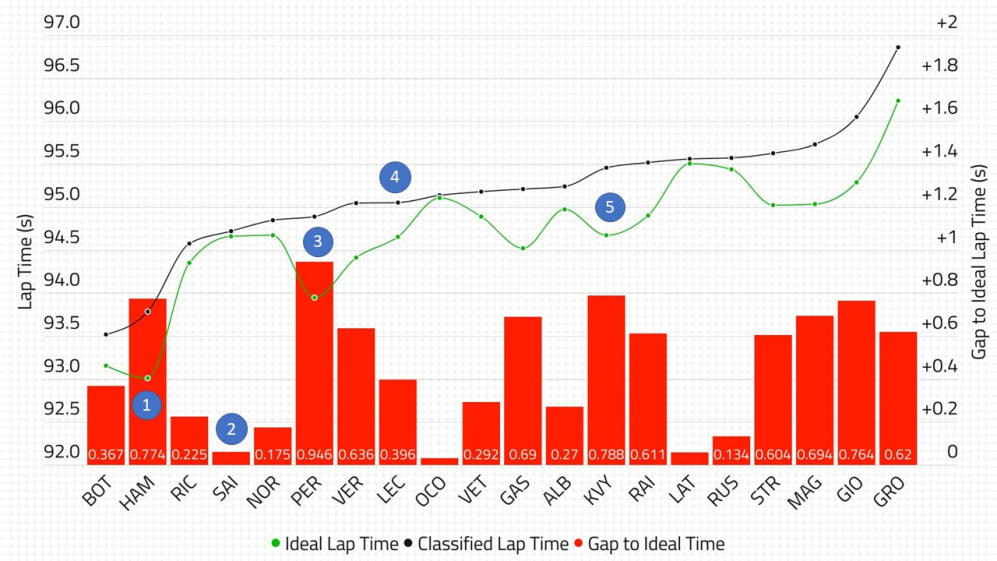 What the graph shows
1. Bottas tops the timing charts, but Hamilton is potentially faster
The timing charts make great reading for Bottas, the Finn topping the time sheets across both Friday practice sessions in Sochi. However, he left 0.367s on the table, according to our data, with some of that time lost when four-wheel drifting through the final turn.
But there was even more time available to team mate Lewis Hamilton, three quarters of a second in fact, and had he managed to put it all together in one lap, the reigning world champion would be fastest of them all.
2. Sainz gets everything out of the car
This was not the smoothest day for Carlos Sainz, the Spaniard losing the car and damaging the rear wing with his crash in FP1. However, he recovered his afternoon quickly, with the Spaniard among the last to do his low-fuel run on soft tyres in the second session. That lap was close to his ultimate best, our data suggesting he only had 0.06s in his pocket.
READ MORE: Sainz apologises to McLaren for 'unnecessary stress' after FP1 crash
3. Perez has the most to gain after struggling
Sergio Perez was in fine form after Friday practice, the Mexican delighted with how the car felt with regards balance and pure performance. But interestingly, from our data, it could have been even better, as the Racing Point driver left 0.946s on the table. That would have put him third overall in the rankings, three places better off than his actual FP2 finishing spot.
4. Leclerc surprised by time given pace
The time sheets didn't look bad for Ferrari considering their pace in recent races, with Charles Leclerc eighth quickest only 0.3s slower than Sainz in P4. However, both drivers said the car didn't feel as good as the pace suggested and they felt there was more to come. Our data suggests that if Leclerc had put all his best mini sectors together, he could have gone four tenths quicker, which would put him on par with the McLarens and not too far off Daniel Ricciardo.
5. Kvyat has plenty left in the tank
There was early frustration for Daniil Kvyat in front of his home fans when the Russian lost control of his AlphaTauri and spun round in FP1. The Russian said there is some work to do on the balance, to get the car to his liking, while our data suggests that if he knitted all his best mini-sectors together, he could have set a lap that was 0.788s quicker than his best on Friday.