Feature
IDEAL LAP: Verstappen fastest on day 1 in Turkey - but did others leave time on the table?
Max Verstappen rose to the top of the charts on an unusual opening day of practice for the returning Turkish Grand Prix, but if every driver had managed to put their best mini-sectors together, would the Red Bull driver still have lead the way? Time to crunch the numbers?
The graph below plots a driver's classified lap time against his ideal lap time. What's an ideal lap time? Allow us to explain…
Ideal lap explained
An F1 track is broken into three sectors for timing purposes. However, those sectors are also split into smaller 'loops' or mini-sectors. In our ideal lap calculation, we add together a driver's quickest individual loop times from a session, regardless of which lap they were set on.
This gives us a theoretical best lap for each driver i.e. what their fastest lap time would look like if they set their best times in each loop on the same lap. If there is a large gap between a driver's actual lap time and their ideal lap time on the graph, that suggests they are potentially able to lap a lot faster than they showed in any given session. All they need to do is hook up a perfect lap…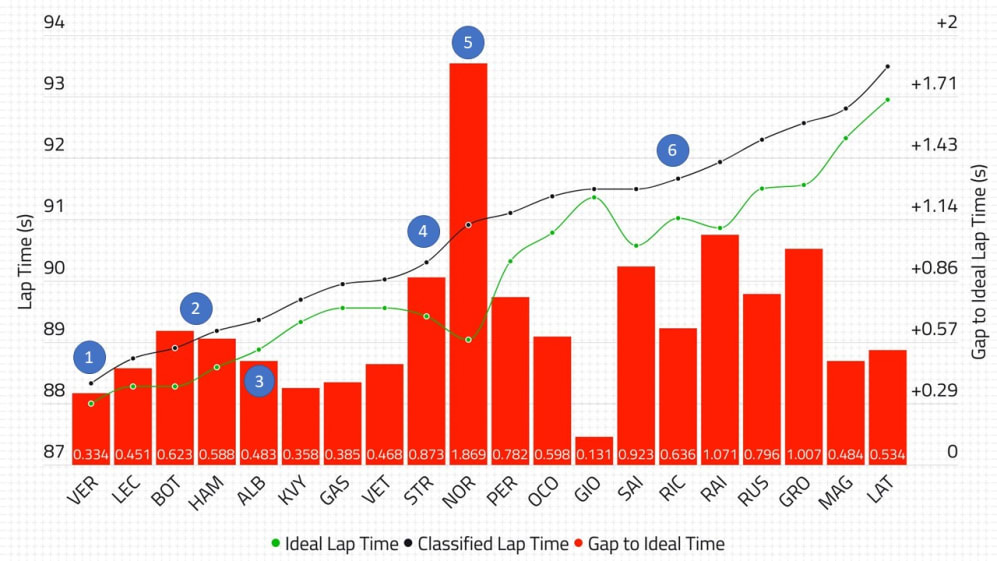 What the graph shows
1 – Verstappen ultimately quickest at Istanbul Park
Verstappen was in unison with his rivals about the incredibly slippery conditions at a resurfaced Istanbul Park, the Red Bull driver not immune from struggling for grip, but he coped best of the 20 drivers, and found the most speed as he led the way by 0.4s. And there's more to come, as if he had hooked up all his best mini-sectors, he could have been 0.334s quicker, and still led the way with everyone else's revised times.
READ MORE: Verstappen seals Friday clean sweep as he heads Leclerc in second Istanbul practice
2 – Bottas and Hamilton have more to come
This was a rare off day for Mercedes, the newly-crowned world champions simply not at the races, as they ended up behind a Red Bull and a Ferrari. Lewis Hamilton described it as "terrifying" out there, so slippery was the track, and that'll explain he could have gone nearly 0.6s quicker. Valtteri Bottas left 0.623 on the table, which would have pulled him level with Charles Leclerc's best time, but it's still not a match for Verstappen.
READ MORE: 'It was a bit of a disaster' - Hamilton frustrated with Mercedes' Friday struggles in Turkey
3 – Albon shows some speed after tough run
Alex Albon seemed to be one of the few drivers who didn't mind the sliding around, as he featured up towards the top of the times consistently. He faded towards the end of the session, but he still ended up fifth quickest, and had he got all his best mini-sectors together – he had a lap deleted for track limits – he would have been a tenth closer to team mate Verstappen.
4 – Stroll has work to do to get comfortable
While the AlphaTauris coped best with the conditions of the midfield teams, Racing Point didn't look as comfortable, with Lance Stroll and Sergio Perez leaving 0.9 and 0.8s respectively on the table as they failed to hook their best mini sectors together. Had Stroll done so, he would have finished two places higher in seventh, only a fraction of Daniil Kvyat.
5 – Norris has the most to gain of all
"Drift school", as Lando Norris put it, was not the birthday present he was anticipating but he still managed to finish inside the top 10. And the good news for the Briton and his McLaren team is that if he gets everything right, combining his mini-sectors, he has a massive 1.869s – significantly more than anyone else – to gain, which would put him up to sixth, almost on par with Albon.
READ MORE: Sainz sums up first day's running in Turkey as 'the strangest Friday in my life'
6 – Ricciardo and Renault have a lot of homework
This was Renault's most disappointing Friday since Spain, the French manufacturer having improved dramatically to emerge as the third best team on the grid. Esteban Ocon was 12th and Daniel Ricciardo down in 15th, the latter leaving 0.636s on the table. The Australian remained buoyant, saying the team found something positive at the end of the session, but they'll need to get it altogether and make progress fast in FP3 - especially with third place in the constructors' standings in the balance against rivals McLaren and Racing Point.