'I'm afraid to brake' – Norris says low Friday lap count down to chest pains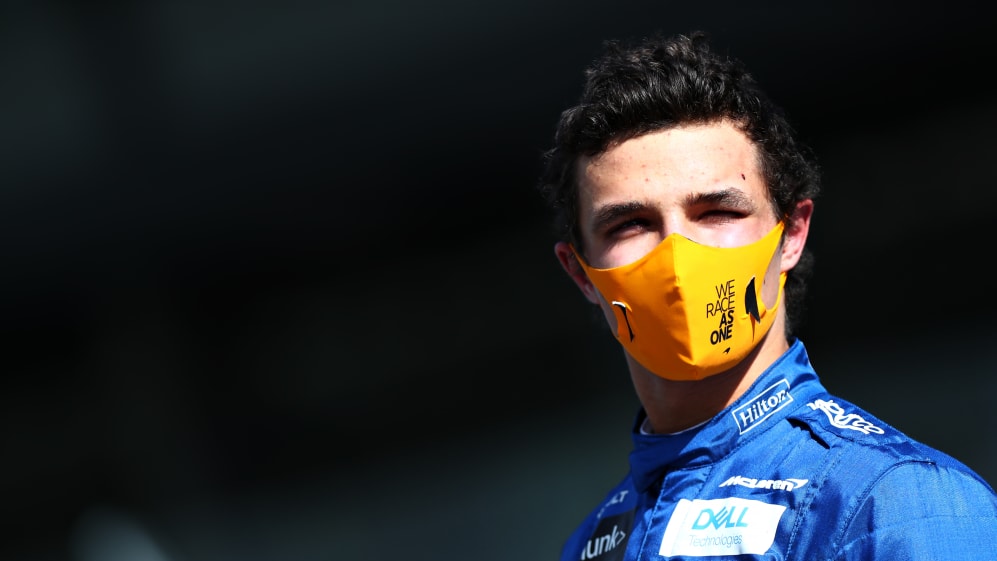 From the highs of taking his first F1 podium last weekend, Lando Norris was brought back down to Earth on the Friday of the Styrian Grand Prix, after receiving a grid drop for a misdemeanour in Free Practice 1, before an onset of chest pains left him "afraid to brake" in his McLaren MCL35.
Norris' Friday started badly after he was deemed by the stewards to have failed to slow sufficiently under yellow flags during FP1, with Norris passing the Racing Point of Sergio Perez and AlphaTauri of Pierre Gasly on the track before getting his speed in check.
FP2 REPORT: Verstappen heads Bottas and Perez at the Red Bull Ring as Ricciardo crashes
"A bit of a silly move by me," said Norris on Friday evening. "I just saw the yellow flag, I was on a push lap at the time and two of the other guys were on a slow lap, or an out lap. They pulled over to let me past knowing I was on my push lap. I've let off when I've seen the yellow flags and I braked, but I just haven't braked and gone to the same speed as them.
"The rules are the rules. It's unfortunate because I let off, but I just didn't do everything I should have done."
READ MORE: Ferrari is 'like a different car' on high fuel after new upgrades, says Vettel
After being handed a three-place grid penalty and two penalty points by the stewards – making a repeat of his P3 starting position from the Austrian Grand Prix last week impossible – Norris' woes were then compounded when he developed a physical issue which forced him to reduce his lap count, as he managed just 56 across the day to team mate Carlos Sainz's 85.
"It's just something, I don't know where, in my chest or something," said Norris, who revealed that he'd taken painkillers for the issue and consulted a specialist. "I hit the brakes and in the compression, it spikes up massively, so I'm just afraid to brake anywhere, which is not ideal around here.
"It's been setting me back a lot today," he added. "It's been pretty frustrating. I've not felt confident in the car in terms of pushing it and so on, so hopefully I can get fixed and be ready for the next [session]."
Norris' painful day left him P8 in Free Practice 2, 0.881s adrift of Max Verstappen's session-leading time. But Norris confessed that the pace of the Racing Points, and particularly Sergio Perez, who finished third in the session, had been an eye-opener.
"The Racing Points were extremely quick today," said Norris, who also finished three places back and around two-tenths adrift of team mate Sainz, "which I think kind of highlighted how good of a job we did around here last weekend, or how bad of a job they did – either/or, maybe both.
READ MORE: 'Down to the drivers' to make the difference in tight McLaren/Racing Point battle, says Perez
"Today we saw a bit more of the true representation of what they can achieve. But at the same time it wasn't our smoothest of days and I was slower than Carlos so I'd have a lot more to come if I was in tip-top condition. We've just got to focus on ourselves and see what we can do in qualifying."