'Down to the drivers' to make the difference in tight McLaren/Racing Point battle, says Perez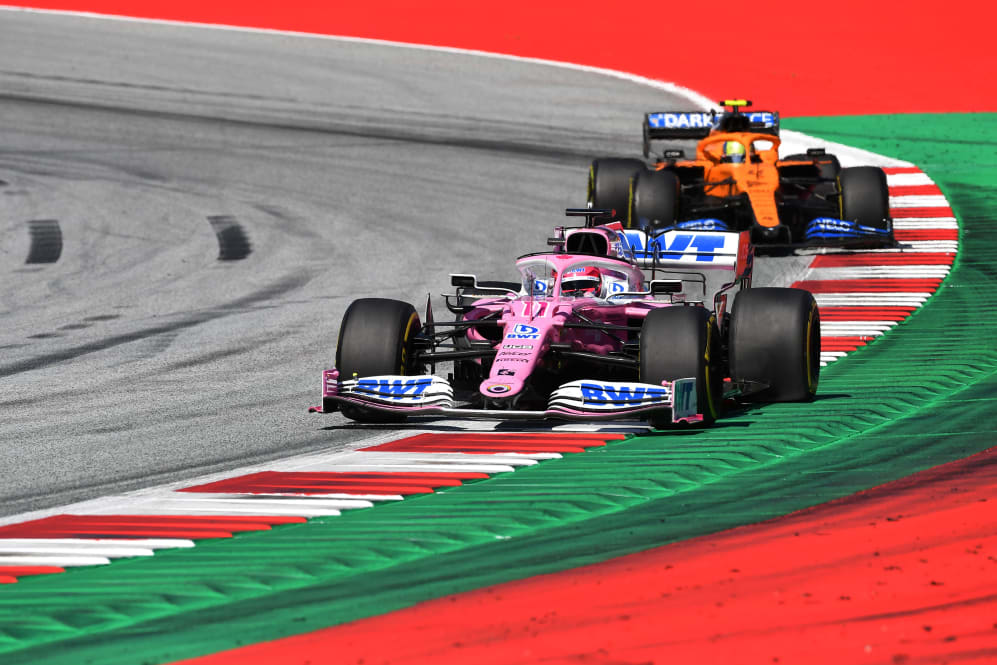 Who has the stronger package in 2020: Racing Point or McLaren? Well, according to Racing Point's Sergio Perez, the two leading midfield teams are so well-matched currently that there's only one main performance differentiator: the drivers.
Racing Point caused a stir last Friday in Austria when Perez set the third fastest time in the all-important Free Practice 2 session, which features the teams' first proper qualifying simulations of the weekend.
But McLaren hit back in both qualifying and the race, with Lando Norris ending up P3 on the grid, compared to Perez in P6, while the two drivers then finished the race in those positions, with Perez's strong early race performance compromised by Racing Point's pit stop strategy.
READ MORE: 'Frustrating to see a podium slip away' says Racing Point boss after mixed Austria result
"Certainly the margin is extremely tight," said Perez, when asked on the Thursday leading up to the Styrian Grand Prix whether McLaren or Racing Point were quicker. "Half a tenth changes your life completely in that mix so it's early days. I think we were just very unlucky last weekend with everything that panned out. [McLaren] maximised the weekend more than we did – and hopefully this weekend we can turn that around.
"They were ahead in qualifying," Perez added. "I overtook them in the race… then they overtook us back, so I'll say it's very much even. It's down to the drivers, for now."
"I think it's so tight between us and McLaren and Ferrari," agreed Perez's team mate Lance Stroll, who retired from the race last weekend with a power unit issue. "It really depends on the lap and ultimately, I don't think it's really possible to say at this stage who's quicker, who's in front, because it's so tight.
"This weekend we definitely want to take another step forward, improve our package, start further up the grid and definitely grab some more points."
FORM GUIDE: Can Bottas stay on top in Austria for the Styrian Grand Prix?
Meanwhile, Perez confirmed that the team had been working hard in the few days they'd had since the end of the Austrian Grand Prix to try and take another step in performance.
"I hope we still have some margin to improve," said Perez. "The low speed and medium speed are the weaknesses in our car... but in high speed it's been relatively strong.
"We are new on this car, so I think this weekend will be a really good test for us too. We already came up with some ideas to try during the weekend and see how much we can progress, relative to the others, because everyone's going to be finding stuff from last weekend. I don't think anyone out there maximised their car potential at all as a package. So hopefully this weekend we can do another step."