'I'm hustling out there' – Sainz admits he's using 'techniques I'm not used to' to get on top of 2022 Ferrari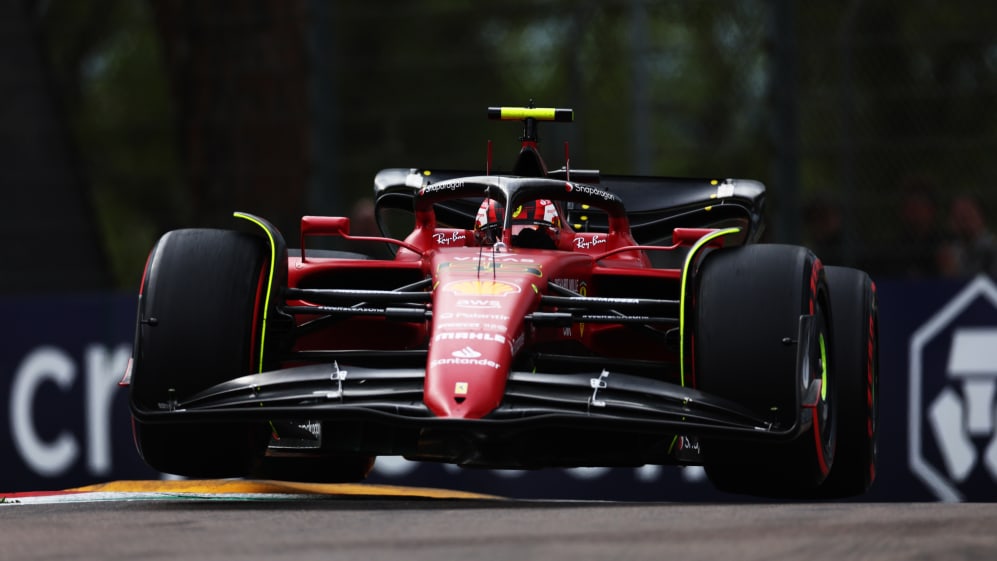 Carlos Sainz is confident that he can be "as fast as anyone" once he gets to grips with the Ferrari F1-75. But speaking at Imola, the Spaniard – who sits fifth in the drivers' standings, 48 points behind team mate and championship leader Charles Leclerc – admitted he was "still not 100% happy with the car".
Sainz started the season strongly, with a P2 finish in Bahrain and a P3 finish in Saudi Arabia. However, a crash on Lap 2 of the race in Australia was followed up by another error in qualifying at Imola that saw him spin into the wall (see the video below).
And Sainz – who would be taken out of the Emilia Romagna Grand Prix after a first-lap coming together with Daniel Ricciardo, for which the Australian would later apologise – admitted that he is still not "100% happy" behind the wheel of the 2022-spec Ferrari.
READ MORE: 'I paid for Ricciardo's mistake' says Sainz, after ending second straight race in gravel trap
"I'm glad I look from the outside comfortable," said Sainz, speaking after recovering from P10 to P4 in the Imola Sprint. "On the inside, it's not comfortable yet. I'm still not as smooth as I'd like to be, and mistakes like [in qualifying] prove that maybe I'm still not 100% happy with the car and understanding it fully. But I'm hustling out there.
"I'm trying my best to get it up to my liking, to change my driving – and mistakes are going to come when you're challenging yourself like that."
Sainz – who recently signed a new two-year contract extension to remain with Ferrari – said that more time behind the wheel was the only solution to getting on top of the Ferrari, adding that there were "no magic weapons" that can help make him comfortable with the car.
"Honestly, I think it's a combination of both," said Sainz, when asked if he needed to adapt his driving, or whether the team could help bring the car more towards his liking. "There are no magic weapons. You have to do something from your side as a driver, and I'm having to do techniques and driving that I'm not used to doing in order to be fast with this car.
READ MORE: 6 Winners and 5 Losers for the 2022 Emilia Romagna Grand Prix: Who made the best of the mixed conditions?
"And at the same time, I need some testing and I need some free practices to try things and bring it more to my liking, and for that I need FP1s and FP2s. As soon as I find the balance that I like and the combination with my driving, I know I can be as fast as anyone out there."