'I'm incredibly disappointed in myself' says Hamilton, as Mercedes drivers explain sensational pair of Q3 crashes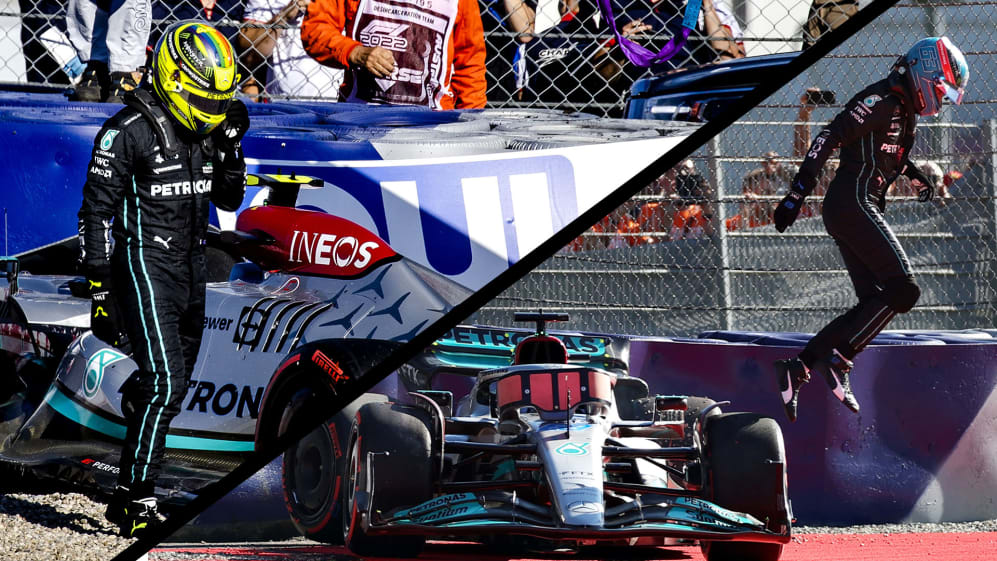 Mercedes looked to be right back in the hunt in Friday evening's qualifying session at the Austrian Grand Prix – right back in the hunt, that is, until first Lewis Hamilton then George Russell stuffed their W13s in the wall in Q3, leaving them P5 and P10 respectively for Saturday's Sprint.
Fresh from setting the third-fastest time in Q2 at the Red Bull Ring, Hamilton was lapping the compact Austrian track when the back end of his Mercedes stepped out going through Turn 7, with Hamilton powerless to stop himself slamming into the barriers, causing significant front-end damage to his W13.
READ MORE: Verstappen beats Ferraris to pole in Austria as both Mercedes crash out of Q3
As if that wasn't bad enough, mere minutes after the Hamilton-induced red flag stoppage, Russell then lost the back end of his Mercedes going through Turn 10, backing into the barriers to bring out another red flag.
Reflecting on his crash after qualifying, Hamilton said: "I'm incredibly disappointed in myself, ultimately, and so sorry to the team. Everybody worked so hard to put this car together and I never like to bring it back damaged, and we were fighting for a top-three I think. I don't have an answer for it. I swapped the back end in Turn 7 and that was that."
Asked if he was at least encouraged by the turn of pace he'd shown in qualifying, meanwhile, Hamilton replied: "I'm encouraged of course by our performance, it's just we weren't expecting to be as close as that today, so that's a positive from the team – but I'm really quite far back. I don't know what's possible from there, but we have a Sprint race as well tomorrow, so I hope I can make up some lost time."
AS IT HAPPENED: Follow all the action from qualifying for the Austrian Grand Prix
Russell's outlook is slightly brighter, meanwhile, with the Briton having claimed P5 on the grid before his crash. But Russell admitted he was worried about what state his car would be in once it was recovered to the garage.
"We need to review the crash damage," said Russell, when asked if netting P5 before the crash was a lucky escape. "There's nothing lucky or fortunate about a mistake like that… I could have been P4, I was a tenth up on my lap, then absolutely went for it, because I thought there was an opportunity for third, and it turns out probably not. But we just need to see how much damage it's done. Sorry to the team and the guys in the garage.
"We ordinarily have better race pace than quali pace and we're definitely there in the fight," he added. "As a team, it was probably our best qualifying of the year in terms of pace but probably the worst in terms of outcome. That's racing. I'm personally going through a tricky couple of races at the moment but we've got tomorrow to make up for it."
READ MORE: F1 Commission agrees tweaks to financial regulations
You'd have forgiven Team Principal Toto Wolff for being a tad unimpressed by the outcome of qualifying. But on the contrary, the Austrian put a proverbial arm around his drivers, saying: "These two should never beat… themselves up because of this situation, because of crashing out.
"We've given them a car that wasn't on par for 10 races in a row and now we're starting to come to terms and we're able to drive in front, and then it can happen that you just lose the car. But I'd rather have a fast car and then a qualifying like this than not having the pace to be in the top four."