'I'm used to sitting in this chair' – Verstappen sees the funny side after missing out on Sakhir GP pole by just 0.056s
It's not often that a driver misses out on pole by 0.056s and doesn't even earn themselves a spot on the front row of the grid. But that was the case for Max Verstappen in qualifying for the Sakhir Grand Prix, with the Dutchman set to start Sunday's race in his 'traditional' P3 spot after being headed by less than a tenth by the Mercedes duo of Valtteri Bottas and George Russell.
In a similar scenario to last Saturday at the Bahrain Grand Prix, Verstappen led Free Practice 3 only to fall behind the two Mercedes in qualifying and end up P3. But despite that, Verstappen said that his Red Bull had performed better than he'd expected around the more power-sensitive Outer Track layout in Bahrain.
READ MORE: Russell misses out on maiden Mercedes pole by 0.02s as Bottas stamps his authority in Sakhir
"After that first run I was two-tenths behind, so I knew it was going to be difficult," said Verstappen on whether he'd thought pole was possible, with Verstappen ending up 0.030s off George Russell's P2 time. "But you always try to be as close as you can, and at the end, to be within a tenth wasn't bad. But of course, Valtteri didn't have a tow and didn't improve on his final lap, so to be P3 is a good for us on a track like this.
"I'm used to sitting in this chair," Verstappen added jokingly in the press conference, following the ninth time in this season's 16 races so far that he's taken P3 on the grid. "It might actually have my prints."
Verstappen was left disappointed in the Bahrain Grand Prix last weekend with Red Bull's lack of strategic aggression, as he was left to trail home eventual winner Hamilton, having never looked in a position to launch an attack on the Mercedes driver.
But with Verstappen forced into starting the Sakhir Grand Prix on the soft tyre, as both Mercedes start on the medium, the Red Bull driver was open-minded about how his Sunday might pan out.
READ MORE: Russell 'gutted' to miss pole but says if someone had told him he'd be P2 they'd be 'having my pants down'
"Let's see – I'm starting on a different tyre already, so that's going to be interesting," said Verstappen when asked about his race prospects. "Last week, our long runs, they looked quite good but then again in the race, we just came a bit short, so that was a bit of a shame, but let's see if it's going to be any better this weekend.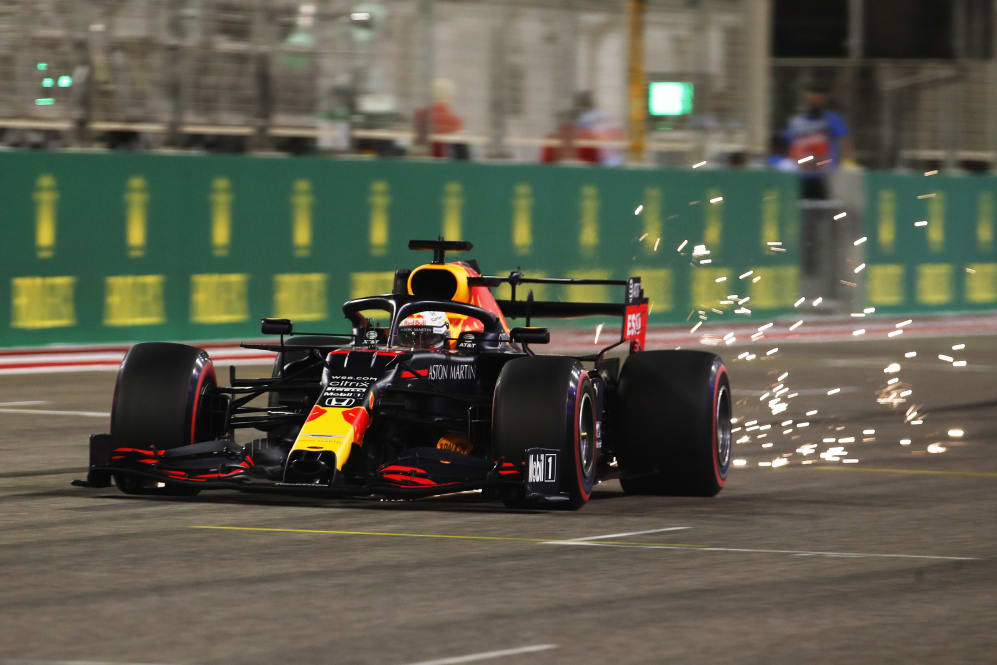 "Last week still, I think we could have done a better job, and a little bit of a different strategy, but I think we all learn so that was again a moment that you learn from, and we'll see what we have to do tomorrow."
Verstappen will have to do without the luxury of a rear-gunner, meanwhile, after Alex Albon failed to make it out of Q2 for the third time this season, with the Thai driver set to start P12.