Feature
Imola '94 and the lasting safety legacy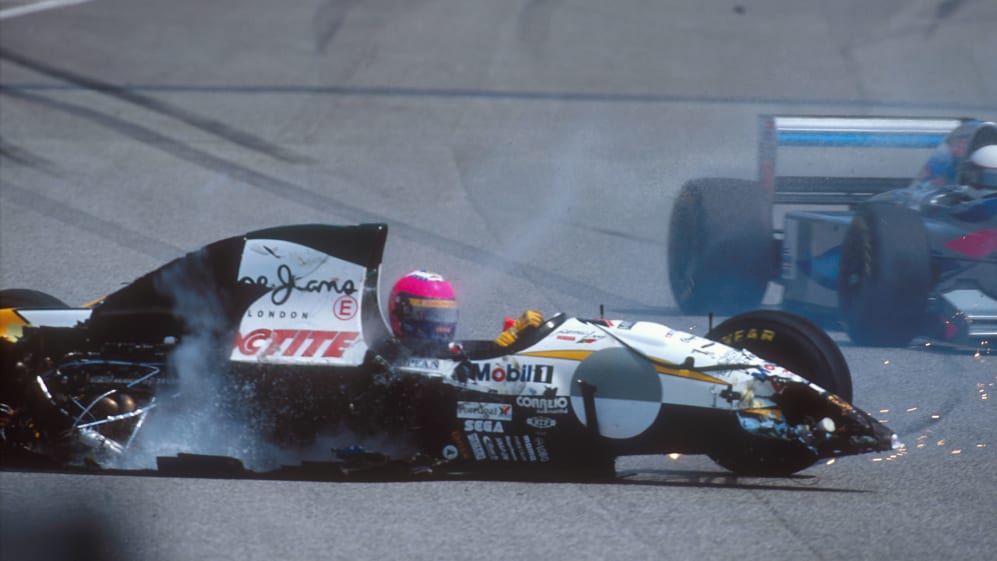 The 1994 San Marino Grand Prix casts a long shadow. One of the darkest weekends in the history of Formula 1 resulted in the deaths, in separate incidents, of drivers Roland Ratzenberger and Ayrton Senna. The weekend saw a sickening impact for Rubens Barrichello, into a catch-fence, which left the young Brazilian unconscious. It also had a start-line collision from which debris rained down on spectators in the grandstand, injuring several. Everything went wrong at Imola – but in its aftermath, F1 improved.
It is too simplistic to suggest Imola caused a radical rethink of safety measures: the sport was changing before the events of that awful weekend. Imola provided an unasked-for level of context: it focussed minds and increased urgency, catalysing a movement for change. 25 years on, the sport has been shaped – in senses both literal and figurative – by the events of that weekend, and it is still driving development today.
Driver Safety
Ratzenberger's death, following a high-energy impact during qualifying, was attributed to a basilar skull fracture. Across the breadth of elite motorsport, this particular injury, claimed too many victims in the latter years of the 20th century. It has now been all but eradicated by the widespread take-up of the HANS device. HANS – Head And Neck Support – traces its origins back to the 1980s but its adoption and eventual obligatory status was pushed by a tragic series of high-profile fatalities. In F1, this process began after Ratzenberger's crash. Today an elite racing driver wouldn't dream of getting into a car without a HANS device any more than they would drive without a helmet.
It was not always thus. When multiple IMSA champion Jim Downing first raced wearing the prototype it attracted ridicule more than admiration. "Yeah, people used to point and smile and wonder what I was wearing. I guess I looked like a fool walking around it in – but that's how we did our early publicity," he says. Downing developed HANS with his brother-in-law, the late Professor Robert (Bob) Hubbard. Hubbard, was a crash researcher and eminent specialist in the field of spinal biomechanics.
"The problem really came to light because of the major incidents and the basilar skull fractures that were obvious in the big series," recalled Hubbard in 2012, on the 25th anniversary of the HANS prototype. Roland Ratzenberger died with a basilar skull fracture. I suspect Senna had a basilar skull fracture too, though I don't think that's what killed him. Gonzalo Rodríguez died that way in CART and was followed by several fatalities in NASCAR. It made people recognise the need for the device."
Today an elite racing driver wouldn't dream of getting into a car without a HANS device
In the wake of the Imola fatalities, Mercedes research engineer Hubert Gramling – later FIA Institute head of research – included HANS in his studies of motor racing safety and tested the device extensively between 1996-1998, using a slimmed-down version suitable for single-seater cockpits. It gained FIA approval in 2001, first appeared in F1 in 2002 and was made mandatory for the 2003 season. In 2007, the FIA made a HANS-type device (other suppliers have come into the market) an obligation for all FIA-sanctioned series. While it's impossible to prove HANS success rate it's also plain to see that the incidence of basilar skull fractures fades away from series that mandate HANS or a similar head restraint.
The HANS device is now part of a suite of safety measures worn by the driver. Fireproof overalls are designed to resist temperatures of +800°C, while helmet design continues to evolve. Sometimes this is in response to a specific incident – the Zylon strip across the top of the visor was added in 2011 in response to Felipe Massa's Hungaroring accident in 2009, while a new 2019 helmet standard has that visor opening lowered by 10mm, and new composite materials used in construction of the shell. The drivers also wear biometric gloves that provide feedback on pulse and blood-oxygen levels, and an in-ear accelerometer that measures the forces acting on the driver's head.
Car Safety
The events of Imola, and two weeks later in Monaco where Karl Wendlinger suffered a serious injury, cast an unwelcome spotlight on car safety. Impact testing had been a feature of F1 since the 1980s, but the pace of development and improvement stepped up in 1994. Redesigning F1's technical regulations is not the work of days or weeks, and thus, more immediate solutions were implemented in the aftermath of the tragedy.
In 1994, Formula 1 chief technical officer Pat Symonds was head of research and development for the Benetton team. "The immediate work was not to improve the specific safety of the cars, but rather to slow the cars down. I think Max [Mosly – then FIA President, who really spearheaded the push for greater safety] felt the long-term research programmes needed doing – but also that we had to be seen to be doing something," says Symonds. "With the cars, a lot of things happened very quickly. We immediately [for the Spanish Grand Prix, race five] shortened the diffuser and changed the front wing endplates to reduce front wing downforce. Then we opened holes in the airbox to reduce engine power [Canadian Grand Prix, race six]. A little bit later [German Grand Prix, race nine] we fitted the 'plank' to the car – this was a significant change because it meant the whole car had to be raised. Everything changed about how those 1994 cars had been designed to work."
The plank, which lessens the ability of cars to utilise ground effect, remains integral to F1 today, and while many of the other short-term fixes were superseded by more permanent changes, the next two decades saw more regulation tweaks to keep speeds to what the circuits could realistically contain. Beyond this, an expectation of continuous improvement was baked into the F1 design community. Work on crash structures (so-called secondary safety systems) began to see huge development with impact tests becoming more stringent every year.
"It wasn't the work of a moment," says Symonds. "We pushed on, learned more about failure mechanics, continued to increase impact test speeds further and further. The rear impact tests came in, then side impact structures with anti-penetration panels to stop a nose cone coming into the cockpit in a T-bone collision. We added tethers to prevent wheels flying loose in an impact, worked on low noses to prevent launching incidents, and latterly the Halo. If the Halo hasn't saved anyone from injury yet – and arguably maybe it has with Charles Leclerc and Fernando Alonso – it will do, no doubt about it. It's a good bit of kit."
While many of the current safety systems on a contemporary F1 car were unimagined in 1994, they are the product of the culture that grew out of those times, the influence of which now extends far beyond F1.
"What's the next thing to look at? It's a good question, and I don't think there is just one answer," says Symonds. "There will be incremental changes, lessons learnt from whatever happens, and improvements on what we have. And what we learn in F1 trickles down to other formulae. Formula 4 now has a crushable structure, that simply could not have been done without the resources and research done in F1. This sport really has saved a lot of drivers from injury across many categories of racing."
The Circuits
Perhaps the most difficult aspect of safety to improve has been circuit design. F1 has numerous fine lines to tread: the desire to improve track safety sometimes comes up against a disinclination to interfere with historic sequences of corners. Equally, safer often means slower, or wider – which tends to generate ire from fans and drivers alike. There is also an acceptance that F1 does not race in isolation: a track change that makes sense for a 360km/h F1 car may destroy excitement for a touring car race, or render the circuit unusable for bikes. Adapting circuits to make them safer for F1 was – and is – an incredibly sensitive subject.
In the immediate aftermath of Imola, the drivers took the lead, via a resurrected Grand Prix Drivers' Association. At their insistence, a temporary chicane was added to the Circuit de Catalunya before the 1994 Spanish Grand Prix, essentially de-fanging the high-speed Nissan corner. The next race, in Montreal, added a chicane on the back straight. Circuits with more time made more lasting changes.
Silverstone slowed, tightened and increased run-off all around the circuit, Spa gained a slower Eau Rouge chicane, Monza tightened the second Lesmo for 1994 and then brought the Curva Grande inside to provide more space on the outside (hard up against the exterior boundary) for an enlarged gravel trap. Imola itself was comprehensively remodelled, with bigger gravel traps added where possible and fast corners replaced with chicanes where they were not (Tamburello and Villeneuve, the sites of the fatal crashes, are both hard up against the banks of the river Santerno, and were both turned into chicanes with extensive gravel traps).
In the immediate aftermath of Imola, the drivers took the lead on circuit change, via a resurrected Grand Prix Drivers' Association
Gravel traps, however, are not seen as an ideal solution. Gravel's greatest advantages are also a weakness: cars will bog down. This can lead to wheels digging in and the car rolling, but even upright, the car remains on a threat vector, creating a dangerous environment for a difficult recovery.
Under the watchful eye of the late Charlie Whiting, who along with Mosly and current FIA President Jean Todt was another key player in improving F1 safety, a generation of newer circuits have been built with sizeable tarmac runoffs, instead. Elsewhere and in addition, new barriers made from 'conveyor belt' wrapped tyres and steel-reinforced, foam-filled plastic blocks (TecPro) are providing an improved fullstop. Finally, these measures all work in conjunction with more sophisticated catch-fencing, designed to protect the marshals, officials and spectators outside the immediate environs of the hardtop.
"We're not just trying to protect the drivers," says Symonds. "Things like the wheel tethers, and preventing car launch are every bit as much – if not more – about protecting spectators. We never want to see a driver injured, but those involved in motorsport accept that what they do can be dangerous. There is a risk attached and that risk is evaluated and accepted, whether you're driving the car or standing in the pitlane. A spectator in the grandstands, shouldn't have to evaluate any risk."