Improved fitness behind Sauber pit stop gains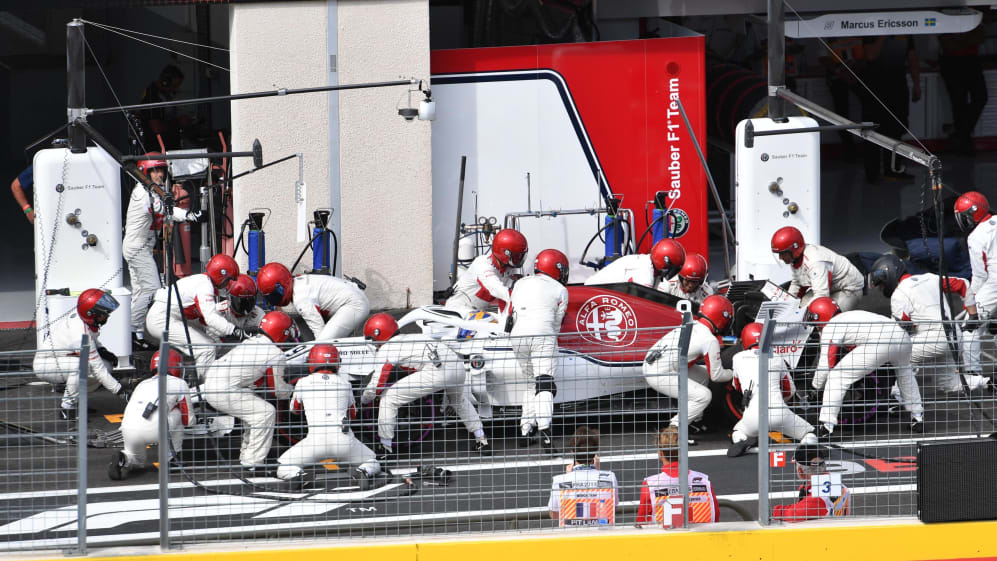 A fitness camp, better equipment and good old fashioned hard work. That's what behind Sauber's sensational run of form in the pit lane of late…
The Swiss team have secured DHL Fastest Pit Stop honours in each of the last three races, pulling off a 2.21s stop for Charles Leclerc in Monaco, followed by 2.37s and 2.32s efforts for Marcus Ericsson in Canada and France.
It comes after Sauber Team Principal Frederic Vasseur and Team Manager Beat Zehnder overhauled the way they do pit stops, including improving the equipment, upping the training, and finessing the organisation.
In February, the mechanics involved in the pit stops were sent to Italy for a training camp at Formula Medicine an organisation run by Riccardo Ceccarelli, who has worked with more than 70 Formula 1 drivers.
The mechanics were then given physical check-ups followed by a tailor-made fitness training programme that would build on what they learned at the camp, creating a base fitness level with which they could then improve.
They also use visualisation techniques, breathing exercises and methods from remaining calm under pressure to prepare for the intense situation of a pit stop.
The pit stop crew, some of which are new for this season, then increased the number practice sessions dramatically.
"There's no secret," Sauber's physio Josef Leberer told Formula1.com. "It's down to the hard work of the team and the support of the team management."
Speaking about Sauber's impressive form in the pit lane, Vasseur added: "We pushed like hell on the mechanics, we sent them to fitness camp last winter. It's paying off today.
"They have done a great job. I don't know how many pit stops they've done in the practise sessions, probably more than acceptable but they did it! It's one of the things I'm very proud off so far."
The question is, will Sauber be quickest in the pits again in Austria?