'It ended in a silly way' – Gasly and Norris at odds over race-ending crash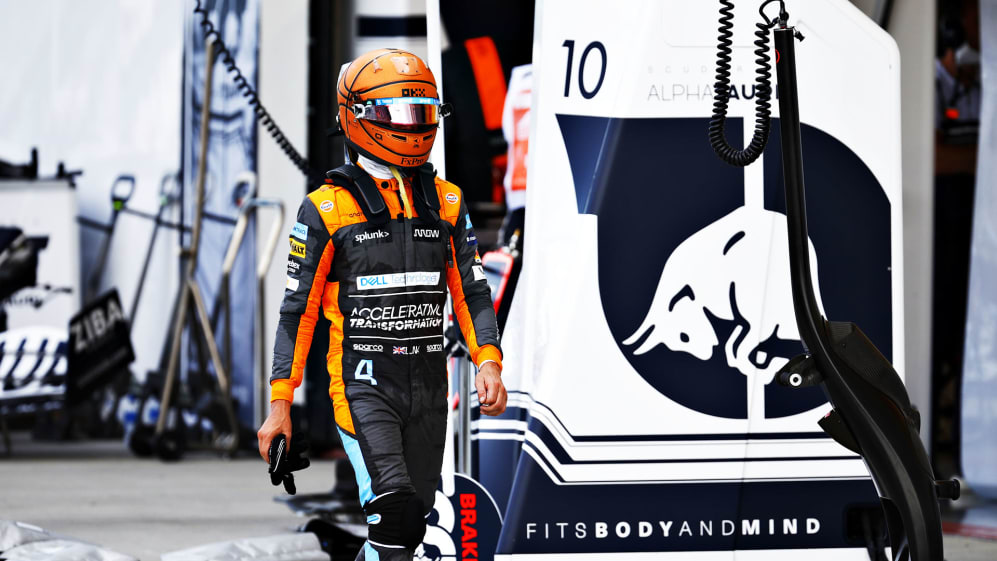 Lando Norris and Pierre Gasly took differing views of their Lap 41 crash that ultimately caused both drivers to retire from the Miami Grand Prix – with Norris calling the incident "silly", as Gasly defended himself over his wounded car following contact with Fernando Alonso.
Norris was approaching the slow-moving Gasly – who'd just run off-track at Turn 7 – when he tried to pass the Frenchman around the outside going through Turn 8. However, the pair's trajectories saw them make contact, with Norris spun violently around as his right-rear Pirelli was shed from its hub – while Gasly would retire a few laps later.
READ MORE: Verstappen wins inaugural Miami Grand Prix over Leclerc after late Safety Car drama
"A shame," said Norris. "I think it just ended in a silly way. Someone just said he was on the radio saying he was going to retire or something, so if that is the case, then I think what he did was silly. If you're going to retire, you just get out the way of people racing. He was looking in his right mirror, he was drifting across the track.
"Of course you could say maybe I could have left a bit more room, but I don't expect him to just try and stay in the middle. A shame. We maybe could have scored an eighth place, ninth place, which is a couple of points, better than none. It would have been nice but it didn't end that way. Frustrating but not the end of the world."
Asked if he would seek out Gasly, Norris replied: "Yes, of course, just to understand the outcome. Maybe some people would blame me, some people would blame him. I think the main thing is, if he was racing and still going for position, I would say it's more of a racing incident kind of thing, and I could have left a bit more, he could have left a bit more. But I think if he was going to retire, it was just a bit of a silly incident from his part and he should have just got out the way a bit more."
For his part, Gasly put the onus on Fernando Alonso, who made contact with Gasly that had caused the damage to his AlphaTauri AT03 – and for which Alonso would later be handed a five-second time penalty (a further one late in the race dropping him out of the points to P11).
"Let's start with the beginning: Fernando crashed into us into Turn 1, I think a lap before, and basically broke the right-rear," said Gasly. "So we tried to go for one more lap to see if we could continue and make it to the end of the race, but the car was too damaged, I could not stay on track as we saw through the first sector.
READ MORE: Vettel and Schumacher diplomatic over 'chaotic' late-race shunt
"Then on the way back to the pits, we had contact with Norris. I was trying to turn right, and tried to let the guys past and Lando came and unfortunately we had contact.
"I must say I'm extremely disappointed because it was a great start, it was a great afternoon," he added. "We passed Lewis at the start, we were looking for around P8 at the chequered flag, and it would have been a nice battle with Fernando.
READ MORE: Alonso loses Miami GP points finish after receiving 5s penalty – promoting Stroll to P10
"I don't really know what happened, I haven't seen the footage, but he hit us quite hard at the back and that was enough to break the car. So a lot of positives, but extremely disappointed not to have finished the race."
After his DNF, Norris enters Spain seventh in the standings while Gasly is 13th – their respective teams sitting fourth and seventh.