Report
Verstappen wins inaugural Miami Grand Prix over Leclerc after late Safety Car drama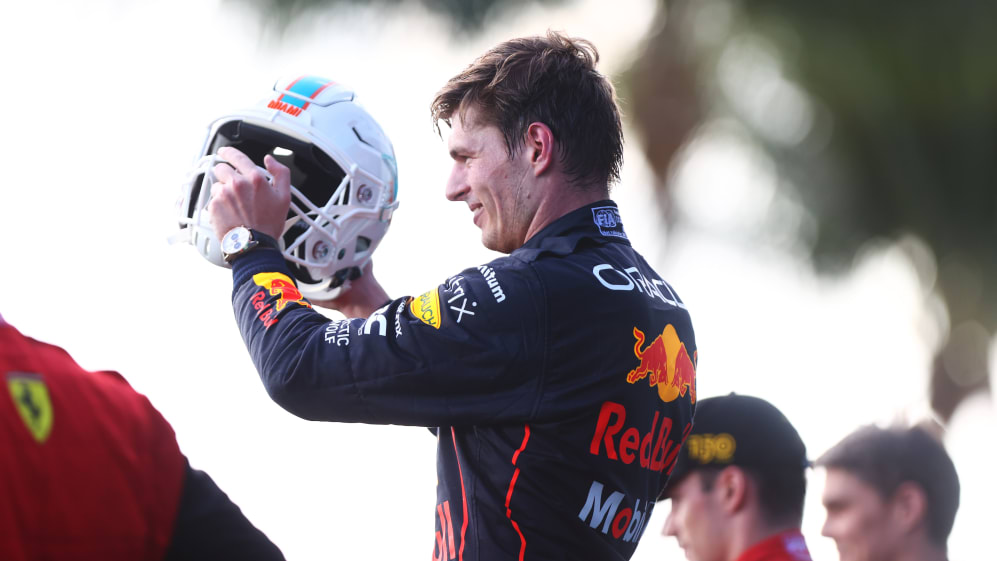 Max Verstappen won the first ever Miami Grand Prix, having pried the lead off Ferrari's pole-sitter Charles Leclerc early in the race, and defended it in an enthralling late-race battle.
Red Bull's reigning champion took P2 off Carlos Sainz into Turn 1 at the start, and soon began to close in on Leclerc. The Ferrari driver lost the lead to his rival on the main straight at the start of Lap 9 of 57 and pitted from mediums to hards on Lap 24, causing Verstappen to react with his stop two laps later. It seemed that Verstappen would cruise to victory in front of Miami Gardens' marina…
READ MORE: Verstappen elated with 'comeback' win in Miami – but calls on Red Bull to iron out 'hit and miss' weekends
That was until the Lap 41 caution, a VSC-turned-Safety Car triggered by a clash between Pierre Gasly and Lando Norris, which sent the McLaren driver into a spin as his right-rear tyre ripped off. Perez took the opportunity to pit for new mediums from P4, emerging there, with hard-shod Verstappen, Leclerc and Sainz ahead.
The Lap 47 restart saw Verstappen lead away but struggle to build up a gap to Leclerc. It was equally difficult for Sainz, who was being hounded by medium-shod Sergio Perez for the final podium place.
Perez attempted to pass Sainz on Lap 52 but locked up, both drivers avoiding contact, while Leclerc was under half a second behind Verstappen in the chase for the lead. But neither Perez nor Leclerc could make headway, and the win – narrow as it was over the Ferraris – would be Verstappen's.
FORMULA 1 CRYPTO.COM MIAMI GRAND PRIX 2022
United States
2022
Race results
POSITION
TIME
POINTS

1

Max

Verstappen VER

Red Bull Racing

1:34:24.258

26

2

Charles

Leclerc LEC

Ferrari

+3.786s

18

3

Carlos

Sainz SAI

Ferrari

+8.229s

15

4

Sergio

Perez PER

Red Bull Racing

+10.638s

12

5

George

Russell RUS

Mercedes

+18.582s

10
Rounding out the top five was George Russell, who started 11th and pitted during the VSC, using the benefit of newer tyres to pass team mate Lewis Hamilton on Lap 54. Hamilton lamented the fact that he couldn't pit during the VSC but was promoted to P6 when Valtteri Bottas went wide at Turn 17 on Lap 49.
The Alfa Romeo driver seemed destined for P5 having started there, but his late mistake left him seventh. The Alpines were next, Esteban Ocon finishing eighth from Fernando Alonso in ninth – the latter having been penalised by five seconds for contact with Gasly.
Alonso was given a further five-second penalty for leaving the track and gaining an advantage on the penultimate lap, promoting Alex Albon to P9, Lance Stroll to P10, and demoting the two-time champion to 11th.
FACTS AND STATS: Verstappen does US double as Russell maintains top-5 run
Kevin Magnussen retired late on after contact with Lance Stroll (P10 after having started in the pits), as did Sebastian Vettel – who started in the pits and was tapped out of the race by Mick Schumacher (P15).
Gasly did not finish after his contact with Norris (DNF), while Zhou Guanyu was the first retiree, having been pulled into the pits on Lap 7.
Despite starting on the front row, Ferrari couldn't convert their advantage to a Miami Grand Prix win – while Max Verstappen has now made it two wins in a row.
AS IT HAPPENED
Swaying palm trees, A-list celebrities, the biggest Marina this side of Dade County – the Miami Grand Prix weekend was always destined to be a showstopper. Now it was just time for lights out in the Sunshine State.
Ferrari painted the front row red thanks to pole-sitter Charles Leclerc and Carlos Sainz, with row two belonging to the Red Bulls – Max Verstappen ahead of Sergio Perez – while Alfa Romeo's Valtteri Bottas would share row three with former Mercedes team mate Lewis Hamilton.
DRIVER OF THE DAY: Verstappen gets your vote after holding off Leclerc in Miami
Aston Martin encountered pre-race fuel temperature trouble, both Lance Stroll and Sebastian Vettel starting from the pit lane to avoid a penalty from the FIA – while Esteban Ocon would begin from the back for Alpine having crashed in FP2.
Bushels of ominous clouds looming, concrete walls closing in, 18 drivers lined up on the grid. Amid the stifling heat, four drivers (Stroll, Vettel, George Russell and Ocon) began on hard compounds, while the other 16 started on mediums.
At the start, Leclerc had a terrific launch while Sainz lost out to Verstappen going into Turn 1, Hamilton falling to eighth after a Turn 1 lock-up and Fernando Alonso jumping from 11th to seventh – making slight contact with Hamilton in the process.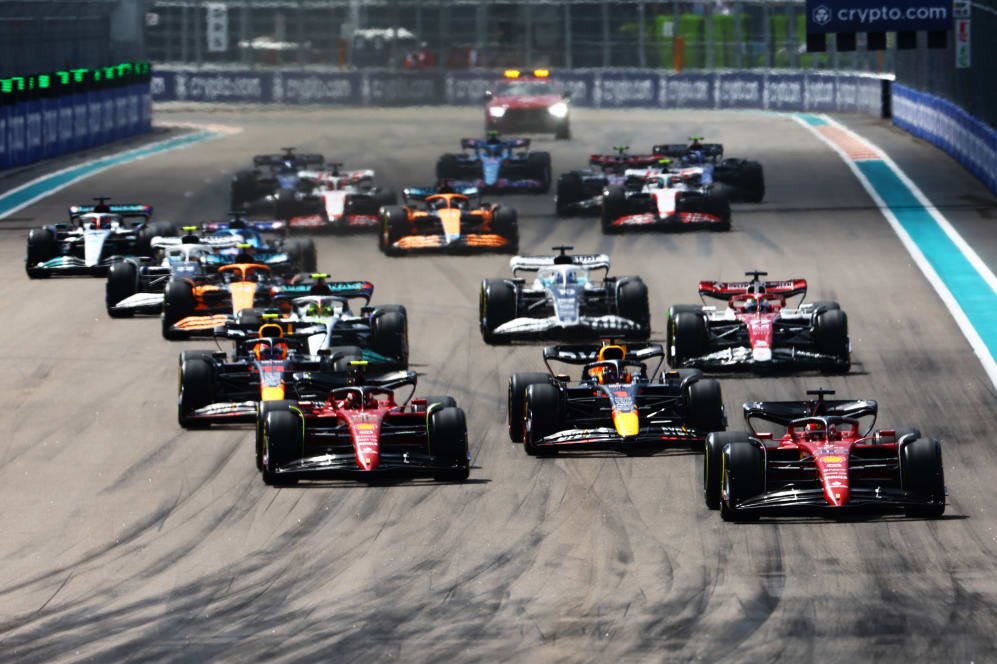 While Leclerc held station in the lead, Verstappen was just over a second behind, with Hamilton – now complaining of damage after the Lap 1 tap from Alonso – breezing past the Alpine driver for P7 on the run up to Turn 11 on Lap 3. On Lap 6, he took P6 off Gasly and the seven-time champion was back where he began.
Lap 8 saw Verstappen get well into DRS range, right on the tail of Leclerc, and the Dutchman made the pass for the lead on the main straight at the start of Lap 9. Leclerc prepared his rebuttal, tailing the Red Bull throughout the next lap – but the reigning champion was now in a commanding position.
Ferrari began to struggle. Lap 13 saw Leclerc suffer a lock-up at Turn 17, his deficit now at 2.5s to Verstappen, while Perez was closing in on Sainz for P3.
READ MORE: Russell pleased to rescue weekend with 'total fluke' strategy in 'brutal' Miami Grand Prix
Mercedes, meanwhile, were on a march, with Hamilton opening up a gap to Pierre Gasly behind (the Frenchman holding off Alonso for P7) while Russell's hard tyres came into play and he passed Ricciardo on Lap 14. In an attempt to undercut Gasly, Alonso pitted one lap later but his stop lasted over five seconds, and he emerged 13th.
Lando Norris chose to pit soon after, David Beckham watching the 3.6-second stop unfold, with the McLaren driver emerging 12th but falling to both Aston Martins on Lap 19. Two laps later, he went wide in Sector 3 to bring out a short yellow flag. Towards the front, Russell was now up to seventh, behind Hamilton.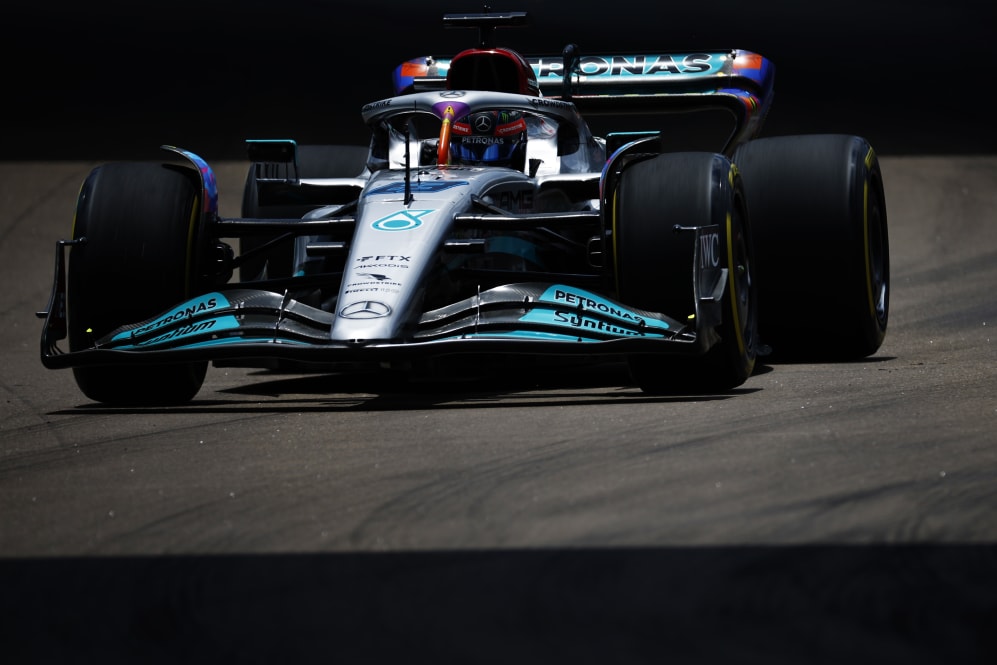 Back in the fight for the podium places, Perez was on the radio to relay that his "engine had gone", his pit wall attempting to reassure the Mexican as he complained of a loss of power on the lengthy straights. A sensor issue was to blame and Perez was back – but had lost considerable time (and some engine power to boot) to Sainz ahead.
Hamilton was brought in to the pits on Lap 23, emerging seventh with a smooth stop – just ahead of McLaren's yet-to-pit Ricciardo – and giving the rest of the top 10 something to respond to.
Leclerc was next to pit, a swap to hards taking 3.2 seconds, as he emerged in P4 on Lap 25. That caused Verstappen to react at the end of the next lap and emerge second ahead of team mate Perez, leaving Sainz in the lead until the Spaniard stopped for hard compounds – along with Perez – at the start of Lap 27.
Sainz's stop however lasted 5.4 seconds, Perez making ground with a 3.1-second stop, to re-ignite the fight for P3.
Then, on Lap 41, Gasly – who had previously been tapped at the final corner by Alonso – went wide at Turn 8, rejoined, and clashed with Norris, ripping the McLaren's rear-right tyre off and sending him into a spin. A Virtual Safety Car was called, soon morphing into a Safety Car.
Russell took that moment to pit for the first time, dropping from fifth to seventh, with Perez swapping a second time along with a number of others hoping to snatch positions. Hamilton was asked if he wanted to follow suit – but decided to stay out and try to protect his P6 position.
The Lap 47 restart would therefore see Verstappen lead Leclerc and Sainz (the top three on hards). Then we had medium-tyred Perez, Bottas, then Hamilton and Russell in the top seven. Alonso – now holding a five-second penalty for contact with Gasly – led Schumacher and Ocon at the back of the top 10.
Up and down the grid, the chase was back on.
Perez was right on Sainz's tail, the Spaniard having run wide on Lap 48, giving the Mexican a run for the final podium place. However, the Red Bull driver made his move on Lap 52, locked up, and caused Sainz to dodge in avoidance. Sainz swept past for P3 and completed the podium.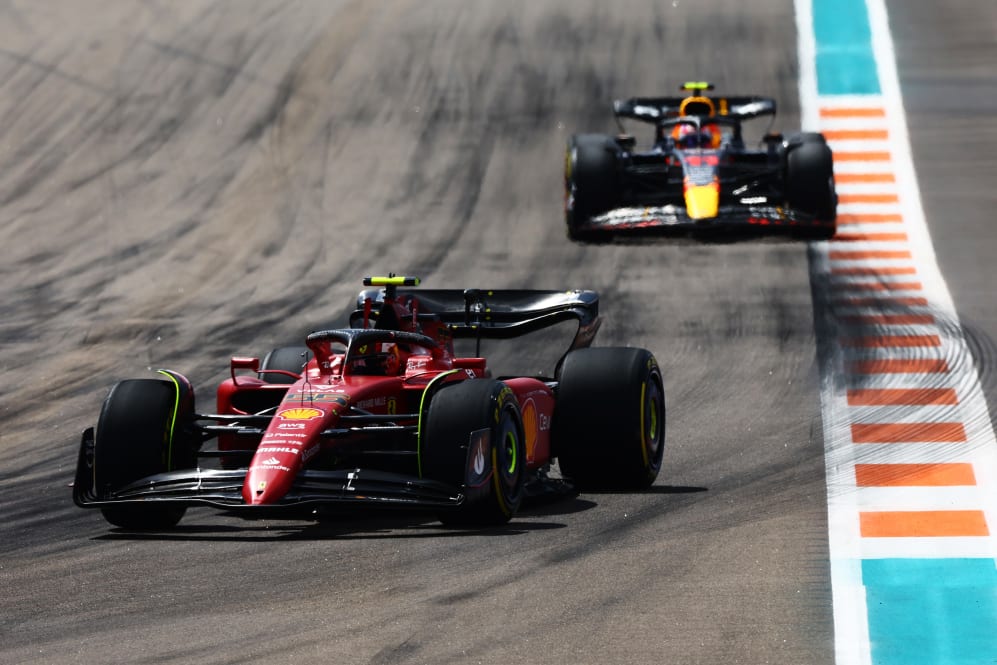 Meanwhile, right at the front, Leclerc had closed the gap to within half a second but Verstappen held firm – going on to take his second consecutive victory of the season by an eventual 3.786s.
Russell and Hamilton had their own duel on the restart. Medium tyres helped Russell close in on Hamilton on Lap 49, and, with Bottas going wide at Turn 17, both Mercedes swept past. Russell passed Hamilton at Turn 11 but was forced to give the position back having gone off track. He retook P5 a few laps later, leaving Hamilton to lament another unfortunate tyre call on the radio.
Bottas's late mistake put him seventh, ahead of the soft-tyred Ocon. The Frenchman started at the back but had made up 12 places by Lap 37, classified in P8 and ahead of Alonso, as the Spanish driver was given a five-second penalty for making contact with Gasly earlier on.
A further five-second penalty dropped Alonso to 11th, promoting Alex Albon from 10th to ninth having weathered the chaos in the final Safety Car restart – and Stroll to 10th from 11th.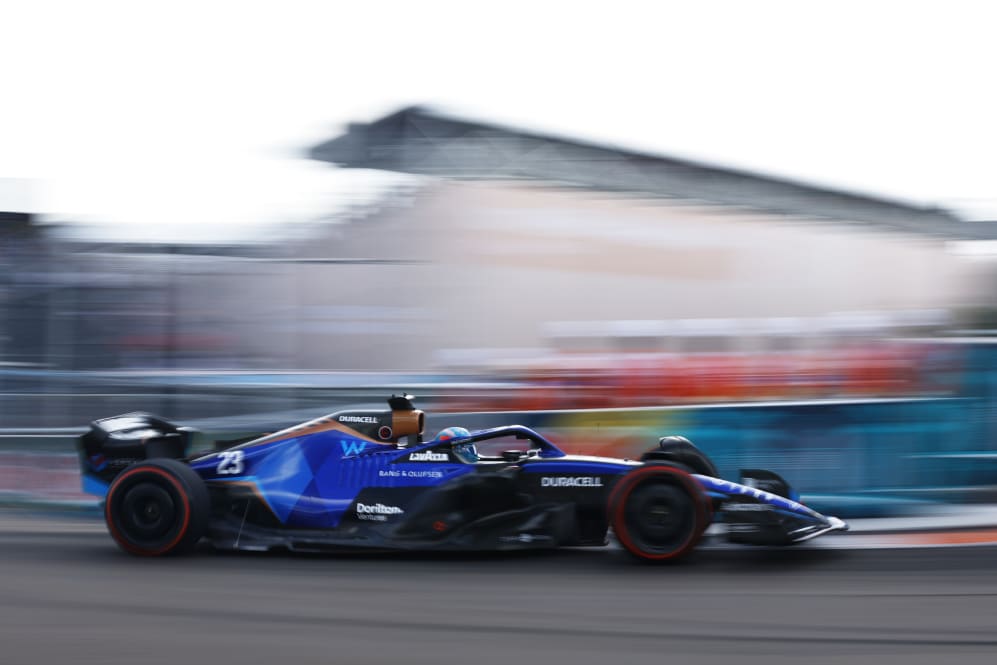 Ricciardo pitted for hards on Lap 30 and again for softs for the late Safety Car restart, but couldn't make it count, finishing 12th after a penalty for leaving the track and gaining an advantage. That promoted Stroll up into the final point.
AlphaTauri's Yuki Tsunoda fell out of the top 10 past the halfway point and finished 13th, having also ended the race on softs – a gamble that didn't pay off for him. Tsunoda was however promoted to 12th after the post-race penalties for Alonso and Ricciardo. That left Williams driver Latifi in P14.
Despite battling with Tsunoda early on to get into the top 10 and then again with team mate Magnussen, Schumacher was classified P15 thanks to late contact with a baffled Vettel, whose race started and ended in the pits.
Gasly didn't finish the distance after contact with Norris, and Zhou Guanyu was the first of the five drivers not to see the flag, as Alfa Romeo pulled him into the pits with a mechanical issue on Lap 7.
The podium saw the top three celebrate in front of Miami Dolphins legend Dan Marino – and his statue. On this given Sunday, it was Verstappen who ran the whole nine yards in pursuit of his second consecutive victory, and the first Miami Grand Prix win in history.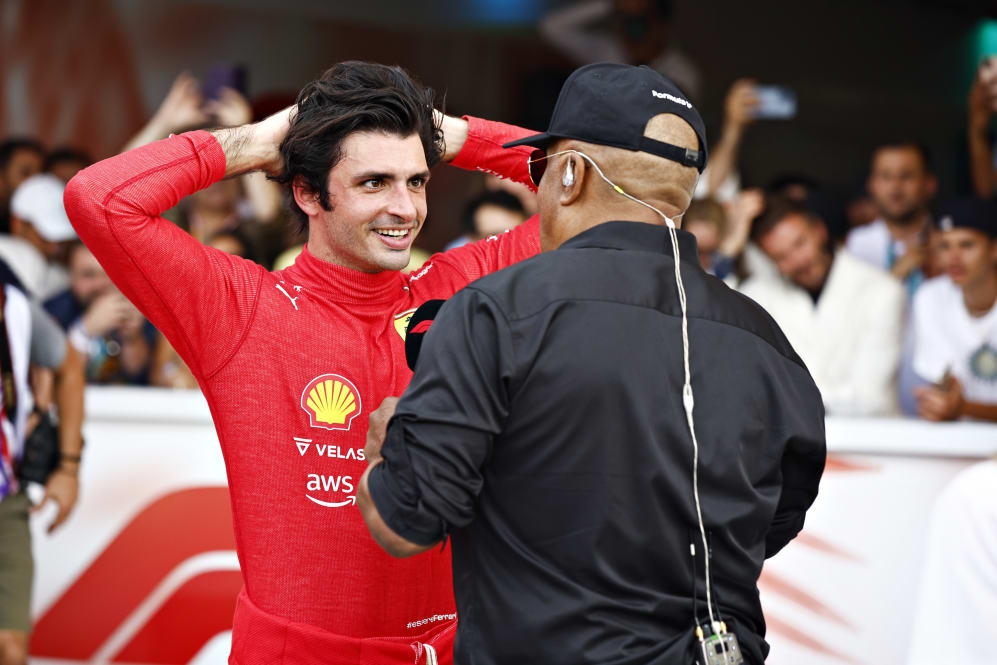 Key quote
"It was an incredible Grand Prix – very physical as well, but I think we kept it exciting until the end," said winner Max Verstappen.
"I think I'll stick to racing," he said when asked by Willy T Ribbs if he was fit enough to step into the boxing ring, "but I appreciate a lot of boxing. It felt a bit like it out there… but yes, incredibly happy with winning here in Miami, it was an incredible Sunday for us."
What's next?
The championship continues in Catalunya with the Spanish Grand Prix on May 20-22, Red Bull now only six points behind Ferrari – and Verstappen 19 points behind Leclerc...