'It looked like it was going wrong' – Sainz survives late rain at Sochi to secure third podium for Ferrari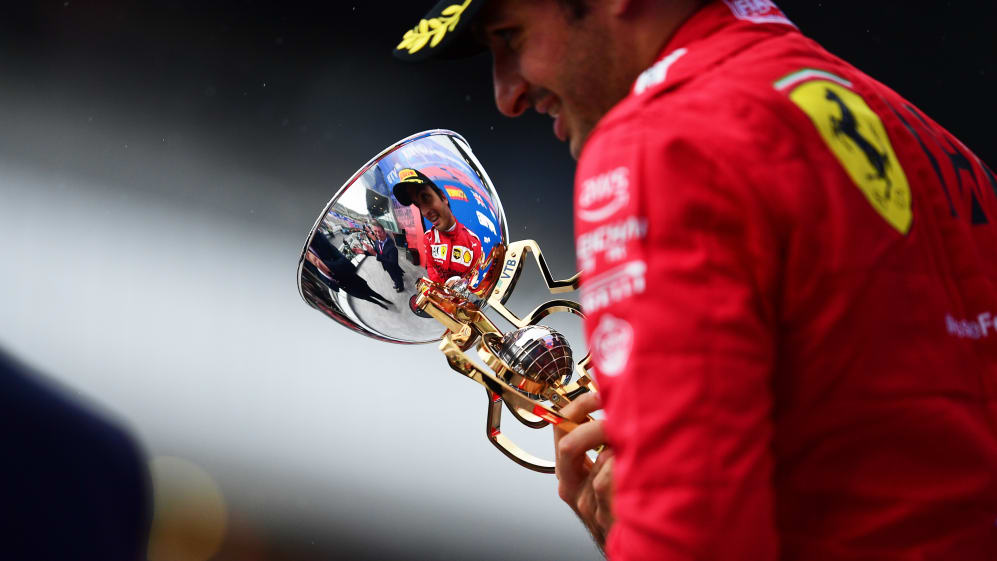 Carlos Sainz may have started the Russian Grand Prix in second but the Ferrari driver said his hopes of a top three finish very nearly slipped away in the rain – until a decision to switch to intermediate tyres "worked beautifully" and ensured he took a fifth career podium.
The Spaniard not only qualified second but took the lead off pole-sitter Lando Norris going into Turn 2 after an electric start at Sochi. However, Norris retook the lead a few laps later with ease on the back straight and Sainz was forced to pit from medium tyres to hards. But his second stint was more competitive and, once his rivals pitted, Sainz found himself back in the podium places.
READ MORE: 'Everything was under control' – Devastated Norris convinced win was on without late rain in Sochi
Asked how much pleasure he took from finishing third, Sainz said: "Quite a lot. Mainly because at some point in the race it really looked like it was going wrong.
"After suffering so much graining with the medium tyre, after leading the race quite comfortably for the first seven, eight laps, and facing so much degradation and losing the position to Lando and being one of the first ones to pit and getting in the queue behind Valtteri and suffering in all that traffic, at some point I thought podium wasn't happening."
But that explanation came with a caveat, as the Spaniard admitted he wasn't happy with how difficult it was to retain the lead before Norris swept past to retake it on Lap 12.
RACE HIGHLIGHTS: Catch up on all the action from a dramatic Russian Grand Prix at Sochi
"It's mainly happy but I think as a team we just need to, you know, as Ferrari, we need to keep analysing and keep seeing what we can do better with tyres, with fuel, with the top speed, to make sure that the next time a Ferrari is leading a Grand Prix we do not get overtaken so easy as it happened today," continued Sainz.
"But in general, today was I think a very strong race. We did a perfect start, risked it around the outside on Lando, we did very good stint management on the hard behind the traffic and then we managed to push. We were on course for a reasonably comfortable P3 before the rain came and made everything a lot trickier. But still managed to make it."
He did, however, praise the team's decision to pit him for intermediates, Sainz having said: "Yes, we made exactly the right decision at the right time. I… nearly lost the car two or three times, so [they] did the call to come in for inters just to make sure we made it to the end.
Driver of the Day: Norris gets your vote after coming oh-so-close to maiden F1 win in Sochi
"In the end we decided to go for inters in the fast four laps and it worked out beautifully, and we ended up third, no? So good calls, good management. Just a bit more obstacles than I was expecting after leading into Turn 2," Sainz concluded.
The 27-year-old's third podium finish for the Scuderia keeps the team 17.5 points behind Mclaren in the standings, in P4.