'It was an emotional rollercoaster' says Horner after thrilling Verstappen title win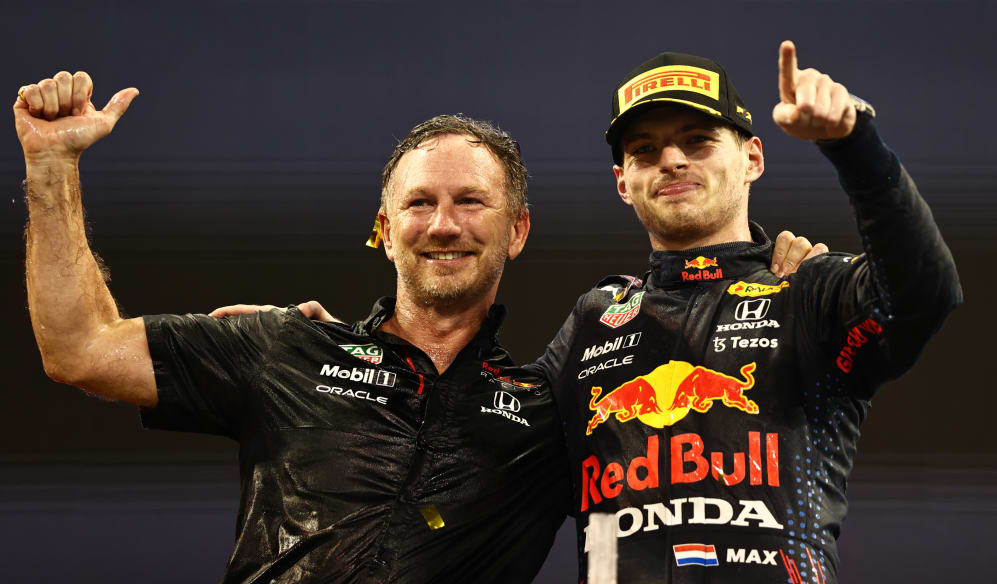 Red Bull boss Christian Horner described the season-ending Abu Dhabi Grand Prix as "an emotional rollercoaster" after watching Max Verstappen clinch his first Formula 1 world championship with a last-lap pass on Lewis Hamilton…
Verstappen looked to have missed out on a maiden title as Hamilton held a sizeable lead with six laps to go. But Nicholas Latifi's crash brought out the Safety Car, with Verstappen pitting for soft tyres, as Hamilton stayed out on old hards.
READ MORE: 'I've achieved everything' – Verstappen says further F1 success will be 'a bonus' after claiming maiden title
When the race restarted with just one lap to go, Verstappen used his fresher tyres to pass Hamilton and clinch victory. Mercedes subsequently launched two protests, focused on the Safety Car period, but both were not upheld.
Speaking in the moments after the decisions were made public, Horner said: "It was an emotional rollercoaster. It started with a bad start, Lewis making a great start and they had a bit more pace than us today.
He's taken on the best in the world, the best that statistically there's ever been, he's fought tooth and nail every single Grand Prix and he's been outstanding this year
"They elected to do a one-stop, we went onto the two-stop and then when Latifi crashed we elected to take another set of tyres. They got the race going again and Max had to make it count, he had one lap to do it and he nailed it.
"So the elation of that moment...and then obviously the summons start coming through for the safety car and another one for other stuff. It has been a tense couple of hours but hats off to the FIA and the stewards who I believe have made the right decisions today."
READ MORE: 'We knew he'd be world champion one day' – Former team mates and fellow champs on Max Verstappen's maiden title
Horner praised the job that Verstappen did in 2021 – the Dutchman ending the season with 10 victories – and believes he thoroughly deserved the title.
"You have got to look at this championship on balance over 22 races and Max has been truly outstanding this year," he said. "He got unlucky at times but he always kept his head down, he has driven with heart and passion, with great skill and determination and I think he is a really deserving world champion.
"The fact he has managed to take on and beat Lewis, who obviously is a formidable [rival], the most successful driver of all time, only makes it more valuable. All credit to Lewis this season, he has driven again outstandingly well and I'm absolutely delighted with the result. I'm sure it will be a long evening."
He added: "We're just incredibly proud of Max. You have to remember he's a young man who's living his dream. He's taken on the best in the world, the best that statistically there's ever been, he's fought tooth and nail every single Grand Prix and he's been outstanding this year. For a 24-year-old to do what he's done, I think that's pretty impressive."