'We knew he'd be world champion one day' – Former team mates and fellow champs on Max Verstappen's maiden title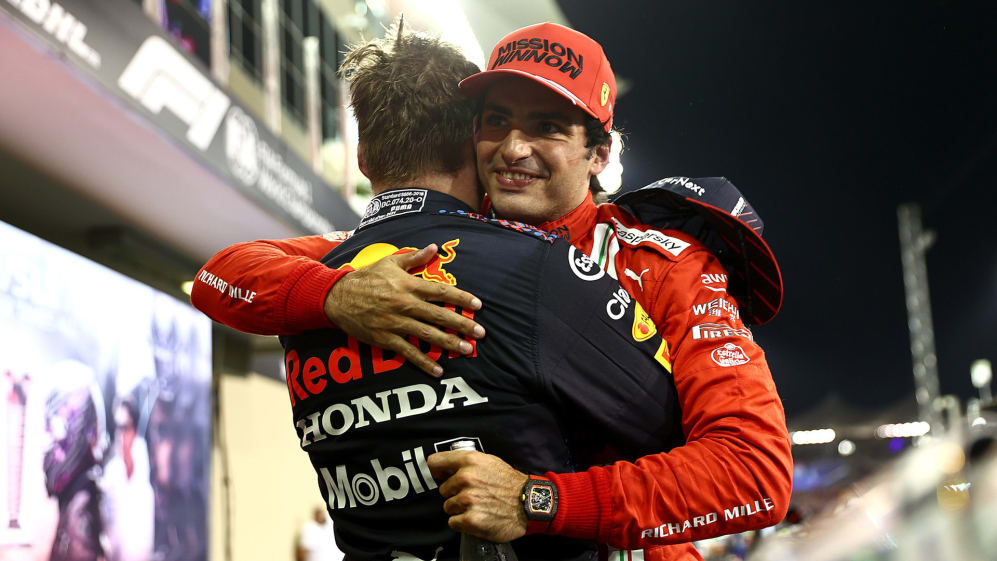 Max Verstappen sealed a maiden Formula 1 drivers' championship in stunning fashion after last-lap drama in Abu Dhabi. Reacting to the news, the likes of Fernando Alonso, Sebastian Vettel, Carlos Sainz and more gave their thoughts on his achievement.
Verstappen's 10th and final victory of the season was his most crucial in the tightest of title fights that concluded on Sunday at Yas Marina Circuit. The Dutchman is now his country's first world champion, Red Bull's first since 2013, and Honda's first since Ayrton Prost in 1991.
After a race befitting of this unforgettable season, the drivers gave their takes on F1's newest world champion.
READ MORE: Brilliant Verstappen claims maiden title after victory in Abu Dhabi season finale following late Safety Car drama
His team mate Sergio Perez, who put in a heroic performance to hold up Lewis Hamilton, said: "I'm very happy for Max because he has driven at an extremely high level, and I'm very happy for my team because they've worked so hard. It's a shame in the end we didn't get the constructors' title but I'm extremely happy of the job we've done."
"I guess it was an epic race, epic championship, you know," said two-time Formula 1 champion Fernando Alonso. "To have the two contenders tied on points in the last race and fighting wheel to wheel in the last lap of the last race, this is something unbelievable. So well done to the sport in general and today to Max."
Four-time champion Sebastian Vettel, who won his titles with Red Bull from 2010-13, said: "Well I say congratulations to Lewis and to Max. I think both of them deserved it; obviously only one can take it. It came down to the last or final laps, could have gone either way, and obviously it's a shame for Lewis – he had an incredible end of the season. I'm happy for Max. I think both of them deserved it."
Verstappen's former team mate Carlos Sainz reflected on his time with the Dutchman at Toro Rosso and said the title gave him something to aim for. "I think whoever came out on top today was going to deserve it, I think they are two great drivers at the peak of their careers, putting together a great show, and I mean congratulations to both, especially for Max obviously after that mega win," said Sainz.
"Happy for him because we shared our first year together at Toro Rosso and to see him now be capable of winning a World Championship is also a good thing for me and I look up to it."
ONBOARD: Ride with Verstappen and Hamilton for their dramatic last laps of the Abu Dhabi GP
Sainz's team mate Charles Leclerc, who finished 10th for Ferrari, revelled in a fanastic finale, and said: "It's been a crazy championship, until the last lap of the last race. It's the best that F1 could have asked for, it's great to see that, congratulations to Max; he was unbelievable."
And Esteban Ocon added: "They've both done amazing but there had to be only one in the end. For sure he didn't fight with the same weapon, in the end he didn't have the same tyres, you know it's a gamble on both sides in terms of strategies and in the end it hasn't been a straight fight – but it doesn't take off all the great drives by Max so he deserves the win."
The result held a special significance also for Japanese rookie Yuki Tsunoda, who hailed Honda's impact as they bow out of F1.
BREAKING: Stewards dismiss Mercedes' Abu Dhabi Grand Prix protests as team lodge intention to appeal
"Huge congratulations to Max, it was such a tough battle throughout the season and I think he really deserved it today. I want to thank him also for giving this great result to Honda, as he's given them the best way to celebrate their last year in F1," said the AlphaTauri driver.
Team mate Pierre Gasly, who raced with Verstappen early in their careers, said: "I'm really pleased for Max, we grew up racing together, we knew he would have been world champion one day and he did it today. It's well deserved and I'm also happy for Honda; after all the years of hard work they've managed to get this championship in their final year."