'It was just tears and tears' – Vettel on the 'not ideal' eye issue that hindered him in FP2 at Monaco
Perhaps at Monaco more than anywhere else, peripheral vision is essential to nailing a fast lap rather than nailing the Armco barriers. But peripheral vision was in short supply for Aston Martin's Sebastian Vettel in Free Practice 2 of the Monaco Grand Prix, after he was struck by an eye issue midway through the session.
Vettel was carrying out qualifying simulation runs in his AMR21 when he radioed to his team to tell them he felt like his eye was bleeding – with Vettel revealing after the session what he'd suffered in the cockpit.
"I don't know what was going on!" said Vettel. "I had the first runs and something got into my eye, and then it got worse on the second run… It wasn't bleeding, but I said [on the radio that] either I'm emotional, or something else is going on because it was just tears and tears and I was blinking the whole lap. Not ideal on a track like this.
FP2: Home hero Leclerc heads shock Ferrari 1-2 in Monaco as Hamilton takes third
"So the team was quite nice and they made me this," laughed Vettel, pulling out an eye patch from his pocket and putting it on, "so I probably think I'll keep that and it will keep me safe for the rest of the weekend."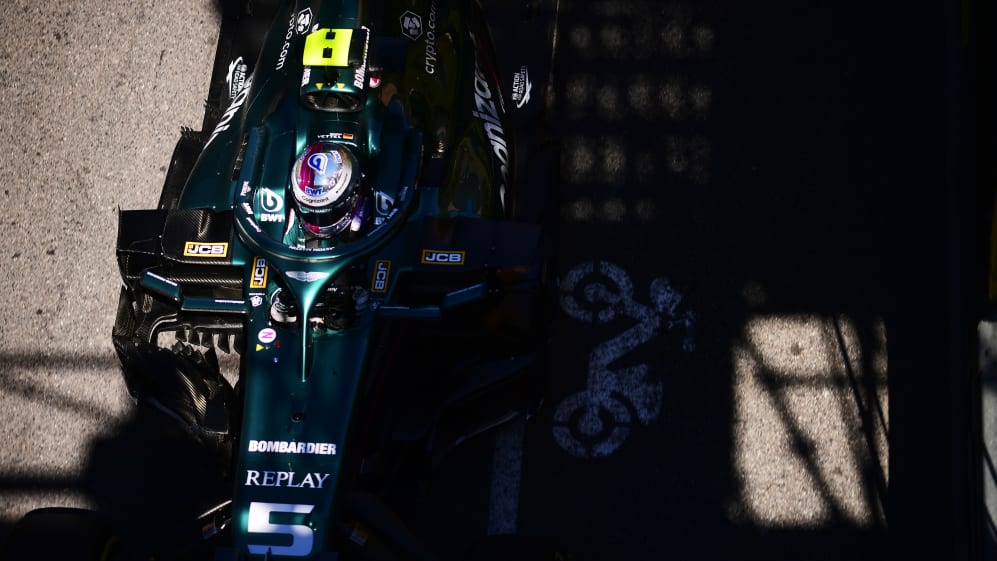 Vettel may have been ocularly inconvenienced – but that didn't stop the two-time Monaco winner posting his second consecutive top-10 performance of Thursday's running in FP2, following up his P8 from the morning session with P10 in the afternoon.
READ MORE: W Series racer and Bond movie stunt driver Jessica Hawkins joins Aston Martin as Driver Ambassador
And despite the eye problems, Vettel said he'd been encouraged by his pace across the first two practice sessions, with Aston Martin having brought a few more upgrades to the AMR21 for Monaco, in addition to the package that Vettel first tried out in Spain.
"I was quite happy," said Vettel. "We got into a rhythm quickly, and then as I said, in the afternoon, lost a bit of [vision], but overall it's okay. It will be tight, it's always tight here and it's obviously tight in the midfield and hopefully we can be at the forward end.
"Hopefully we can keep that up and get everything together," added Vettel, who's never been classified lower than P5 at Monaco in the races he's finished. "It's all about Saturday afternoon, which is not tomorrow, the day after tomorrow, so a bit of time. We tried some bits, and like Monaco usually, you have a bit of stop and go, not getting the laps, that's for everyone. It will matter on Saturday afternoon to get everything in that one lap."
Vettel spent the whole day in front of team mate Lance Stroll, meanwhile, Stroll finishing 11th and 13th in FP1 and FP2, but seemingly unconcerned at having trailed his team mate on Thursday.
"It's very tight," said Stroll. "We've got a few things to look into tonight but we'll see what we can do on Saturday… Some little things to work on for sure. But tomorrow we've got a day off so we can look over some things and come back with a few ideas on Saturday morning."