'It was my fault' – Hamilton takes blame for Lap 1 clash with Alonso, as Spaniard clears up 'idiot' comments
Lewis Hamilton has accepted the blame for his Lap 1 clash with former team mate Fernando Alonso, which saw Hamilton's Mercedes thrown into the air before he was forced into retirement.
Alonso and Hamilton, starting P3 and P4, both made strong getaways to jump the Red Bull of Sergio Perez, and were duking it out for second place going into the Les Combes chicane when Hamilton, trying to pass Alonso around the outside of the first right-hander, shut the door on the Spaniard.
READ MORE: Verstappen cruises to Belgian Grand Prix victory from P14 as Perez completes Red Bull 1-2
The pair touched, with the impact lifting the rear of Hamilton's W13 into the air, causing him to smash back down onto the tarmac, the resultant damage forcing Hamilton to retire from the race as he pulled up near Blanchimont.
Reflecting on the incident, a downcast Hamilton said: "Looking back at the footage, he was in my blind spot and I didn't leave him enough space today. Just so sorry to the team."
The collision led to some choice words from Alonso, who bellowed into his radio: "What an idiot, closing the door from the outside. I mean, we had a mega start, but this guy only knows how to drive and start in first."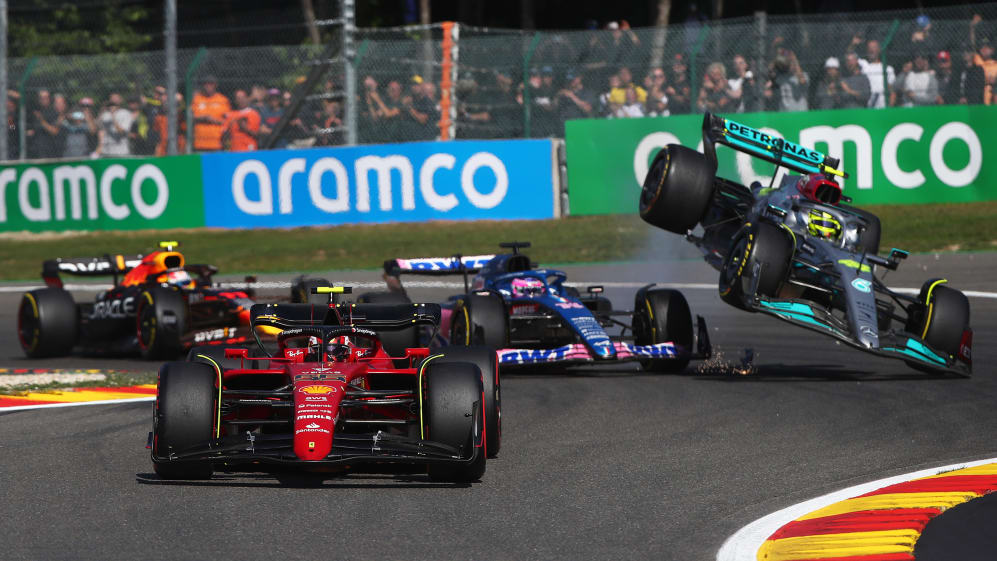 Asked about his reaction to Alonso's comments, a nonplussed Hamilton replied: "It doesn't really matter what he said. I don't care. Like I said, it was my fault, I couldn't see him."
When Alonso was asked to reflect on the incident, and his comments, after claiming P5, he said: "I mean, I was surprised, and for sure he now saw the incident and he takes the responsibility, which is obviously very nice from him.
"It was a Lap 1 incident, nothing really to say there. The stewards they didn't say anything because these things happen, especially in that corner. It happened in the past, I remember also with Lewis and [former Mercedes team mate Nico] Rosberg [in 2014]. It's a tricky corner.
READ MORE: Leclerc demoted to P6 at Spa after pit lane speeding penalty – and admits title chances 'start to look very difficult'
"I was frustrated in that moment for sure; every time we start in the first row, second row or we are fighting top two, top three, there is something going on. And yeah, I was frustrated but luckily my car was very strong, and nothing happened, I could continue. Lewis did not have that luck and had to retire the car."