'It was one of those days' says disappointed Hamilton after qualifying in 13th for Miami GP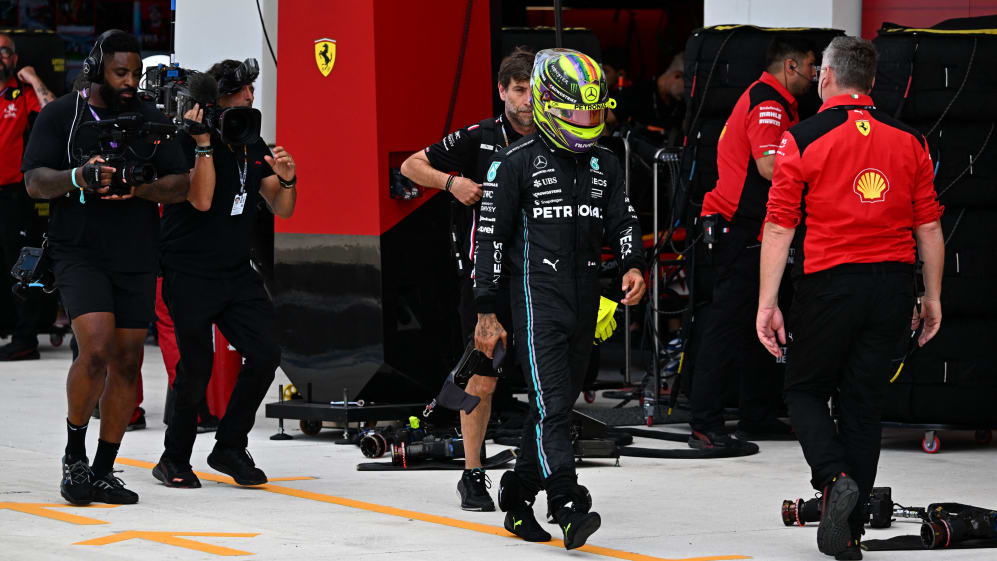 Lewis Hamilton was left to lament traffic on his out lap after the Mercedes driver was knocked out in Q2 in qualifying for the Miami Grand Prix, leaving him starting Sunday's race down in 13th.
Hamilton had left it late to make it out of Q1, and attempted to do the same in Q2, but suffered from a lack of grip to begin his final lap, with the cameras capturing the Briton struggling in the first couple of corners.
READ MORE: Leclerc spin leaves Perez in pole and Verstappen starting P9 for Miami Grand Prix
When the seven-time world champion eventually crossed the line, he was down in 13th, over two-tenths off the pace of his team mate George Russell, who had just made it through in 10th. That left Hamilton ruing the timing of his final lap.
"It was one of those days," said Hamilton, who had never qualified outside the top six in the US. "You know, not the best, I was hoping there was a couple of moments where the car was feeling half-decent and I thought that maybe I would be able to get into Q3.
"But at the end there I went out, they put me out behind seven cars - or something like that - so when I got to the last corner I was like the last of the group. [I] had to back up and lost all my temperature in the tyres, so when I started the lap I just had no grip.
When quizzed on how he planned to regroup ahead of Sunday's race, Hamilton replied: "Well there's nothing I can do about what's just happened. All I can do is try to prepare myself the best and forget what happened today.
"It happens, and just really try and turn the negative into a positive tomorrow, keep my head down and see if I can fight somehow through the field."
AS IT HAPPENED: Follow all the action from qualifying for the Miami Grand Prix
On the other side of the Mercedes garage, Russell's lone attempt in Q3 saw him end up in sixth, after Charles Leclerc's crash brought out the red flags, giving no other driver the chance to improve on their lap. And, while the Briton was happy to be starting that high, he admitted there was an element of luck involved.
"I mean I'm not going to take any pride in the fact that we qualified P6, especially in those circumstances," said Russell. "You know we're all pushing so hard, we're working so hard with this car, and we're just not getting the most out of it.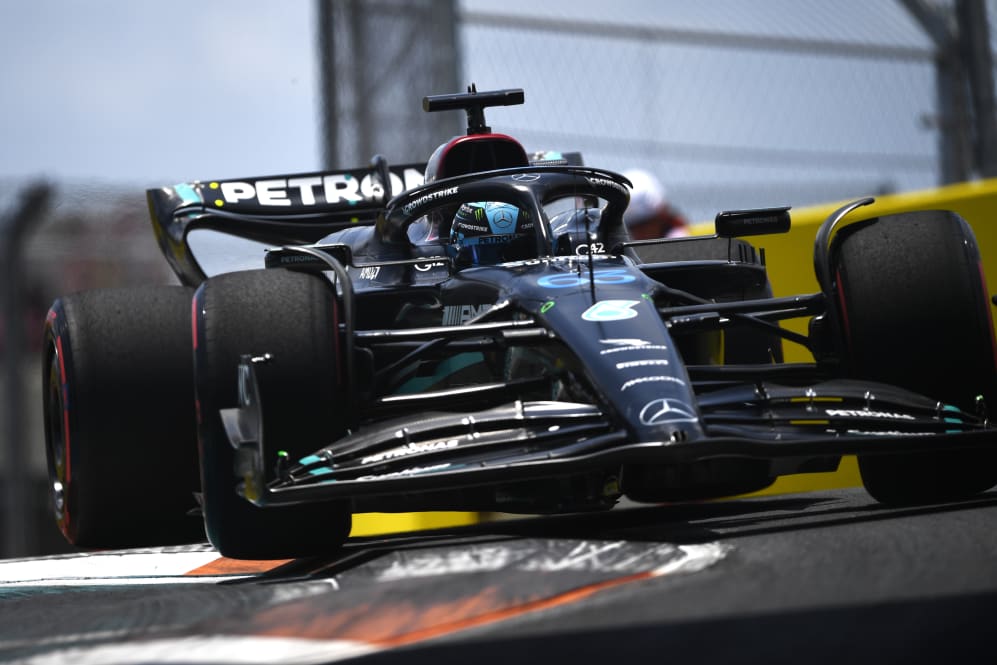 "Sometimes it's flying; sometimes we're really struggling with it, and fortunate to be starting P6 tomorrow - I'll take it. You can say there's no luck in it because we got the time on the board. I don't really know what to say to be honest. It's a tricky one, it's a tricky one."
Pushed on why it had been so difficult for Mercedes this weekend, Russell responded: "I mean I know why, the car's not performing as well as it was and the feeling from within isn't as good as it was in FP1.
MUST-SEE: Huge drama at the end of qualifying in Miami as Leclerc crashes out
"FP1, everything was smooth, it was pretty clean, obviously we were top of the timesheets. But we ran right at the end of the session, so we thought we'd be about three-tenths behind Red Bull, and it seemingly just got a bit worse as the weekend's progressed.
He concluded: "And it's rare that happens with us because normally it's the other way around. So, I don't know. It's a bit of an outlier this track, this new tarmac, is unlike any others. But we need more, we're working for more, we're working so hard to achieve it, and it's just not quite coming together at the moment."