Podcast
'It was quite tragic' – Alex Albon reveals how he celebrated his maiden podium on F1 Nation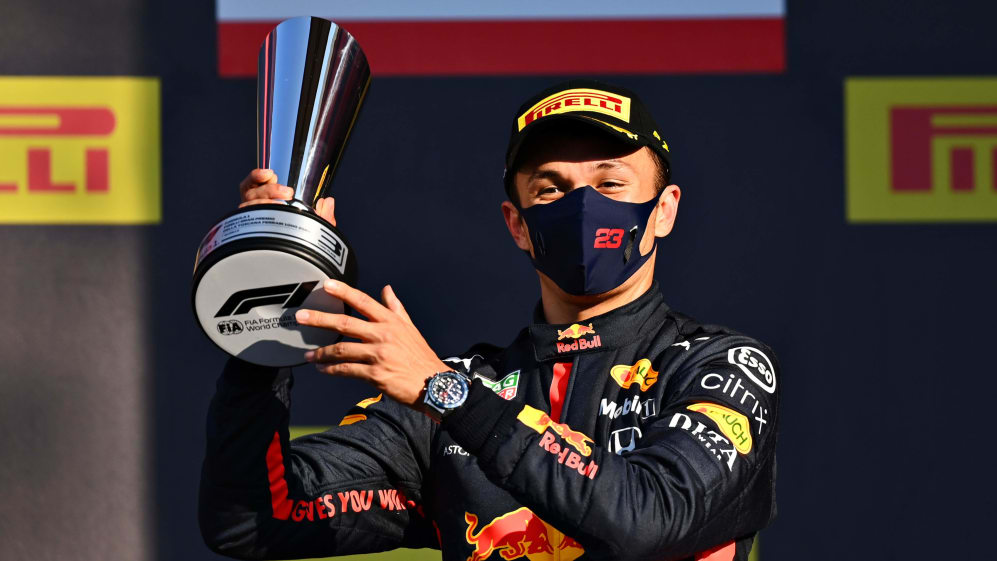 It's a big moment, your first podium in Formula 1. But as Alex Albon reveals on this week's F1 Nation podcast, the festivities for his maiden rostrum appearance at the 2020 Tuscan Grand Prix weren't quite as rock 'n' roll as he might have hoped…
A battling drive from Albon at Mugello saw him clinch third place from Renault's Daniel Ricciardo eight laps from the end of the race with a beautiful move around the outside of the Australian. And the Red Bull driver said that, having weathered criticism and speculation about his future in the weeks leading up to the Grand Prix, he was pleased to have got the result he "deserved" in Tuscany.
"It feels good – honestly, I'm happy," Albon tells F1 Nation host Tom Clarkson. "We had a couple of chances to get this podium, and definitely I would have liked it to have happened sooner than it did, but it's nice. It was a nice time to happen as well if I'm honest, because there's been a lot of talk and everything.
REVEALED: The driver you voted as the most impressive so far in 2020
"It was feeling like Spa and Monza was getting better, and it felt like I was making progress, so to be able to have a weekend where it felt like we got the result we deserved – it's just nice. And obviously from my side of the garage, these guys had been off that podium for a while, so it was nice to give them something.
READ MORE: 'If the inside was free, I'd take it' – Albon on earning his 'Mr Round The Outside' nickname
"I would say it was one of my better drives," he adds. "It's been my Achilles' heel a little bit, Saturdays with this car. But as... the updates have come along to the car, Saturdays have been feeling better and better, and I've been feeling a bit more confident and in tune with the car, which has made the Sundays better as well. But Mugello was a really good race."
So, what does a modern Formula 1 driver do when they achieve such an important milestone in their career? Stuff a limo full of Jeroboams and make for the nearest night club, right? Wrong… very wrong.
"I had a candlelit dinner for one," reveals Albon. "I literally I treated myself to a T-bone steak and a tiramisu, and then I went to bed. It was quite tragic.
"We had to do a filming day at a go kart track on the Monday, so I had to stay over in Italy. I was at the hotel which I was staying in all weekend at Mugello… and I was completely alone… Actually, there was a couple next to me, who didn't even know me."
Hear more from Alex Albon on his podium 'celebrations', as well as the story of F1's first, and only, race at Le Mans and Tom Clarkson's memories of a very uncomfortable interview with Kimi Raikkonen, on this week's F1 Nation. Listen in the player above, or find it on Apple Podcasts, Spotify, or your favourite podcasting platform.