'It wasn't clear we could make it to the end' – 'Super proud' Wolff on how close Russell came to losing Sao Paulo win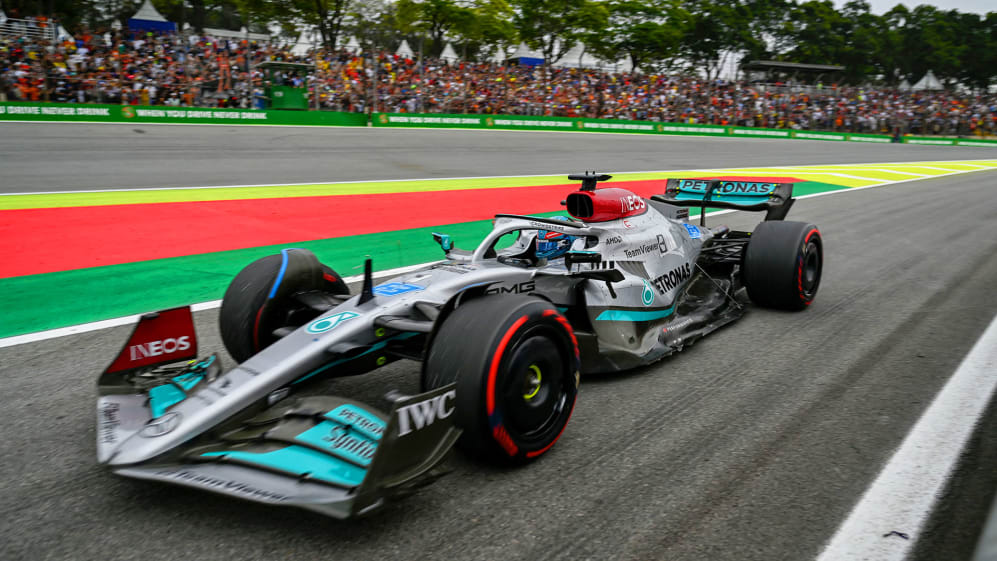 Toto Wolff has praised his Mercedes team for "never stopping believing" in their bid to recover from a challenging start to the 2022 season and return to winning ways – which they achieved in style with a one-two finish at the Sao Paulo Grand Prix.
Having fallen behind Red Bull and Ferrari in the pecking order with an initially troubled W13 designed for F1's all-new technical regulations, Mercedes spent much of the campaign trying to get on top of severe porpoising and unlock performance.
After steady progress, and a host of podium finishes, the victory breakthrough finally came at Interlagos as George Russell led home team mate Lewis Hamilton in a performance that left Mercedes boss Wolff full of gratitude.
READ MORE: Russell takes maiden victory as Hamilton backs up Mercedes 1-2 in Sao Paulo
"It shows the development capability of the team, and that makes me super proud, because we had situations where we felt that we understood [things]. There were setbacks, and obviously weekends that were tremendously difficult, like Spa [where Mercedes qualified some two seconds off the pace]," Wolff reflected.
"The team never stopped believing that we were on the right trajectory, whilst acknowledging that we didn't always understand everything, and it shows the mindset and the values of the team."
Back at Mercedes' Brackley base for the event, Wolff added: "In a way, I feel so proud for what we have achieved. I feel even more proud not having been there, because I feel proud for the organisation that we have built with so many people that keep it up and made us win."
While Mercedes asserted their authority over Red Bull and Ferrari across the Sao Paulo GP weekend, it was not all plain sailing for the Silver Arrows, with Wolff revealing that a water leak almost cost Russell his maiden F1 win.
READ MORE: Russell left 'speechless' by breakthrough F1 win after 'emotional rollercoaster' for Mercedes in 2022
It would have added to the heartache Russell suffered during his substitute performance for Mercedes in place of the unwell Hamilton at the 2020 Sakhir Grand Prix, a race he led for the most part until a pit-stop mix-up.
Asked about Russell's triumph, and his missed chance two years ago, Wolff said: "I don't know if it's redemption, but I think he deserved to win in Bahrain and we let him down with the car, and that's why today was... this victory makes us happy, because he could've had one on the clock two years ago and he didn't. Now he has the first victory.
"As a side [note], we had a water leak on the car throughout the race, and it wasn't clear whether we could actually make it to the end. We talked about it on the intercom, and we all agreed we are going to let him drive to the end even without water. This [relied] on whatever was there to cool it and try to finish the race."
READ MORE: 'We are still the best team' says defiant Hamilton after Mercedes claim stunning Sao Paulo 1-2
With their one-two result, Mercedes are now just 19 points behind Ferrari in the race for P2 in the constructors' standings, with 44 up for grabs at this weekend's season finale in Abu Dhabi.