'We are still the best team' says defiant Hamilton after Mercedes claim stunning Sao Paulo 1-2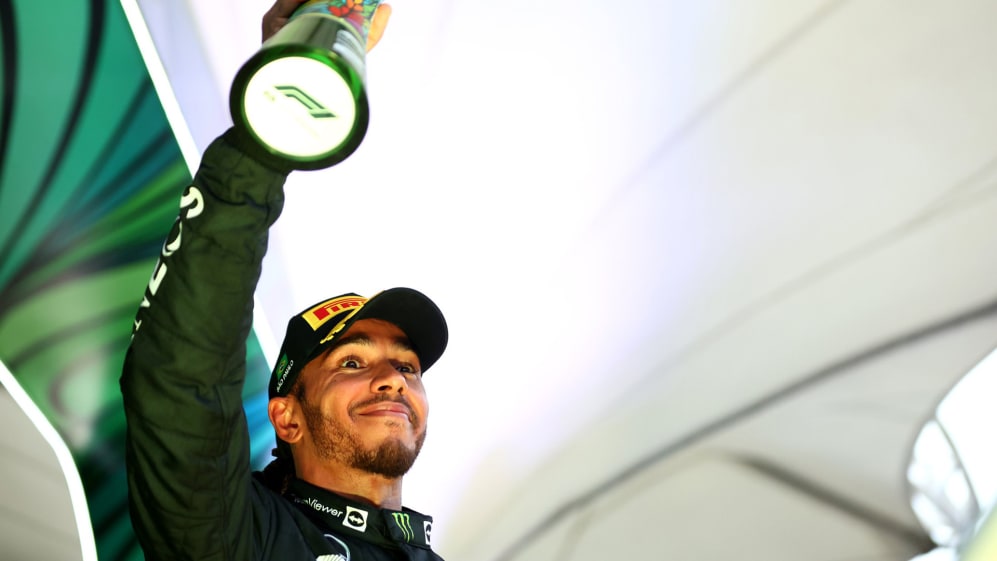 Lewis Hamilton said Mercedes' one-two in the Sao Paulo Grand Prix is a "massive boost" to their hopes of returning to the title fight in 2023, as the seven-time champion also addressed his collision with Max Verstappen early in Sunday's race.
In Brazil, Hamilton finished second to team mate George Russell as the 24-year-old picked up his first Grand Prix win and Mercedes' first victory of the season. The seven-time champion said it was a "dream" result as he recapped his week in Sao Paulo – which saw him made an honorary Brazilian citizen ahead of the race at Interlagos.
READ MORE: Russell left 'speechless' by breakthrough F1 win after 'emotional rollercoaster' for Mercedes in 2022
"It was an incredible day, an incredible weekend, and week actually, just overall – so many amazing experiences from Monday onwards, and this is really a dream for all the team. I think everyone truly deserves this amazing result."
Hamilton added: "It is the most important thing for us to have this result, this is a massive boost to the whole team's morale – going into the winter, the team know that we're on the right track.
"And we are still the best team, and we will get back to having this more [consistently] next year and I'm excited for that, to have that battle."
Hamilton did however worry that his race would be over after a collision with Max Verstappen, which took place in the early Safety Car restart that also saw Lando Norris and Charles Leclerc collide. Norris and Verstappen were given five-second penalties for their separate incidents.
"All I thought in that moment... was I'd have to retire, because I felt something; the rear wasn't feeling the same after that and for me it was like, 'I'm going to lose the team a one-two', and that's all I could think of.
"Driving over the grass and onto the track, all I could think of was: 'How can I get back to giving the team that incredible result?' For me, it's not how you fall but how you get back up. I'm proud and huge congrats to George," said Hamilton.
READ MORE: Russell takes maiden victory as Hamilton backs up Mercedes 1-2 in Sao Paulo
The second-place finisher added that he had "no concerns" over racing Verstappen after today's collision, at the same track on which Hamilton and Verstappen had a fraught battle for victory in the 2021 Sao Paulo Grand Prix.
He said: "I don't have any concerns, I think. I think it's natural when you have success... that you become a bit of a target, but it's okay. It's nothing that I haven't dealt with before, so…"