Italy preview quotes - Williams, Mercedes, Haas, Renault & more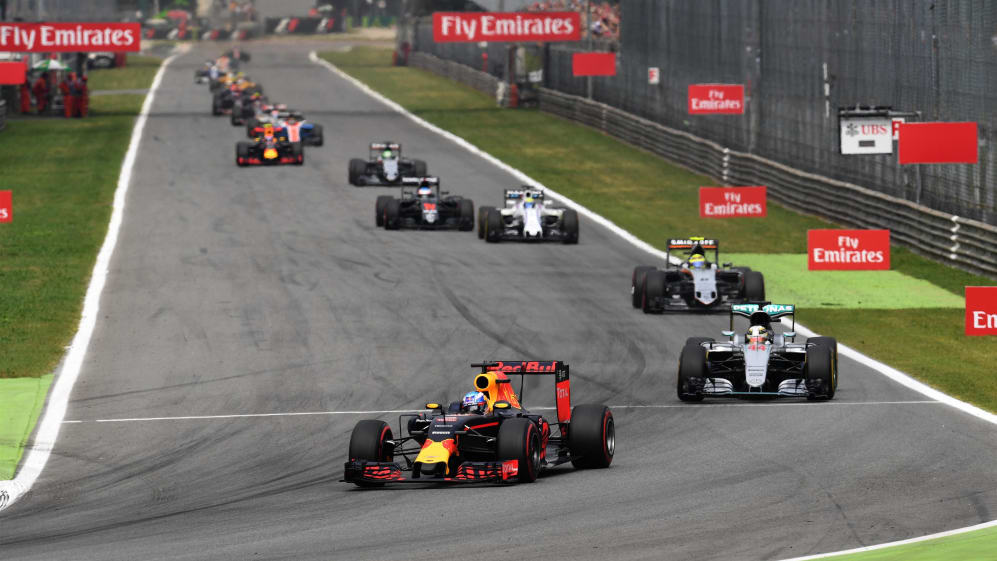 It's a quick switch from one high-speed circuit to another as the paddock moves rapidly from Spa-Francorchamps to Monza. Those involved look ahead to the Formula 1 Gran Premio Heineken d'Italia 2017...
Williams
Felipe Massa
"Monza is a track I love and a country I love to race in. I managed to have two podiums for Williams in Monza and it would be really nice to have another one. It's a nice track with amazing Formula One fans so it's always an amazing pleasure to race in Monza."
Lance Stroll
"You just can't get away from the history of the track and the passion of the tifosi who love the Scuderia. The atmosphere hits you as soon as you arrive and it is a great feeling for all of us drivers. I have been there in Formula 3, so this is another circuit that I have raced on, in fact the fifth and the last of the year that I know from a racing point of view. I think our car should be good there from what I have seen, and hope we can get a good result."
Paddy Lowe
"Straight out of Spa we come to Monza which is another of the great circuits in Formula One. It is also one of my favourite tracks due to the passion you feel from the crowd (the tifosi), and the history of the iconic track, which still has preserved sections of the old high banking. It is incredible that a circuit like this should exist inside a park in a city centre, but that is a demonstration of the enthusiasm of our Italian hosts for this great sport of Formula One. The circuit is extremely fast, the fastest of the year, requiring a special aerodynamic configuration with lower drag and lower downforce. Despite that, there remain a lot of challenging corners and big braking events to negotiate."
Mercedes
Toto Wolff, Head of Mercedes-Benz Motorsport
"Monza is a circuit that has been good to us in recent years. It rewards low drag and peak power, both of which are among the strengths of our package; but braking stability and low-speed grip are also crucial through the chicanes, and these are areas where Ferrari has held an advantage. The team that finds the best overall compromise will come out on top."
Haas
Romain Grosjean
"Monza may be one of the circuits where we don't improve the lap time that much compared to the past. It's going to be fun though, with big straight lines and a lot of low downforce. The Lesmo corner and the Ascari chicane – they're great fun.
"The good thing with Monza is there's lots of overtaking opportunities. There's turn one, three, eight and then the Parabolica. It's more or less every single braking event.
"I think qualifying's going to be key to finding the right tow. The race is always fun to play with the tow and having some fun overtaking maneuvers. We'll see where we are and how well we get the car to work. There aren't that many corners so it's very hard to get the tires to work properly, but we'll be on it.
"The atmosphere is crazy in Monza. The Tifosi, the fans – they're just great. The track is in the middle of a park. It's like nowhere else. There are so many people coming and watching, cheering for the drivers and, of course, for Ferrari. The atmosphere is electric. I love it."
Kevin Magnussen
"Monza is probably the best track for overtaking on the calendar. It's always exciting racing there.
"Monza is a track with a lot of history and home to some of Formula One's most passionate fans.
"It's is all about the atmosphere. It's got so much history and the Italian fans are really into it and they're extremely passionate. It's always a fantastic experience racing there.
"I have been around the old track several times. It's crazy to think they used to race around that kind of track."
Guenther Steiner, Team Principal
"With Dallara's headquarters only an hour drive from Monza, I'm sure that a lot of their people will be there. It's always good to be there because of the passion people have for the racecars. The history of Monza and the passion of the Tifosi give the Italian Grand Prix a great atmosphere, and with it being close to both of our technical partners, we want to do our best."
Renault
Nico Hulkenberg
"[Monza is] a very unique place; incredibly special and holds a lot of history. In terms of the actual track, it's a high-speed layout which means a low downforce configuration for the car, to favour top speed. Having such low downforce becomes uncomfortable sometimes as the car feels light and quite floaty, which can be a bit of a struggle. Monza features a lot of hard braking zones and boasts some legendary corner combinations such as the Lesmos and the Parabolica. You can really feel the history, which is something I enjoy.
"Italy has a really good buzz, and that gets even better during the Grand Prix weekend in Monza. It's a really special atmosphere. I love the whole park and area surrounding the track too. I like my food and, of course, eating a good pizza is mandatory during the weekend! The Italian lifestyle is really cool there and you can feel their passion around town."
Jolyon Palmer
"It's a very special track, and one I absolutely love. It's one of those races which carries so much history, especially when you think of all the great races and all the great drivers who have won there. The crowd carry so much passion – you can hear the fans when you drive round. The track itself is very old school and enjoyable to drive. We take off a lot of downforce so parts are flat out and there can be a lot of overtaking.
"I won and took pole at Monza in GP2 plus I've won twice in F2, so it's been a good one for me. I think it's actually one of my best tracks. Things didn't quite go to plan there last year but hopefully I can do better this year.
"Monza has some long, fast straights so naturally you need good straight-line speed and then stability under braking. Combined with the speedy straights there are some very slow corners so you need to balance out the low downforce with the need to be late and hard on the brakes. It's all about finding a good top speed, with the optimum downforce level for the chicanes."
Cyril Abiteboul, Renault Sport Racing Managing Director
"The Italian Grand Prix caps the end of the European segment of the Formula 1 calendar as we begin to switch our attention to Asia in the early autumn months.
"Monza is a legendary circuit with an electric atmosphere to match and it seems to be a fitting way to end what has been an exciting summer of racing on some of Europe's finest circuits.
"Monza is one of the most demanding races on the engine due to its frequent and prolonged high speed straights and curves; it really is the Temple of Speed! We have to approach the weekend with a sense of caution as we know the remaining races after this weekend should be more favourable for us. It will be about seeing how we go about this to get the most out of the car. Our aim remains to get both cars in the points to keep gaining ground on the teams above us.
"It will be an exciting weekend for everyone involved in Italy; the fans, the drivers and all the racing staff. We head there with momentum on our side and we look forward to getting out to Monza."
Bob Bell, Technical Officer
"Monza is a high-speed, low downforce track, the lowest we run on throughout the season. We can go there with a reasonable amount of confidence having shown in Spa, a high power track, that we can compete. We have a couple of new aero refinements with the aerodynamics packages and wing settings tailored for the low downforce demands with a low-downforce and minimal drag optimised package."
Toro Rosso
Daniil Kvyat
"I grew up in Italy and it's a country I know well; it's like a second home for me. I lived in Rome for some time when I was younger and I'm fluent in Italian, so I always enjoy going back!
"This race has been on the F1 calendar for many years and it's a legendary circuit: it has very long straights, which means we drive at very high speeds, and it's always an interesting race. The only thing I don't like is the fact that the Parabolica doesn't have a gravel trap any more… It's now all asphalt, so it's not such of a challenge and a compromise if you go off track; in the past it could end up meaning that your race was over!
"I have very good memories from Monza, as I won a few times while racing in junior categories, so it's always special to go back there every year. Having said that, I also have a negative memory from 2014, when my brake disk broke at Turn 1 compromising my race to finish in P11: Starting from the last position on the grid I was able to make my way up, but not enough to score points… A big shame, as we were doing a very good race! I hope to create more good memories this year!"
Carlos Sainz
"The Italian GP weekend is a bit of a frustrating one, because you want to spend the whole weekend eating pizza and pasta but you can't as we're there to race! A part from this, I have to say it's an amazing weekend and one of the things I enjoy the most is the Italian fans and their passion. I seem to have many supporters there – I even have an Italian fan club to whom I send my regards to from here! – and it's great to feel so much support!
"Monza is a circuit that I really like – I wouldn't say it's my absolute favourite, but it's up there in my top 5… It's the temple of speed after all! I haven't been able to score a good result there yet during my F1 career, but I'm confident it will happen one day…sooner or later!
"The entrance to the Paddock is special and different to other circuits, as it's absolutely full of passionate fans who wait for the drivers to arrive each morning. This means that before entering the Paddock we stop to sign autographs for 5 or 10 minutes, which gives me a good boost to start the day!
"The Italian GP weekend always coincides with my birthday – this time it will be on the Friday… It's a good way to spend this special day, doing what I love to do and celebrating it with the team, which is like a second family as we spend so much time together!"
McLaren
Fernando Alonso
"Like Spa, Monza is one of those legendary tracks where everybody loves watching cars going racing. With the new wider, faster cars this year, it will definitely be another circuit where we'll see a new fastest lap and some incredibly high speeds on the straights.
"It's the fastest circuit on the calendar in terms of outright speed, and for a driver it's an incredible feeling racing down those iconic straights punctuated by the tight chicanes and big, fast corners that require a huge amount of commitment. We've always said this circuit wouldn't suit our package, and we expect a tough challenge. Although it's power-hungry like Spa, it's also different in many ways. Spa is a long race; the Monza circuit is short and sharp and the race always feels like it's over very quickly.
"The thing I love most about Monza is the fans. Even when you're not dressed in tifosi red, the fans come out in force and they're all super passionate about racing and motorsport. The Italian Grand Prix is a favourite for many people and it really deserves its legendary reputation as a magic circuit for race fans."
Stoffel Vandoorne
"Monza is a really cool place. I've driven there in Formula Renault 3.5 and also in GP2, and I won there in both series, so I know the circuit well and have always really enjoyed racing there. The fans are great, they show a lot of passion, and you feel like you're swept up by their enthusiasm the whole weekend.
"Spa was definitely a tough race for us, and we've always identified Belgium and Italy as two difficult weekends for us. It was hard to manage our pace with the rest of the pack on the straights, and we're preparing ourselves for the same thing at Monza, but of course we'll push hard every day throughout the weekend to try and give ourselves the best chance of a good result.
"As usual, the important thing is qualifying, but it's in the race where we need to work on our pace and make sure we can maintain our position throughout Sunday afternoon. We worked really well as a team in Spa to try to we maximise our progression through qualifying and hopefully influence our prospects for the race, and I hope we'll be able to do more of that this coming weekend."
Eric Boullier, Racing Director
"The Italian Grand Prix is always a 'must-see' for any racing fan, and Fernando, Stoffel and McLaren all have very happy memories of great victories there. There's a huge amount of history at Monza and the venue holds an important place in the calendar: scene of legendary drivers, hugely passionate fans and incredible racing.
"This weekend will also be the last time we'll see the McLaren Brand Centre this year, as we conclude the final race of the European season and head east to Asia. The double-header of Spa and Monza are an incredible combination, but one which we knew we would find challenging. Spa was undoubtedly exactly that for us, and although we are certainly managing our own expectations for Monza, we also go to Italy with our usual fighting spirit, and will work together as a team to get as much as we can from the weekend.
"It's clear to see there's still a lot of work to be done before we can feel confident on these kind of power-hungry circuits. However, but we look forward to hearing and witnessing the support from the passionate Italian fans, and as usual will give it our all, not only to get the best possible result, but also enjoy our final racing sojourn in Europe of 2017."
Yusuke Hasegawa, Honda R&D Co. Ltd Head of F1 Project & Executive Chief Engineer
"After a challenging weekend in Belgium, we're now heading to Italy for our final race in Europe for this season.
"The layout is mostly long straights except for couple of chicanes and corners. It is a notoriously power-hungry circuit, with some of the highest average speeds on the calendar. With the nature of the track, we will doubtless face another tough weekend.
"Furthermore, this race will be the 50-year anniversary of Honda's victory in the Italian Grand Prix in 1967. It was our second victory in F1, with the RA300 winning its debut race with John Surtees behind the wheel. We're planning a demonstration run in Monza on Sunday before the race, and I hope everybody will enjoy the Formula 1 sound of old."
Force India
Sergio Perez
"I love Italy and I love Monza! It's one of my favourite weekends of the season and the tifosi are amazing – they make such a special atmosphere. All the passion you feel throughout the weekend is very special. Also the track is great – you get to experience truly high speeds; you arrive very fast into the corners, with very low downforce, and it's going to be very interesting in these 2017 cars.
"In many ways Italy is quite similar to the Mexico race in terms of the atmosphere and passion of the fans at the circuit. I've had some special days in Monza too, when I finished on the podium in 2012 and beat both the Ferraris. I guess that wasn't great for the tifosi but I still received a lot of support when I was standing on the podium."
Esteban Ocon
"I always have special emotions when I visit Monza. I used to live in Italy and raced with an Italian team in my junior career so I know the country really well. I also speak Italian and I enjoy Italian food too!
"It's one of the classic Formula One tracks. My favourite parts of the lap are the two Lesmo curves and the Ascari chicane. These are the corners that can make or break your lap. The combination of corners through Ascari feels very nice in a Formula One car.
"The atmosphere in Monza is always special. The Italian fans give so much support to all the drivers and you feel their energy. There is so much history and tradition in the country linked to Motorsport and you get to appreciate this in Monza."
Tom McCullough, Chief Race Engineer
"Monza is another one of the historic tracks in the Formula One calendar: the Italian fans, the tifosi, help create an incredible atmosphere and it's generally one of the favourite races of the year for everyone involved. From a technical point of view, the Temple of Speed is a unique challenge: nowhere else we experience such low drag and low downforce, and this means the set-up of the car has to reflect these special demands. The long straights are the hallmark of this circuit, with high straight-line speeds and six big braking zones providing a true test for the brakes. The low number of corners means fewer occasions to differentiate between cars – in qualifying, very small margins can make a big difference."
Vijay Mallya, Team Principal
"It's hard to look back on the race at Spa, knowing we had the pace to score a lot of points, and came away with only two. At least we are back on track this weekend and we get an immediate chance to put the disappointment behind us. Monza is another quick track on which we expect to do well: like in Baku and Montreal, the layout of the track should play to our strengths. At this stage of the season, it's crucial we make the most of every opportunity to score points. We have made both drivers aware of the new team policy designed to prevent incidents like the ones in Spa from reoccurring. As a team, we have a responsibility to defend our position and I am sure we will finish the season without any further issues. We have been competitive on every track so far and we intend to continue our strong season with another good performance in Monza."
Red Bull
Max Verstappen
"It's maybe not the most positive track for us in terms of top speed but it's always good to feel the atmosphere of the fans who are very passionate there."
Daniel Ricciardo
"The atmosphere in Italy is pretty awesome. I normally like more technical tracks, but Monza is still fun. It's a track I've always enjoyed and it's quite unique.
"The drivers' parade in Monza is always special as well. Everyone is shouting Ferrari, but it's still pretty awesome to experience it."
Pirelli
Mario Isola, Head of Car Racing
"With the new generation of 2017 cars, we may see lower or similar top speeds to last year, but with more energy going through the tyres because of the extra downforce under the new regulations. This combination of speed and downforce defines the amount of work that the tyres have to do. The tyre choice has also been influenced by the risk of blistering at Monza, as there are plenty of braking areas in a straight line. This means that the cambered shoulder area of the tyre can easily overheat and so cause more blistering compared to other circuits. In the past Monza has given us many different types of weather, but following a very hot summer, it's reasonable to expect more high temperatures over the weekend. How this influences tyre behaviour is likely to be a focus of free practice as the teams examine different potential strategies."
More to follow.