'It's a big step' – Mercedes pair eyeing Ferrari fight in Spain as upgrades net Russell best grid slot of the year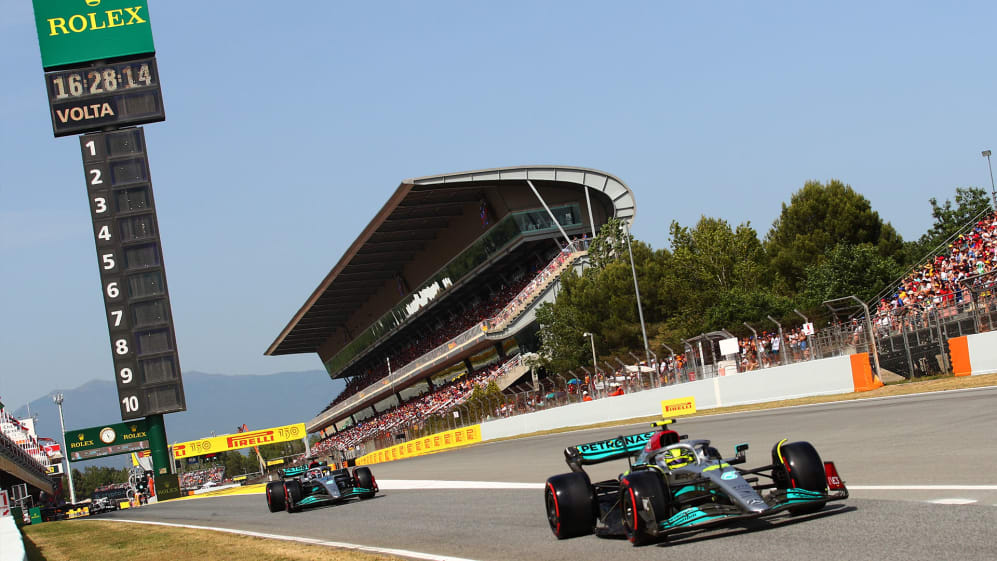 Mercedes' run of nine straight pole positions at the Circuit de Barcelona-Catalunya – stretching back to 2013 – may have come to an end this year. But drivers George Russell and Lewis Hamilton were buoyant after claiming P4 and P6 on the grid in Barcelona, with both eyeing a scrap with title leaders Ferrari after Mercedes appeared to have conquered their porpoising issues.
Just as in Miami, Mercedes showed impressive pace in Free Practice 2, Russell and Hamilton finishing P2 and P3 behind Charles Leclerc. Unlike Miami, however, they carried that pace through to Saturday, with Russell ultimately claiming fourth on the grid in Spain, for his best qualifying of the season.
READ MORE: Leclerc says last-gasp shot for pole was 'something special' after recovering from spin in Spain
Asked if the result reflected progress – with Mercedes having brought a raft of upgrades to the W13 in an effort to stop it bouncing – Russell replied: "I think so. It wasn't actually our most perfect qualifying session; we didn't really have the tyres in the right window and I felt like there was a lot more lap time on the table, yet we still came home in P4 with our best qualifying of the season.
"And looking at the pace on Friday, we had a better race car than qualifying car, so I think we've got a real chance against Ferrari. But Red Bull, especially Max [Verstappen], seem a little bit faster than the rest, so all to play for."
Russell added that it was a relief not to be suffering porpoising in the car now, telling the media: "I don't feel quite as fatigued after that session as what I'm used to, so I can chill out tonight, get a good sleep and go for it."
Spain marked the first time that Hamilton has been outqualified by Russell when they've both made Q3 this year. And while the six-time Spain pole-sitter admitted he was "gutted" to have qualified 0.119s off Russell (who himself qualified 0.643s adrift of pole man Leclerc), he also praised the work done by Mercedes to turn around the truculent W13.
READ MORE: Leclerc shrugs off Q3 spin to take pole in Spain as technical issue sees Verstappen miss out
"The team have done such a great job, so a big, big, big thank you to everyone for continuing to push back at the factory," said Hamilton.
"We don't have bouncing in a straight line, which is a huge improvement for us, and the car has generally been nicer this weekend. We do have some bouncing through the high-speed corners like Turns 3 and 9, so we just need to keep working on that and improve it and see if we can gain more downforce elsewhere.
"I'm a little bit gutted because I wanted to be further up ahead and you've obviously seen George is able to put it further ahead than I, but I'll keep pushing."
FACTS AND STATS: Consecutive poles for Leclerc as Ferrari start P1 in Spain for first time since 2008
Asked if Mercedes' race pace had been better than their one-lap pace in Friday running, meanwhile, Hamilton replied: "Definitely. Yesterday was like the best race pace we've had so if we can start racing with the Ferraris for example, that would be amazing.
"I think the Red Bulls look like they might be quickest, but we might be able to compete with the Ferraris, maybe, tomorrow. That's a big step for us."