Leclerc says last-gasp shot for pole was 'something special' after recovering from spin in Spain
Ferrari's Charles Leclerc clinched pole position for the Spanish Grand Prix after recovering from a Q3 spin to set the fastest lap over Red Bull's Max Verstappen. And the championship leader was clearly elated to secure a P1 start for Sunday – while team mate Carlos Sainz said he's "ready to fight" as he begins from third at home.
Leclerc's Turn 14 spin saw him abort his first Q3 lap, and the Monegasque driver was watching time – and his chances of pole – tick away as he sat in the garage. But he emerged earliest out of the field for his second run and nailed his lap, taking pole position by 0.323s as provisional pole-sitter Verstappen was compromised due to a DRS issue.
READ MORE: Leclerc shrugs off Q3 spin to take pole in Spain as technical issue sees Verstappen miss out
"It was a very, very difficult session," said Leclerc, "especially in Q3, because I did a mistake in the first run of Q3 and then obviously I only had one lap, but it went extremely well. I had a bit of moment on my lap but at the end made it stick and very, very happy with pole position. It was a good lap, and the car was amazing too. Yes, very happy.
"Obviously the circumstances weren't easy. I remember Singapore 2019 was a pretty good lap too, with a lot of snaps, etcetera, but this lap also had something special because of the mistake just before.
"I knew I only had one chance and I managed to squeeze everything in that lap."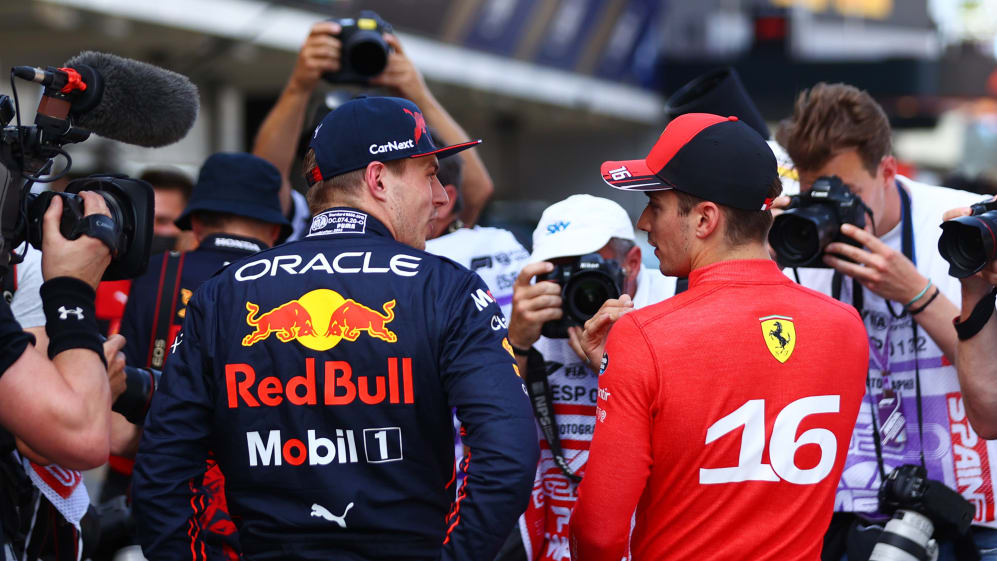 Leading Verstappen by 19 points going into Sunday's race, Leclerc would be pleased to know that six of the last eight Spanish GPs have been won from pole position. But the Scuderia racer didn't think it would be that simple.
"I am in a strong position to start the race but we've been struggling with tyres compared to Red Bull so Max is just behind, and if we don't manage those tyres well, we will lose that win. So, we need to get on top of it and do a good job tomorrow on tyre management.
"I hope we can do a one-two together with Carlos; it would be great for the team and yes, we will give it all."
FACTS AND STATS: Consecutive poles for Leclerc, as Ferrari start P1 in Spain for first time since 2008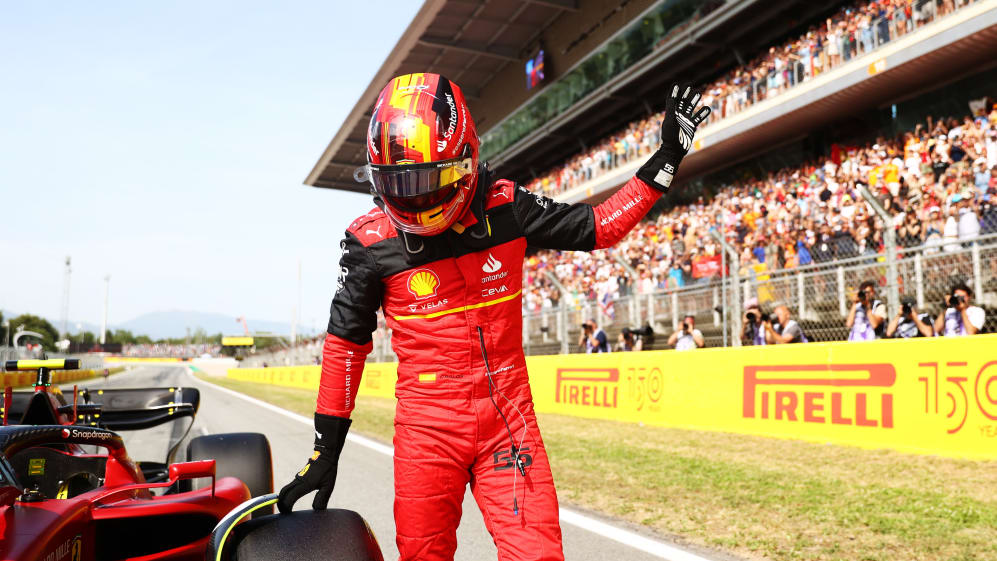 Readying for his home Grand Prix in a Ferrari that looks capable of winning the 2022 World Championship, team mate Sainz said that he will give it all to win from P3 at home.
'I'm not lacking a lot' – Sainz unconcerned by qualifying deficit to Leclerc so far in 2022
"I am ready to fight for it, ready for a good start and to try and get ahead and to push from there. These guys [Leclerc and Verstappen] have proved very good pace today and recently but I think anything is possible tomorrow.
"Yes, it's been a tough weekend so far. The conditions haven't been the easiest with the heat, with the wind. But today we managed to put a decent lap that allows us to fight from there tomorrow. I think the key will be the start, the tyre management, see if we can get a good start and go from there but it's a decent position to start," added the home driver.