'It's definitely encouraging' says Leclerc of Ferrari's Canadian GP turnaround as Sainz addresses team orders call
Charles Leclerc and Carlos Sainz cut positive figures after the Canadian Grand Prix as they recovered from a challenging qualifying session to score a strong haul of points for Ferrari – displaying improved tyre degradation in the process.
Having struggled for tyre life earlier in the season, Leclerc and Sainz managed to go beyond the halfway mark of Sunday's 70-lap encounter to overcut several rivals who had pitted under the early Safety Car triggered by George Russell's crash.
READ MORE: Verstappen hails 'incredible' milestone as he helps Red Bull hit a century of F1 wins
Although Red Bull's Max Verstappen, Aston Martin's Fernando Alonso and Mercedes' Lewis Hamilton were the ones to taste the Ferrari Trento on the podium, the Scuderia Ferrari pair were encouraged by the apparent progress Ferrari have made with their updated SF-23.
"I think we couldn't have done anything better," reflected Leclerc, who dropped out in Q2 and started 10th after grid penalties were applied. "The feeling was good, the pace was quite good, so on that I'm happy. Again, starting from that far behind, that was the best we could do today."
Asked about the debrief that followed his early qualifying bath, with the Monegasque's calls to swap intermediate tyres for slicks amid changing conditions initially being resisted by Ferrari and the switch then coming too late, Leclerc explained that the time for a deep analysis will come this week.
"Yeah… I mean, we didn't spend too much time on it, because we still had a race to do, which we did now, and today we must be happy about our performance, because it's a good performance," he commented.
"The feeling with the car was great, we did a good strategy. All in all, it was a great management of the race and that is very positive. Now from tomorrow we will regroup and obviously analyse the weekend as a whole, and try to understand what we can do better for the future."
READ MORE: Alonso says he pulled off '70 laps of qualifying' to beat Hamilton in 'amazing' battle for second
As for the tyre life, Leclerc said: "Yeah, it is definitely encouraging. Again, the feeling with the car… I was really happy, so that is good. Tyre management is good, so it's a positive Sunday."
Sainz, meanwhile, put in a recovery drive of his own to rise from P11, having been hit with a three-place grid penalty after qualifying for impeding Alpine's Pierre Gasly in the Q1 phase.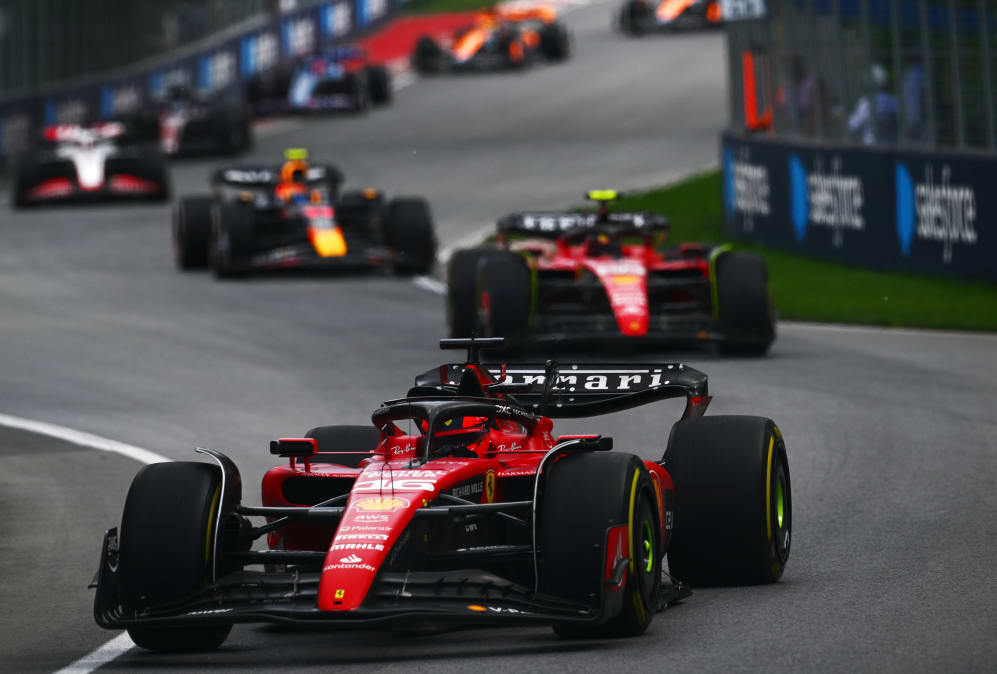 "I think we had very strong pace today," he said. "We showed that in a different track like Canada, to Barcelona, we are stronger, that the car is working well in the low-speed corners, we had also better deg [tyre degradation]. So yeah, a bit of progress, a bit of an encouraging day for the whole team.
"I felt really good on that [medium starting] tyre. I was very quick, it felt like I could manage it no problem. I think we did some good progress, but I also think it's down to circuit characteristics and we need to see how Austria plays out with going back to higher speed corners."
READ MORE: Hamilton buoyed by Canadian GP podium as he insists Mercedes are 'going in the right direction'
Asked if he was disappointed at Ferrari asking him to hold station behind Leclerc when the race developed, Sainz replied: "No, I totally expected it, also because we were both trying to extend.
"Obviously I felt very strong with the medium, that's why I kept getting DRS and I could kind of feel like I had very good pace, but I think the right thing was always to extend that stint, go long and overcut the field to then go and finish P4 and P5."