'It's happened too many times this year' – Zhou left frustrated by third DNF of the season in Baku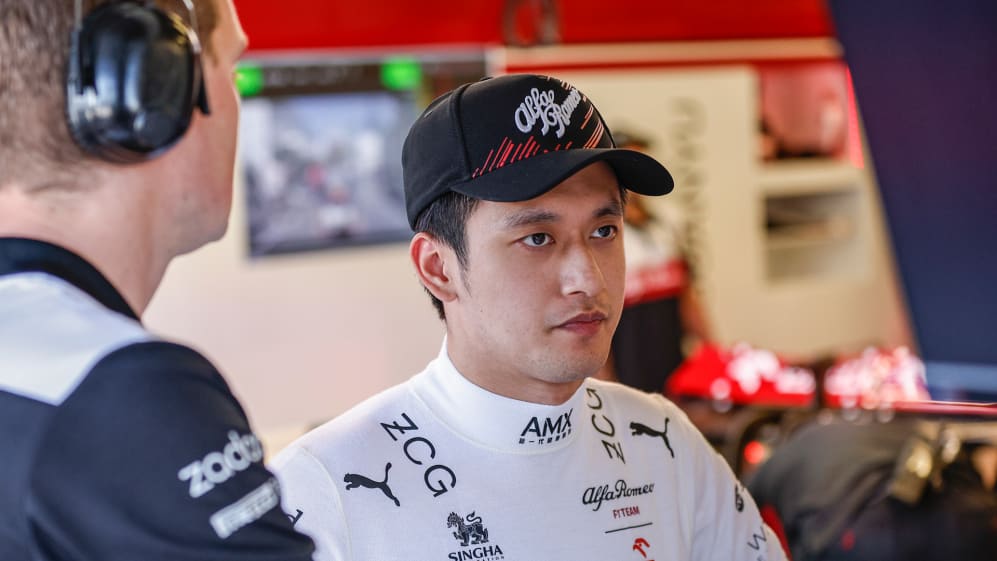 Zhou Guanyu has told Alfa Romeo that they must solve their reliability issues as quickly as possible, after the rookie driver was forced to retire for the third time in four races last Sunday in Azerbaijan.
Zhou had been running in the top 10 and looked set to finish in the points for the first time since the season-opening race in Bahrain. But after 23 laps in Baku, Zhou received a radio message from his team informing him of the need to retire the car, to which he replied on the radio: "Are you kidding me, again?"
His frustration was also evident after the race had finished.
MONDAY MORNING DEBRIEF: Would Leclerc have triumphed in Baku without his Lap 20 DNF?
"It was a very good race. I didn't put a foot wrong in that race and climbing up the field comfortably to get behind [Sebastian] Vettel and fighting for further positions in the points," said Zhou. "When I heard [the team radio], it was pretty unexpected, and I couldn't really believe it, because it's happened too many times this year already.
"As a team, we have to just solve that problem, I think that's the biggest target, or the first priority. We have to get solved the next few races, because to get to the finish line is always the first key, especially when I always had a chance for the points in the last three races."
Zhou said he believed that his pace had improved after eight rounds of 2022, which made the third DNF in the last four races of his rookie season even more painful to swallow.
"I mean, obviously as a rookie you want to get as much laps in, as much experience in [as you can]," said Zhou. "But looking at the race, looking at how the last few races went, I think from my side I was able to progress and keep building up the pace.
READ MORE: 'We were a little bit quicker than expected' – Russell seizes opportunity to take unlikely Baku podium
"The pace was actually stronger than most of my main competitors that race, so I was comfortable out there, and obviously it was that issue, we can't really put that into results once again, so it's quite frustrating."
Zhou was not the only disappointed Alfa Romeo driver, as Valtteri Bottas – who finished 11th – was left bemused by his lack of pace on Sunday, the Finn failing to finish in the top 10 for the first time this season (excluding his DNF at Jeddah).
"That's true, I was just lacking pure pace," said Bottas. "It was strange because I was hoping in theory we should have had a quicker race car. I don't know what changed from Friday to Saturday and Sunday, because we felt like we lost a lot of performance, especially on my car – so we just need to find that out before Montreal.
READ MORE: 'I could've finished 8th if I was more of a rebel' says Norris – but accepts McLaren team orders were 'fair'
"It was a bit of struggle all through the race. For me the big issue today was a lack of rear end, just lacking grip. A bit strange."
Alfa Romeo head to Canada having fallen to sixth in the championship after Alpine enjoyed a double points score at Baku.