'I could've finished 8th if I was more of a rebel' says Norris – but accepts McLaren team orders were 'fair'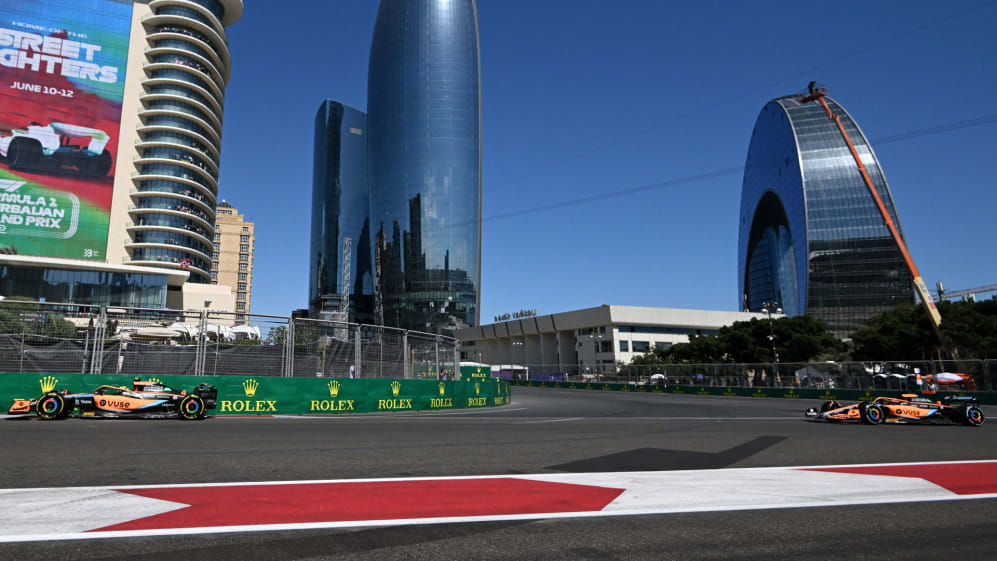 Lando Norris finished just 0.349s behind Daniel Ricciardo in Azerbaijan as team orders prevented the Briton from attacking his McLaren team mate for P8 – the Briton accepting the outcome but wondering what could have been on Sunday.
"Hold position, it's a good result for the team – appreciate it," Norris was told on the radio as the Baku race neared its end. Having begun on medium tyres and switched to hards on Lap 20, Norris was closing in on Ricciardo – who began on hards but switched to mediums during the Lap 33 Virtual Safety Car.
"I am a team player so I accepted that I couldn't overtake at the end, and I couldn't go for the position," said Norris after the race. "Daniel did help me out in the middle, it was one lap that he wasn't allowed to overtake me on.
READ MORE: Verstappen leads Red Bull 1-2 as both Leclerc and Sainz retire in Azerbaijan
"If the return favour is to not overtake him at all in the last three laps, I guess I have to accept it. I think it was fair, I don't think what we did was incorrect. It's just you're racing, you always want to push it, you always want to find what the limit of it is. But I could have done…
"I was up the inside into Turn 1 and I gave way to him and let him through still. I could've finished eighth if I was more of a rebel, but I accept what we did as a team. I think what we did today was strong. Our aim was to be in the points with both cars, and that's exactly what we did, so I'm happy with that."
Norris added that he was more content to back off his team mate given neither a podium nor a win were at stake at Baku.
"My goal is to win one day, not to finish P9, and therefore I think still the quickest way of doing that is to race well as a team, and to get the maximum points as a team, and that's what we did today."
READ MORE: 'It hurts' – Leclerc 'more than frustrated' as Ferrari pair lament double Ferrari DNF in Baku
As for Ricciardo, he took his second points finish of the season, his first in five Grands Prix, with P8 having enjoyed an opportune stop during the second VSC of the race that was triggered by Kevin Magnussen's retirement.
"It was an eventful race for a few reasons, I think splitting the strategy at the beginning I found myself with more pace on the hard than Fernando [Alonso] and Lando on the medium and there was a little bit of team orders. I say a little – there were team orders there," he admitted.
"But then on the medium, I had pace for maybe two laps and then it dropped off and dropped off and I fell into the back of Lando at the end and couldn't keep up with Fernando. Then we were told to hold position I think with a couple laps to go.
"So, I think as a team eighth and ninth was our pace today, whether it was me or Lando, it ultimately didn't change too much. Happy to be back, get a few points, learn some more about the cars, we leave here better off than two weeks ago."
READ MORE: Bad luck has 'evened out' in title fight asserts Verstappen, as Perez says 'miscommunication' cost him in Baku
Asked, meanwhile, about the team order debate at McLaren – with Ricciardo having complained of being held up by Norris early on, Norris then complaining of the reverse towards the end of the race – McLaren team boss Andreas Seidl said: "The most important thing is that we have prepared these scenarios, and that the drivers know exactly what the calls will be if situations like this come up. I have a lot of trust in those guys and in the end we've seen on the track that we can rely on them, which is very important.
"I have a good team in place that communicate with me as well when I have to get involved in things like team orders like today, but… the team did well, I'm very happy with the outcome given the performance we had this weekend."