'It's super nice to win like this' – Verstappen explains how he survived rain and more en route to Monaco victory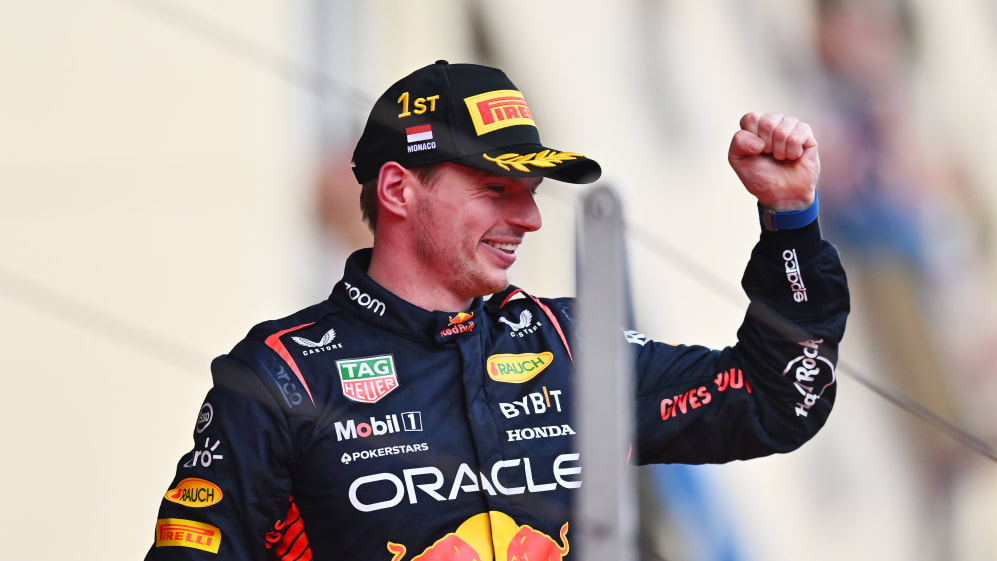 Max Verstappen took great pleasure from the way he claimed victory during a dramatic Monaco Grand Prix, controlling proceedings and overcoming a late rain shower to take the chequered flag first.
After converting pole position, Red Bull driver Verstappen had been comfortably leading Aston Martin rival Fernando Alonso when a shower arrived in the closing stages, dampening only certain corners before intensifying and covering the whole track.
READ MORE: Verstappen beats Alonso to Monaco GP victory despite rain causing late drama
While Alonso pitted for more slick tyres amid the drops of rain, Verstappen stayed out and was able to move straight from his starting mediums to intermediates shortly afterwards, meaning he emerged with an even greater advantage.
Verstappen ultimately crossed the line almost half a minute up on Alonso to secure the win and move 39 points ahead of team mate Sergio Perez, who could climb no higher than 16th after starting at the back due to his qualifying crash.
Post-race, Verstappen said: "It was quite a difficult one because we were on the medium initially and Fernando was on the hard tyre. We didn't want to go that long, but we had too. The rain was coming, and we didn't know really what was going on.
"The tyres were graining and then took a few laps to get through that graining phase and the pace picked up a little bit, but it was still very tricky to drive. Then it started to rain lap by lap, and then we had to make the call to go on to the inters.
"It was incredibly slippery. When you are that far in the lead you don't want to push too hard, but you don't want to lose too much time, so it's quite difficult in that scenario. I clipped the walls a few times, it was super difficult out there, but that's Monaco!"
WATCH: Relive an action-packed Monaco Grand Prix start as pole-sitter Verstappen stays ahead of Alonso
As for the moment Verstappen made contact with the barriers at Portier before swapping to intermediates, he added: "I locked the rears and then couldn't get out of it, then tried to control it with a bit of drifting, but the wall in a way stopped it from sliding even more."
With Alonso the only Aston Martin to score, Verstappen's victory means Red Bull are now 129 points clear of their nearest rivals in the constructors' standings, in addition to his boosted drivers' championship position.
"It's super nice to win," the Dutchman added. "It's also super nice to win in the way we did today, with the weather and everything, to stay calm and to bring it home. Again, a lot of points for the team as well, so it's great."