'It's the story of my season' – Sainz frustrated as 'easy 1-2' goes up in flames at the Red Bull Ring
Carlos Sainz made a dramatic exit from the Austrian Grand Prix, pulling off at Turn 4 with flames licking out the side of his Ferrari – with the Silverstone winner angry after seeing an "easy one-two" go up in smoke.
Sainz appeared to lack the pace of his race-winning team mate Charles Leclerc on Sunday at the Red Bull Ring, but was nonetheless lining up what looked set to be a comfortable pass on Max Verstappen's Red Bull for P2 on Lap 56 of 71 when smoke was seen coming from the back of his F1-75.
READ MORE: Leclerc shrugs off late reliability scare to overhaul Verstappen for Austrian Grand Prix victory
Sainz was forced to park up at the exit of Turn 4, the awkward gradient then making it hard for the Spaniard to leap clear of the car – as he explained after returning to the paddock.
"Yes, it was a very tricky situation because I wanted to jump out, but the car was rolling backwards and I didn't want the car to roll back forever and I knew I was catching a bit of fire and I was waiting for the marshals to come. They never came until quite late, so it was a bit of a moment, but nothing happened."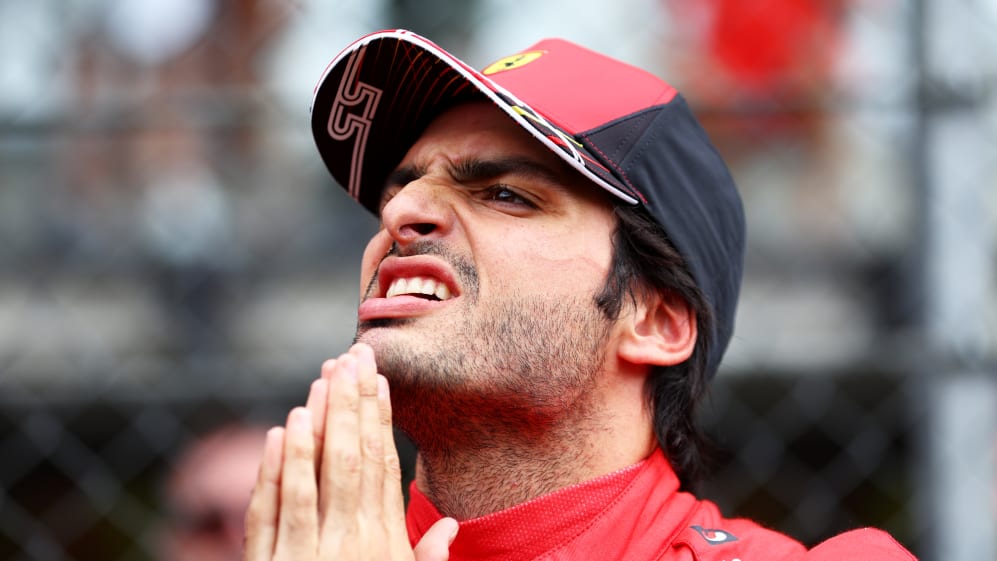 That crisis averted, Sainz was left to reflect on the loss of a "very big result" for Ferrari in Austria – the team's blushes saved somewhat by retirement for Red Bull's Sergio Perez after a Lap 1 clash with George Russell, the Scuderia thus outscoring Red Bull 38 to 31 across the weekend to close the gap to 56 points in the constructors' championship.
READ MORE: 'I definitely needed that one' says Leclerc, after taking first win in three months in Austrian Grand Prix
"We were on for a very easy P2 and a one-two for the team, a very big result for the team," said Sainz. "We were very quick on the hard tyres especially, and we were catching back up on Charles. Good signs, I had the pace and the momentum that we were getting was very nice.
"But it looks to be the story of my season: as soon as we get a bit of momentum, there is something that goes wrong and it's difficult to continue with it. This weekend, we were very quick and it should have been an easy one-two for the team."