'I've got goosebumps!' – Sainz hails 'incredible' run to pole on Ferrari's home soil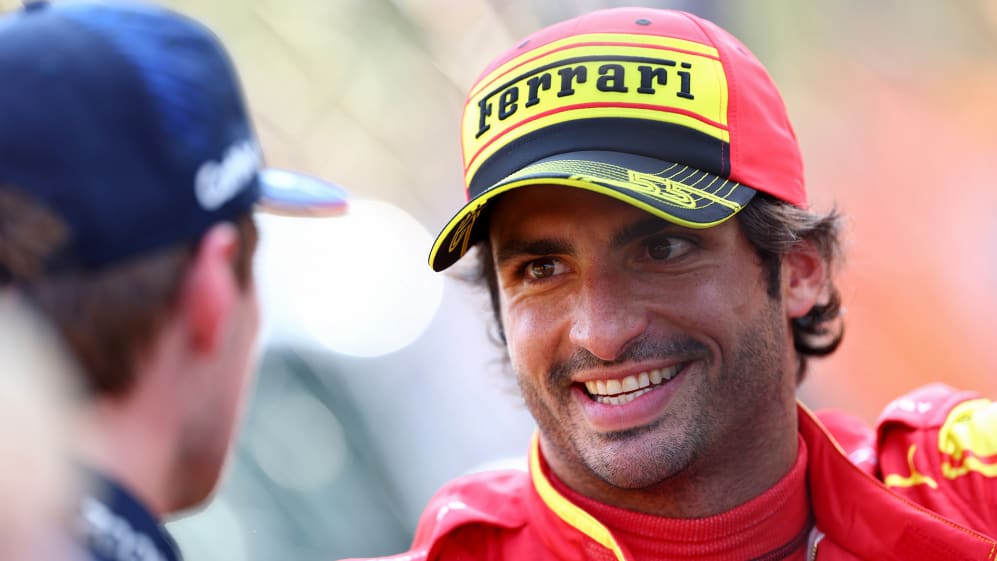 Carlos Sainz was full of smiles and emotion after converting his strong practice pace into a breakthrough pole position for himself and Ferrari at the Italian Grand Prix in a thrilling qualifying session.
Having topped FP2 and FP3, Sainz narrowly got the better of Red Bull's Max Verstappen and team mate Charles Leclerc in the grid-deciding hour at Monza to secure his first pole of the season, and his first since last year's visit to the Circuit of The Americas.
READ MORE: Sainz pips Verstappen and Leclerc to pole in ultra-close Italian GP qualifying
Speaking after he stepped out of the car, to the roar from Ferrari's dedicated home fans, Sainz said: "Wow. It's been such an intense qualifying, especially in Q3, where we all three went for it – we were very, very on the limit.
"In that last lap, I knew I had some lap time to come in Ascari and Parabolica. I went for it and it worked well, thank God, because I really pushed hard in that last lap!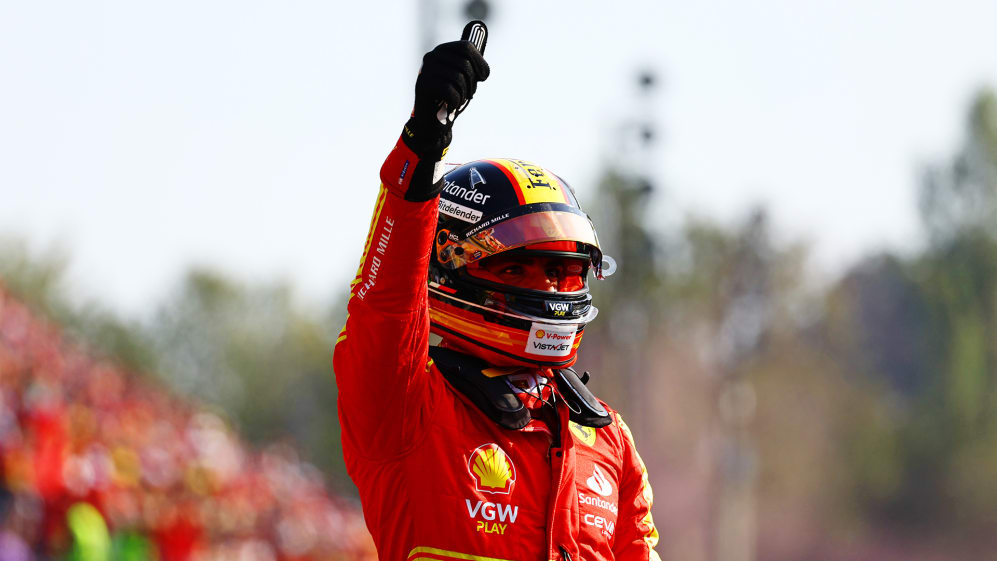 "[I've got] goosebumps since I crossed the finish line. The whole in lap [I was] watching the crowd. Getting out of the car and seeing this… I haven't stopped the goosebumps, it's incredible.
"In the hotel, arriving to the track, everywhere we go, it's just noise, support and encouragement, and it's the best feeling you can have as a driver, as an athlete."
PRACTICE DEBRIEF: Will Ferrari's Friday pace at Monza translate to Italian GP podium glory?
Asked about his podium chances on Sunday, he replied: "That's the number one target. I'm going to give it everything, pull out of P1, [get] a good start, a good first stint and see if we can battle Max. Normally in the long runs he is quicker, but I'm going to give it [my] all."
Leclerc, meanwhile, felt he could have at least joined Sainz on the front row of the grid had he picked up a tow on his final Q3 lap, but admitted to his team mate holding the upper hand all weekend.
"My feeling can only be amazing with the tifosi, of course," he said, when asked to reflect on his session. "On my side, I'm a bit disappointed, I obviously wanted to be first, but seeing that Carlos is P1 is great for Ferrari. He has done an incredible job all weekend.
"I've been struggling quite a bit more FP1, FP2, FP3, and qualifying I managed to put everything together, so I was really happy. Unfortunately, in Q3, I didn't have a slipstream, and this cost us one position at least, but it's fine.
F1 EXPLAINS: How DRS works, why it was introduced and what is the best way to use it
"We should be happy, especially on my side I've been struggling a lot. I don't smile very often when I'm P3, but obviously being here and having that much support is an amazing feeling. We will try to do a first and second with Carlos [in the race]."
Ferrari head into Sunday's 53-lap encounter looking to secure their first F1 victory since last year's Austrian Grand Prix, a triumph claimed by Leclerc, while Sainz's last win came at Silverstone earlier in that season.