Opinion
Jolyon Palmer: Why the re-start in Portugal exposed a recent weakness in Hamilton's otherwise impressive approach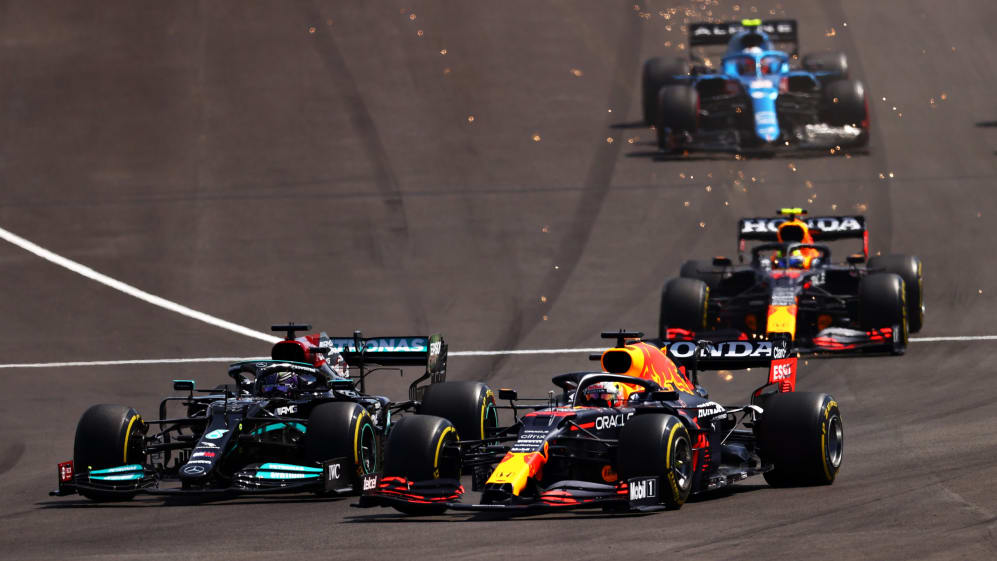 Safety Car re-starts are a critical time in a race, where the cars are bunched up and tyre temperatures are low.
The race leader has the simplest job as he is in complete control of the situation, he chooses when the race re-starts.
The one big thing the race leader can't do is overtake the safety car, and that is why more and more commonly we are seeing the leader drive at a measured pace all the way out of the final corner and towards the start finish line, rather than the old conventional method of accelerating from the last corner.
READ MORE: 6 Winners and 6 Losers from the Portuguese Grand Prix – Who was on form in Portimao?
This is particularly relevant at circuits with long drags from the final corner to the start-finish line, as is true at Baku, Interlagos and Portimao at the weekend, because Turn 15 is an easy flat out right hander.
As well as negate the risk of passing the Safety Car, it also means that drivers behind have less chance of slipstreaming down the main straight, as the top speeds are much reduced by accelerating later, and therefore the slipstream effect is minimised. This is particularly relevant in the current era of Formula 1, where bulkier cars and high top speeds are creating some of the biggest slipstream effects we have seen.
So taking all of this into account, Bottas did the safest thing he could do from the race lead at the restart on Sunday and waited for a long time to get back up to racing speed, and for him it was job done. He retained the lead.
For drivers behind, a Safety Car re-start is more complicated, they have to be ready to go at any second, but it's either a game of reactions or guess work to get it right.
Hamilton and Verstappen in second and third on Sunday had slightly different methods for the final moments before Bottas restarted the race.
READ MORE: The Ross Brawn Column - How Verstappen's mindset has changed now he has a real shot at the title
Hamilton in second did the conventional method, he stuck as close to the back of his teammate and waited for him to accelerate. Whilst he was doing this there was no more weaving or big accelerations and braking, he was simply focussed on the car ahead, ready to go at any moment.
Verstappen meanwhile stayed slightly further back from Hamilton, and was weaving more, particularly out of Turn 14, as well as stamping on the throttle and brakes simultaneously, in a last ditch bid to increase his tyre temperatures.
Like Hamilton ahead, Verstappen's eyes would have been solely on the race leader by the time he got round Turn 15, and waited for Bottas to nail the throttle.
In general Verstappen's method had added risks for a restart than the conventional approach of Hamilton's.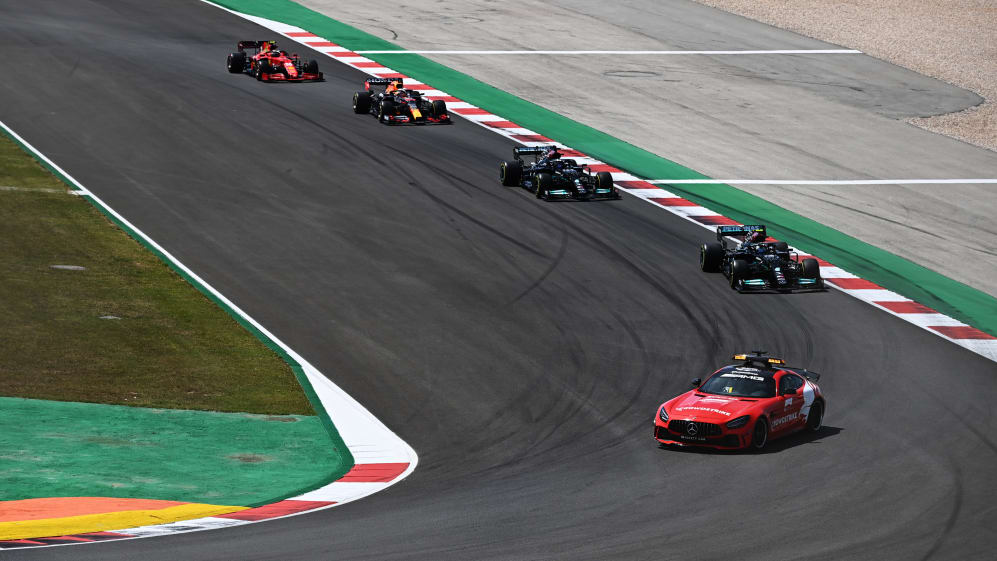 He must have been very confident that Bottas wouldn't accelerate off Turn 14, because if Bottas had accelerated whilst Verstappen had an arm full of steering lock, trying to warm his front tyres, it would have been a disaster for the Dutchman. He wouldn't have been able to get on the throttle without huge wheelspin, as the Pirelli tyres don't like accelerating and turning at the same time, particularly when at reduced temperature.
Equally if Bottas had jumped as Verstappen was braking it would have been disastrous as well as he would have had negative momentum for the restart and would be swamped by those behind.
WATCH: Verstappen's joke about dental work and more great team radio exchanges from the Portuguese GP
Because Verstappen was right though, and Bottas didn't go early, his tyre warming attempts would have helped in a marginal way for when he did want to power down.
Sitting slightly further back from the car ahead allowed Verstappen the chance to try and pre-empt Bottas' jump as well, as if he went slightly early, he could still blend out of the throttle without overtaking Hamilton ahead and incurring a possible penalty.
This is an approach we have seen before, notably in Mugello last year when most of the field further back, tried to pre-empt the restart, got it wrong and caused a huge pile-up.
Verstappen didn't do it to anything like the extent of others in Mugello, but by hovering slightly further back initially, he did get a great read and accelerated almost in unison with Bottas, it was a fantastic re-start.
The end comparison of the two approaches isn't fair, because Hamilton admitted he took his eye off the ball at the crucial moment which delayed his reaction to Bottas' jump. He checked his mirrors at the worst possible second and it delayed his reaction slightly – he said he was kicking himself for this rare mistake at the time, as it allowed Verstappen an easy jump on him.
READ MORE: Hamilton explains why he got jumped at Safety Car re-start - and how he fought back to win in Portimao
Checking the mirrors at a Safety Car restart is also something you don't need to do, particularly in the critical moments, as he will have known Verstappen would be there and super close, you don't need to check.
Interestingly Hamilton was one of the only drivers passed at the restart in Imola as well, when Yuki Tsunoda overtook him on the inside at Tamburello, before spinning off moments later, so it is the second race in succession he has lost a place on the restart.
The rest of the race showed that Hamilton is driving at the top of his game as he more than made up for this lapse, but for now he'll be focused on making sure there's no repeat of the Portimao restart, because on another day it might have been more costly.