Feature
Jolyon Palmer's Analysis: Why Hamilton was too polite and Leclerc's crash was to be expected in Baku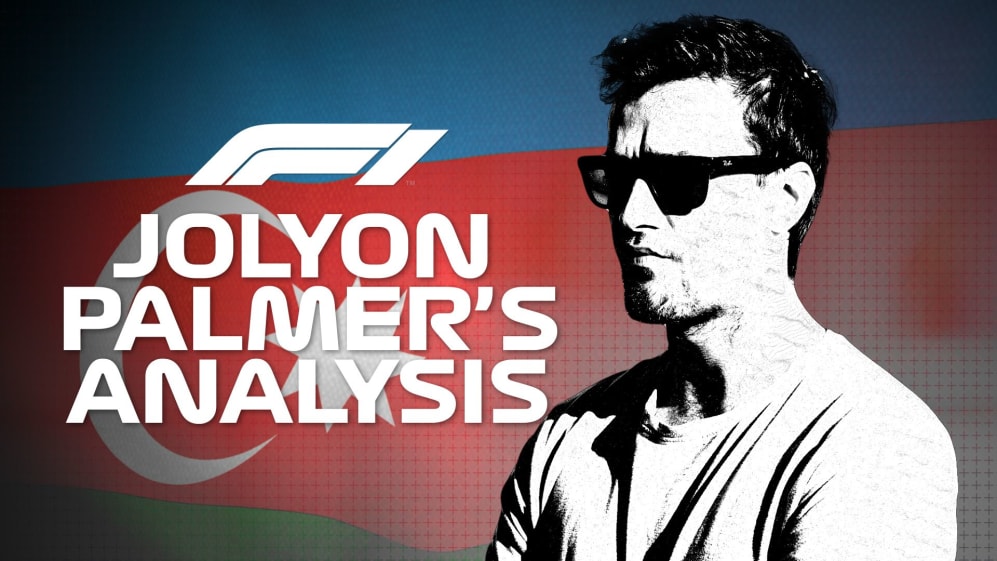 The Azerbaijan Grand Prix weekend held a few juicy storylines for former Renault F1 driver Jolyon Palmer to get his teeth into. Here, he casts his analytical eye over Valtteri Bottas' muscular wheel-to-wheel racing against his team mate, looks at how Charles Leclerc's Turn 8 crash could have been avoided and reveals why Daniel Ricciardo's three-place grid penalty for hitting Daniil Kvyat was a slam dunk.
Bottas vs Hamilton
Valtteri Bottas won his second race of the season in Baku – and once again, most of the work was done at the start.
Hamilton got the better start, but three times Bottas managed to defend his lead and emerged out of Turn 3 finally clear of Hamilton.
What was most impressive about Bottas' first lap was his ability to judge the grip level in the opening corners.
Interestingly, he accelerated flat-out up to Turn 1 on his formation lap and braked hard, which enabled him to get a rough gauge on how late he could brake at the first corner, because while the drivers are able to do countless practice starts during the weekend, they are all done at the end of the pit lane.
READ MORE: Hamilton: 'I was too friendly in Turn 1'
That means you turn up to Turn 1 in the race with no real indication of where to brake, because you are approaching at a speed much slower than ever before.
From pole position, or the front row, you get a chance to practice a bit on the formation lap, because you can control the pace, meaning you can go flat-out until Turn 1, providing it's only a short run to the first corner, as in Baku.
Further back, you don't get this chance, you have to cross the start line at a controlled speed on the formation lap, and even then you can't just accelerate away because chances are you have a car ahead blocking your path.
So he defended the first corner well, because Hamilton was actually marginally ahead into the corner. Bottas was fairly well ahead into Turn 2 but it was very much a repeat, late on the brakes and send it around the outside, while Hamilton was more cautious on the inside.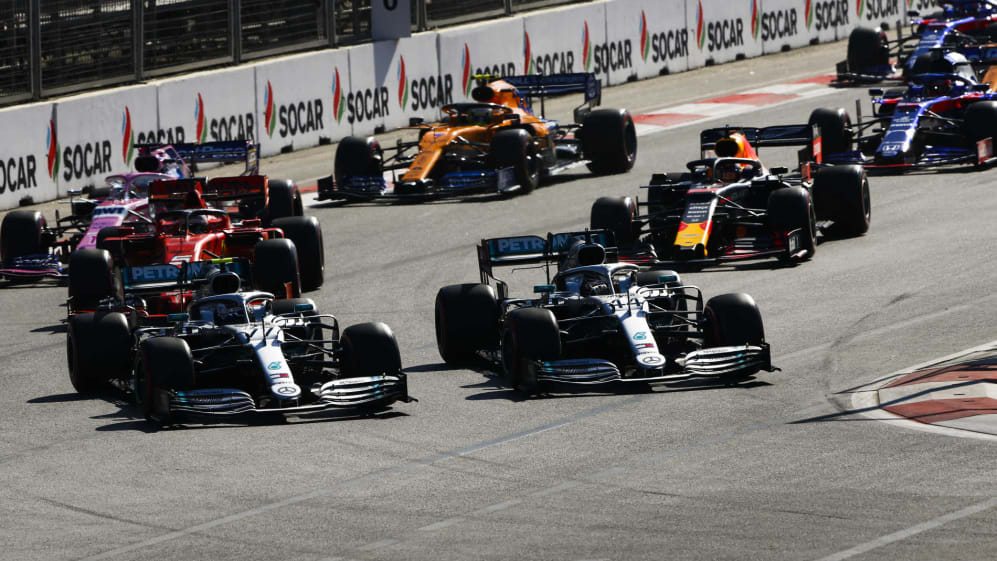 Turn 3 was actually maybe the most impressive because it is such a tricky braking area, something we saw throughout practice with numerous people going straight on.
At the start of the race, you are approaching with an unknown level of grip, because the tyres and brakes are not in the optimal window yet, you are carrying 100+ kilos of fuel, compared to just five or so for qualifying, and you are again approaching at an inconsistent speed.
Bottas judged it to perfection though. He actually braked later there on Lap 1 than he did on his pole lap, of course because he was approaching at a lower speed, without DRS and a compromised exit from Turn 2. But it was impressive to gauge it right, with the risk of getting it wrong so huge on a street circuit with little to no run-off.
Hamilton was much more cautious and it ended up costing him the race. He had better pace than Bottas throughout and managed to pressure his team mate at the end, but he could never get as close as he had done on that opening lap.
Hamilton definitely was pretty kind and fair to Bottas. Many other people would have squeezed their rival harder at the start and edged them towards the wall, but Hamilton showed great, and possibly too much, respect to Bottas.
If Rosberg was in Bottas' seat, then one wonders if Hamilton would have been quite so polite and given his team mate room. But for now, he kept the harmony of the team in a much better place than it was with his previous team mate.
Leclerc vs Turn 8
Turn 8 has always been a notoriously difficult corner on the Formula 1 calendar, and it proved to be the case again in 2019.
Charles Leclerc was the main victim of that corner in qualifying. He was looking like the quicker of the two Ferraris throughout the weekend, but on the medium tyres at the start of Q2, he got it wrong and hit the wall.
It's such an easy mistake to make and Leclerc was given a harder task in Q2 because of the tyres that Ferrari put him on.
READ MORE: 'I threw all the potential in the bin' - Leclerc on his costly qualifying crash
But you wouldn't expect such an error from a top driver, who knew he only needed to be in the top 10 of that part of qualifying to progress.
Sebastian Vettel, his team mate, was so close to being the Ferrari in the wall on the previous lap though. He turned in too early, getting his front left tyre right up to the wall on the inside, but inevitably that meant the wider rear tyre made contact, pitching Vettel's Ferrari into a huge slide in the narrowest section of track.
It was beautifully held, but it shows how hard the Ferrari drivers were pushing on less grippy tyres, on a punishing section of track.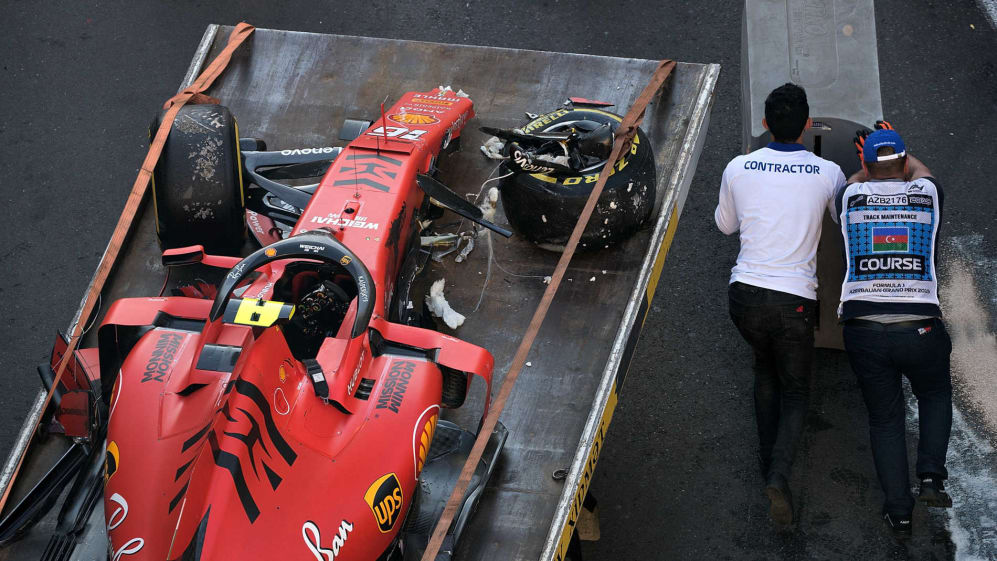 The fact both Leclerc and Vettel had incidents at the same corner shows how hard they are pushing each other as well. There's a lot of time in Turn 8 if you get it right, and the drivers will constantly be seeing data compares against their team mates, which can give you motivation to dig even deeper and find time in areas you need to.
Turn 8 is one of those areas that can be critical to lap time. Because it's a slow-speed corner, you are in it for a bit longer and because of that, there is a lot more you can risk to find the time.
Kubica's crash earlier in Q1 was similar to Vettel's, only a slightly bigger error – and with massively bigger consequences.
He too, hit the wall on the left, but with his front tyre, not the rear. This broke the suspension on his left front and pitched him hard into the wall on the right.
It seemed a silly accident but on street circuits there is a huge amount of time to be found in getting millimetres away from the apexes to open up the corner radius.
It's an accident we have seen in Monaco for the past couple of seasons, with Stoffel Vandoorne and, more notably, Max Verstappen last year in FP3. A simple error, from being too greedy, but an easy one to make.
Ricciardo vs Kvyat
The Ricciardo and Kvyat incident was a bizarre one.
Ricciardo was attacking Kvyat for 10th and went down the inside at Turn 3. Initially it wasn't a super decisive move from Ricciardo as he actually braked at the same time as Kvyat.
In realising he wasn't committed enough to get the move done initially, he released the brakes and that meant he couldn't stop the car in time to get around the corner and had to use the run-off.
He also blocked Kvyat from turning left and taking the corner as well because Kvyat was fairly committed himself, and then boxed in with the Renault on his left.
READ MORE: Ricciardo handed 3-place grid drop for Spain for reversing into Kvyat
From there it was a race for the two of them to find reverse – not an easy process in Formula 1 and not something drivers are well practised in. Ricciardo won that particular race and that was his downfall. He didn't check his mirrors and slammed straight into Kvyat, who was still stationary behind.
It was an overzealous move from Ricciardo initially and turned into a clumsy moment as he took both drivers out of the race. It's one I can understand from a driver's point of view because he would have been desperate to just get back on track and rejoin the race as soon as possible.
Clearly, though, it wasn't safe. He took out another driver, and earned himself a three-place grid penalty for Barcelona. It was a tough one to argue against.