Kubica cautious on 'fragile' Williams upgrade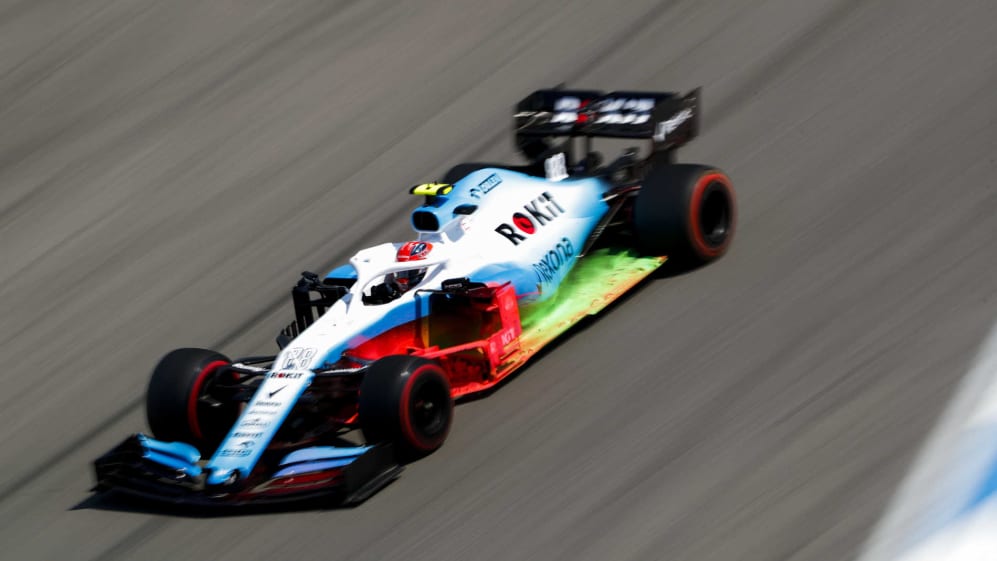 Robert Kubica ended Friday's Free Practice Sessions in Germany feeling frustrated after Williams' attempts to test their new upgrades were compromised by fragility. Team mate George Russell, meanwhile, ran fewer new parts on his car but said they seemed like a "step in the right direction".
Kubica finished more than half a second ahead of team mate Russell in FP1 – but behind him in FP2. He was given bargeboard updates and a new floor for Friday's two practice sessions, while Russell ran largely with the previous spec of the car.
Kubica, however, revealed that his attempts to test the new update were hampered by reliability problems.
"Today wasn't, I would say, a straightforward day. We were a bit compromised straight away in FP1, so it wasn't a great day. Though we have a new package on the car, it was too much influenced by things we have to sort out.
"We hope we can fix it, but we were a bit too fragile, that's how it is. So we have to make sure everything will stay attached to the car and then hopefully tomorrow will be better," he said.
With uncertainty surrounding Saturday's weather – showers expected after Friday's unprecedented heatwave – Russell was unclear as to the upgrades' effectiveness. Rain or shine, he'll still be running the new upgrade package.
"I had probably 20% of what Robert had; I'll be having the full package tomorrow," he said. "But due to the conditions it was very difficult to tell, we were on very different run plans, on the track at different times and different things…
"From what I understand it's a step in the right direction but I haven't asked too much because I've been focused on my own job. If it's raining it'll be different for different reasons. I think it's definitely clear that we'll be putting the new bits on the car, so we'll have to wait and see."
Both Williams cars rounded out the standings in FP1 and FP2, but there is still an air of optimism surrounding the team's new upgrade package, especially coming off the back of a Silverstone race that was one of their most competitive of the season.