Lando Norris reveals the story behind THAT Hungarian GP pack-up photo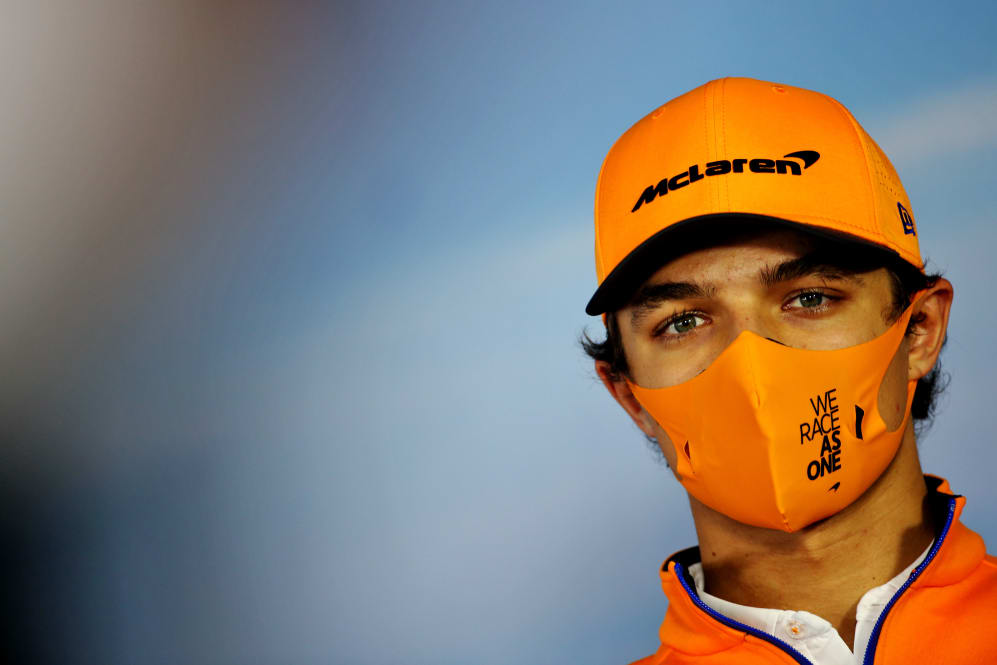 Rarely - if ever - have we seen a Formula 1 driver on the floor, underneath his car, helping his mechanics strip it down after a Grand Prix. But that's exactly what Lando Norris was photographed doing in Hungary, after the final race in a gruelling triple header. And it has emerged that it wasn't the first time he's got his hands dirty…
Sunday night is usually a rush, with drivers required to fulfil media commitments, complete a race debrief with the team and then dart to the airport to catch a flight home. But sometimes, they're afforded a bit more time with a flight home on Monday morning.
And rather than heading back to the hotel to watch Netflix in his room, Norris pulled on his high-viz shirt and got his hands dirty, with an image appearing on social media. Speaking to media via Zoom ahead of next week's British Grand Prix, Norris revealed it's something he's done since his karting days.
READ MORE: Lando Norris spotted helping McLaren strip his car after Hungarian GP
"I've done it [stripping down the car] quite a few times before, it's just never gone on social media," said Norris when asked by F1.com about the photo. "It's not something that I feel I need to put on social media. It's something I did already in 2018 [with McLaren, when he was reserve driver], it's something I've done since karting really.
Oops! Error retrieving Twitter post
"I used to do it with my engineer in karting. We always used to have to, post races, clean the kart, the chain guard, and the airbox – and the majority of things. And it's something I've always enjoyed doing. I love doing that stuff as a kid, taking things apart and so on. I've done that all the way through, in some way, from karting through to F1.
"In F1, it's a bit different – it's something I've done since 2018, so when I was doing some of the FP1s, so in America, Japan, Mexico, Abu Dhabi I think, too, and in 2019, I did it sometimes. I haven't done it every time… but it's more often when my flights are on a Monday. A lot of the time, flights are on Sunday evening, you have your debriefs and then you go to your airport, and you're on the way home, whereas the times when it's on a Monday, I get the opportunity to stay with the mechanics and go and help them out."
Norris explains that he gets involved for two reasons – because he loves it and because it helps strengthen the bond with his mechanics and make life easier for them.
"I enjoy it, it's quite cool," he said. "Who wouldn't want to take apart a Formula 1 car and explore it a bit and work with mechanics? It's just good fun. You learn something new about it, and it's just a bit more hands on.
Who wouldn't want to take apart a Formula 1 car and explore it a bit and work with mechanics?
"And it's good for the team, it's good for myself and my mechanics that we're working together, I'm helping them, it makes their job much easier. They've just done a whole race weekend, they've done three weeks in a row, I thought I could just help and make their lives a bit easier.
"It's not something I chose to do just because we did three weeks in a row, as it's something I've done several times before, it's more the fact of just helping them anyway, me enjoying it, getting to spend some time with them.
"We have some good laughs, we have some jokes, and I enjoy spending time and working with the mechanics and the engineers, as Will [Joseph] my engineer does it too.
"It's something I've done since I've joined McLaren, in trying to get myself more integrated with the team, work with the mechanics, get to know each other better, and I think it's a crucial part of getting to know them and improving our atmosphere as a team and then because I enjoy it. It's good fun.
"The only other thing I'd be doing is going back, lying on my bed and watching Netflix. And I prefer to take apart a Formula 1 car than to do that."