Leclerc and Sainz call on Ferrari to take a 'step forward' and close gap to rivals after P7 and P8 finishes in Budapest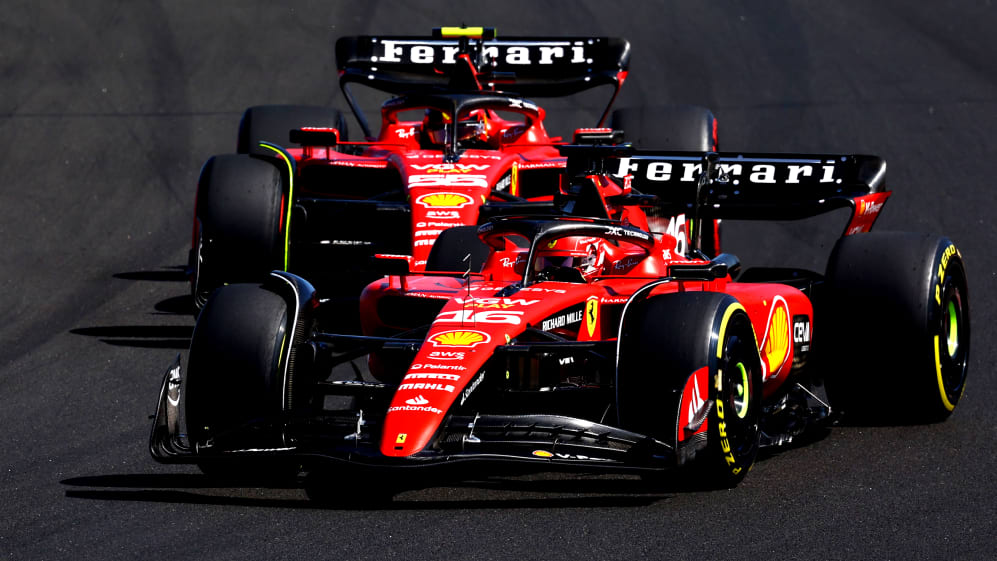 Charles Leclerc labelled his P7 finish at the Hungarian Grand Prix "a shame" as he and Ferrari team mate Carlos Sainz – who wound up in P8 – called on their team to find solutions in a bid to close the gap to Red Bull, McLaren and Mercedes.
Leclerc started the race from sixth on the grid and made a solid start that saw him in fifth in the early stages. But a slow pit stop, as well as a five-second time penalty for speeding in the pit lane, curtailed his hopes of a podium finish.
READ MORE: 'Disappointed' Zhou apologises for his part in opening lap incident at Hungarian GP
The Ferrari man ended up finishing sixth on the road, but his penalty saw him drop behind George Russell to take seventh place in the race results. Speaking afterwards, Leclerc said: "It's a shame. The first set I felt quite good on it. We had quite good pace then we had a slow stop that put us quite a bit on the back foot.
"Then I was with Carlos, there we maybe lost a little bit of time. On the last set I started to push a little bit more again. It was better. There was also a five-second penalty for speeding in the pit lane, so all in all, not a great day again."
Asked whether he will be pushing his team to improve the car to get them back in the fight for the podium, Leclerc responded: "Yes, for sure. Even though today, honestly, in pure race pace we weren't that bad.
"It's just with the slow pit stop plus the five-second penalty it put us in a very difficult situation for the second stint. We lost too much to the guys in front. I think at least Oscar [Piastri] was reachable.
READ MORE: Verstappen dominates Hungarian GP to give Red Bull a record 12th successive win
"Lando [Norris] was maybe a bit more difficult as they've got a bit more pace. There is definitely a step forward we need to do because Mercedes, Red Bull, and now McLaren are ahead."
Sainz, on the other hand, failed to make it into Q3 for the first time since the 2021 Saudi Arabian Grand Prix. However, starting on the soft tyre, he made a fast start from 11th on the grid, running in sixth by the end of Lap 1. But after finishing eighth, the Spaniard believes they were hamstrung by a lack of pace and degradation struggles.
"Not too bad," said Sainz, when asked about his day in Budapest. "I think we had a very good start, a very good stint, and then we just follow a bit the pace of the car that this weekend hasn't been great.
"With the degradation, with the heat, we were struggling a bit with tyres like we normally do. We have to settle for P8 in the end after a good start that was maybe looking a bit more promising than that."
MONDAY MORNING DEBRIEF: No points but plenty of positives from Ricciardo's first race back
Asked if he had expected more than a P8 before the weekend, Sainz responded: "I think we were all expecting a bit more. Especially on a slow speed track, we thought our car would respond a bit better.
"But unfortunately, it's been quite evident that we've finished quite far behind the McLarens, the Mercedes, and the Red Bulls which is what we need to keep focusing on."