'Disappointed' Zhou apologises for his part in opening lap incident at Hungarian GP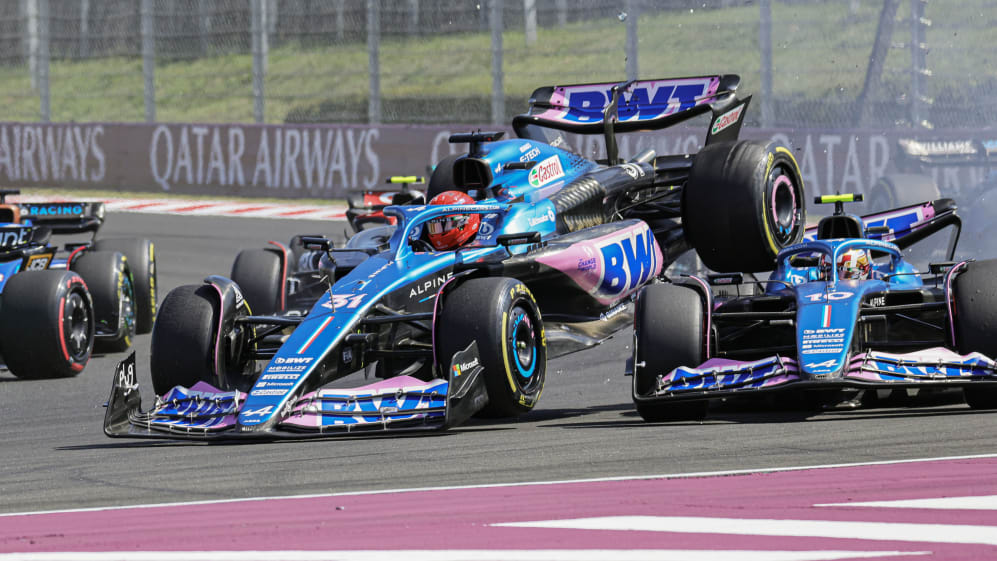 Zhou Guanyu was full of remorse for the part he played in the opening lap collision at the Hungarian Grand Prix – with the Alfa Romeo driver also giving an insight into where it all went wrong for him at the start of the race.
After qualifying in a career-high fifth place on Saturday, Zhou's hopes of a third points scoring outing of the season on Sunday – after Australia and Spain – took a huge hit when a slow start saw him drop down the field.
READ MORE: Verstappen dominates Hungarian GP to give Red Bull a record 12th successive win
Zhou eventually got going and, as he looked to make his way back up the order, he collided with the rear of Daniel Ricciardo's AlphaTauri, forcing the Australian into the back of Esteban Ocon, who also took out his Alpine team mate, Pierre Gasly.
Reflecting on the action-packed start, after finishing 16th in Budapest, a disappointed Zhou said: "I think [the start] was finished after the getaway. Unfortunately, something was wrong, but I don't know yet.
"I don't want to comment too much. But I was holding the revs and then with four lights I have to go full throttle because I had no response from the engine.
"Then with the lights off I had literally zero power, so I had to do a pull away. I have to release the clutch, everything. Really disappointed of course, need to see what happened, something went wrong."
HIGHLIGHTS: Watch the action from a tense Hungarian GP as Verstappen and Red Bull make history
On his part in the opening lap collision, Zhou said: "I think I was in the dirty air before braking, and everybody bunched up. I couldn't really stop more because the front was locking. Sorry for what happened to the drivers that were caught in the collision."
Alfa Romeo had looked quick all weekend ahead of the race, so when asked if the pace was still there on Sunday, Zhou replied: "[It] was tricky. I think I had some damage in the front wing. I think some crack over there, so it's hard to make positions in this track particularly, so not a great day."
Team mate Valtteri Bottas was also caught up in the drama at the start, as starting in seventh, directly behind Zhou, the Finn had to take avoiding action to make sure he did not hit the back of his team mate. And while that put him on the back foot, he believes ultimately they were lacking pace, as he finished in 12th.
"Lap 1 was a bit compromised, both of us," explained Bottas. "Zhou had some issue at the start, so I also had to go around him, so lost some momentum. Then all the cars on the soft tyre in Lap 1, they were just flying by.
READ MORE: 'We've proved some people wrong' – Defiant Norris happy with back-to-back podiums for McLaren
"Then, in the end, just lacking a bit of pace. I couldn't at any point fight to go further through the grid. Not quite as good as [Saturday], but at least they take the positives from [Saturday's] pace."
Asked whether they can take those positives to Belgium next weekend, Bottas replied: "Yeah. We unlocked something I think, a bit more of the package here. So let's see what we can do in Belgium. Obviously it's a very different type of circuit but let's see."