Leclerc hails 'big steps forward' en route to Spa pole as he ponders whether Ferrari can keep Red Bull behind on race day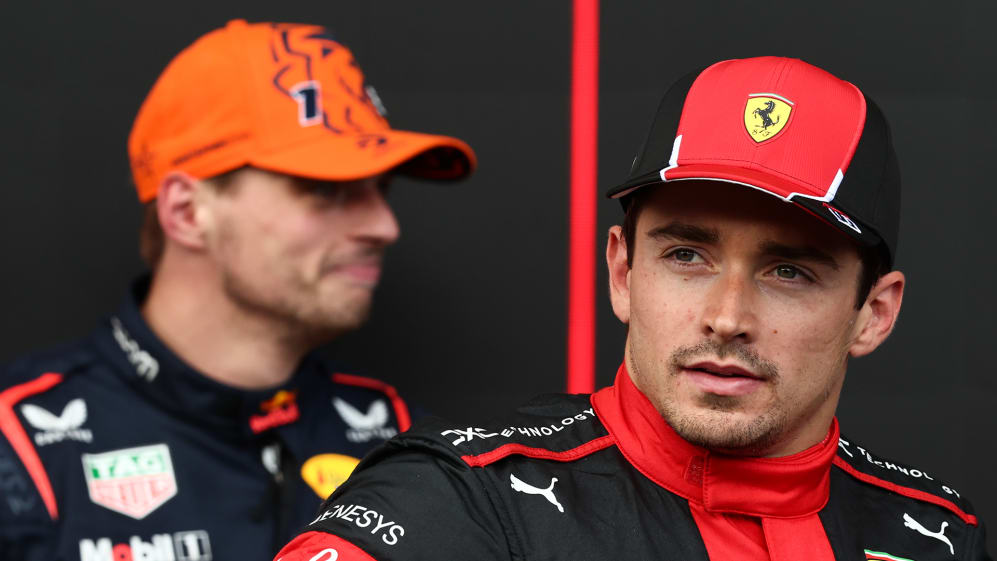 Charles Leclerc expressed satisfaction at the wet weather gains he displayed after splashing his way to second position in Belgian Grand Prix qualifying, which will become pole position when Max Verstappen's grid penalty is applied for Sunday's race.
Leclerc finished second in a wet-dry session at Spa-Francorchamps – which saw drivers start on intermediates and move to slicks – but jumps to top spot due to Verstappen's five-place drop for a gearbox penalty.
READ MORE: Penalty-hit Verstappen fastest in Belgian GP qualifying as Leclerc set to start from pole
Fresh from stepping out of the car, Leclerc stated how encouraged he was to banish the demons of Q1 and Q2 exits in rain-affected qualifying sessions in Spain and Canada and shine this time out.
"On the one hand it feels good, because it's [important] not to underestimate how much I struggled in those conditions a few races ago," he said. "As I kept saying during those times, I was working a lot on my driving in order to get better and today I was really at ease with the car.
"I think in Q3 we maybe didn't do everything right, as we went a bit too early, but at the end it's risk versus reward. We wanted to go early to avoid any yellow flags, but the track was drying up. We maybe lost a little bit of time, but it wouldn't have been enough to be in front of Max anyway."
Pushed on his progress in the changeable conditions, Leclerc said: "I'm really happy. I'll keep working in those conditions, but big steps forward already, so it's good to see."
READ MORE: F1 Commission reveal plans to defer tyre blanket ban as dates and location confirmed for 2024 pre-season testing
As for whether he and Ferrari can keep the Red Bulls behind them on Sunday – Verstappen starting back in sixth but Sergio Perez joining him on the front row – Leclerc conceded that they need to be "realistic".
"I don't think so, Red Bull are too quick," he commented. "Even if Max has a [five-place] penalty, I expect him to catch up. We've got Checo [Perez] right next to us, which will be also very difficult to keep behind. Again, if there's an opportunity I'll try and keep [the lead], as always, but it looks difficult on paper."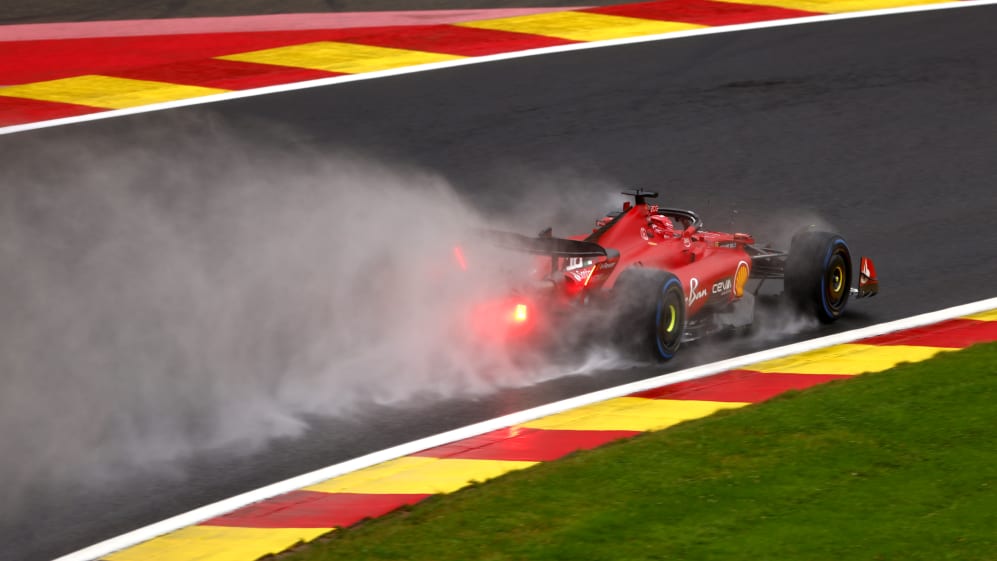 On the other side of the Ferrari garage, team mate Carlos Sainz clocked the fifth-fastest time, meaning he will start the Grand Prix from P4 following Verstappen's penalty.
"Very tricky conditions," he reflected after qualifying. "Every time we were going out on track [it was] completely different. We managed to [go] nicely through Q1 and Q2, and then Q3 on that last lap didn't do, to be honest, one of my best laps at all. We had quite a big moment in Turns 8 and 9, which cost me probably some positions."
NEED TO KNOW: The most important facts, stats and trivia ahead of the 2023 Belgian Grand Prix
Asked what he felt was possible on Sunday, Sainz added: "I think honestly anything is possible this weekend with the weather as it is. It looks very tricky for the rest of the weekend. We had a dry qualifying in the end, after all the forecasts. I think in the dry we don't look too bad; in the wet there was a bit of everything out there, so we'll see what we can come up with."