Leclerc 'not happy' as he suggests Ferrari timing error cost him shot at Q3 in Sochi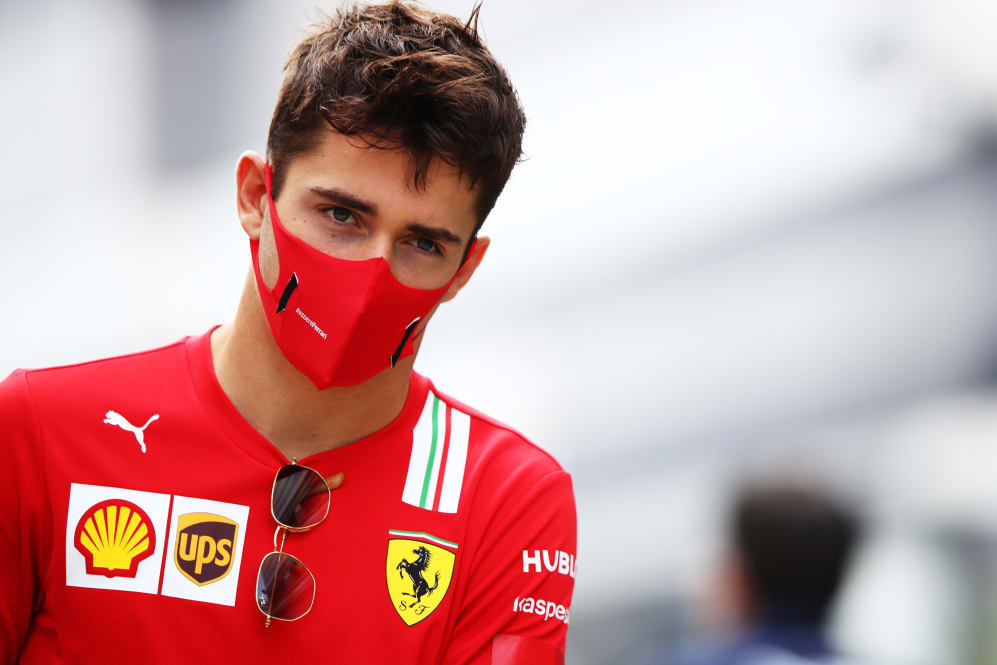 Having taken pole position at Sochi 12 months ago, Charles Leclerc will start the Russian Grand Prix from P11, after his final run in Q2 failed to see him make it out of the segment. But despite the free tyre choice he'll be afforded for Sunday's race, Leclerc was far from happy, as he suggested that a mistake from the Ferrari pit wall had cost him a chance for Q3.
Leclerc was ironically put on the back foot in Q2 after a crash from his team mate Sebastian Vettel, who lost the back end of his SF1000 at Turn 4, with Leclerc following close behind and coming close to collecting the German's car, as the session was red flagged.
READ MORE: 'I tried to take more risk' – Vettel explains reason for big shunt in Q2
But with just 2m 15s left in the session when the session was restarted, Leclerc was given the hurry-up by Ferrari on his out-lap and encouraged to close up to the AlphaTauri of Daniil Kvyat in front, Ferrari believing that they had insufficient time in hand for Leclerc to cross the line and start his final lap.
But with that lap then compromised by having to run close to the Russian, the Monegasque was left fuming when he subsequently discovered that he'd actually had around nine seconds in hand to create a gap to Kvyat.
"At the moment I'm not happy," said a thunder-faced Leclerc after the session. "There was definitely the pace to do something good today – or at least, much better than what we expected, and we missed the chance.
"[The incident with Vettel] was quite scary, but hopefully he's fine and it was not much worse than that. Now it's more the disappointment of not going through to Q3. I thought I had no margin at all, I was told on the radio, but there was actually quite a bit of margin and I could have taken a bigger gap to the car in front. So it's frustrating but it's life."
READ MORE: Hamilton survives Q2 scare to beat Verstappen to Russia pole, as Vettel crashes heavily
READ MORE: 'Maybe I was playing games and wanted third...' - Bottas optimistic about Russia chances, despite 2nd-row start
On the plus side for Leclerc was the fact that his P11 grid position means he can start the Russian Grand Prix on whatever tyres he likes, compared to eight runners in front of him who'll be forced to start on soft tyres. And that's set to be a distinct advantage for Leclerc, on a weekend where the softs are predicted to be the least desirable tyre, a factor that could force his rivals in front of him onto a slower two-stop strategy.
"On the positive part, we are starting 11th, we are the first car to choose our tyres tomorrow," said Leclerc. "Hopefully we can benefit from it."