Leclerc says his start 'wasn't good enough' as pole-sitter forced to settle for P2 at Singapore GP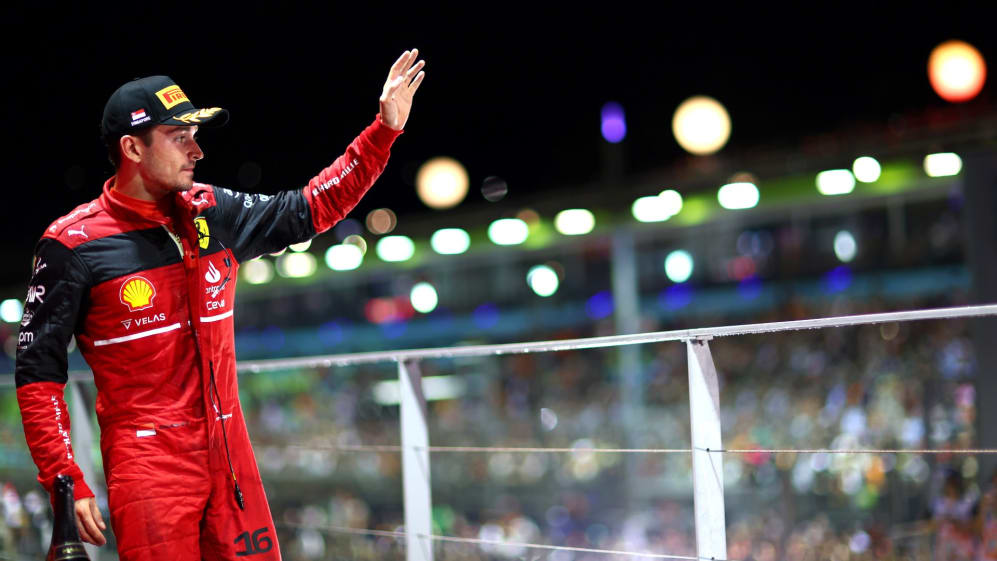 Charles Leclerc was left to lament a bad start that cost him a possible victory at the Singapore Grand Prix, as the Ferrari driver took the chequered flag in second place behind race winner Sergio Perez.
Leclerc said his start from pole "wasn't good enough" as Perez made his way past on the run down to Turn 1. While both drivers exchanged fastest laps early on, Perez was able to pull away from Leclerc before the drivers swapped their intermediates for slick tyres.
Leclerc pitted for the medium tyre on Lap 34 trying to undercut Perez, but a slow pit stop cost him time. However, after a Safety Car – caused by Yuki Tsunoda's crash on Lap 34 – bunched up the field, Leclerc put Perez under intense pressure but dropped back towards the end, finishing 7.5s behind the Red Bull driver.
READ MORE: Perez hails 'best performance' in F1 in Singapore Grand Prix as he gives his view on Safety Car investigation
Speaking about why he'd dropped back, Leclerc said: "To be honest, first of all I think with Red Bull it seems like we have the upper hand in the first few laps and then they seem to… I don't know, they struggle a little bit with warm-up but once they put their tyres in a window, they are very strong.
"But then at the end of the race it wasn't that representative. I was pushing until the gap was like 1.5s, but then when I knew it was 5.1s, I just kind of brought the car home, so the pace wasn't that representative at the end. But having said that, I pushed quite a bit at the beginning of the stint and probably my tyres were also a little overheated at the end."
With Carlos Sainz finishing third, Ferrari sealed a double podium finish for the first time since the Miami Grand Prix, and Leclerc praised the work done by his team this weekend, believing they made the right calls in a difficult race.
"That's good," said Leclerc when informed about Ferrari's double podium finish. "As I said before the weekend, we are trying to take those last races to improve our execution on Sunday, communication, strategy.
READ MORE: Perez holds off Leclerc to win rollercoaster 2022 Singapore Grand Prix as Verstappen settles for 7th
"We've already done a few changes; it's not been an easy race today, but I think we made the right choices, and for that I am happy. Then of course we will look into the start because that is where we more or less lost the race."
Asked if the bad start cost him victory, Leclerc said: "Maybe. But it's part of the game. The start wasn't good enough but then it was a really difficult race for us to overtake but it's like this."
Leclerc now sits 104 points behind Max Verstappen in the drivers' standings – meaning that victory and fastest lap for his title rival in Japan will give Verstappen the title, regardless of where Leclerc finishes the race.