Leclerc says no regrets after late stop rules out Ferrari podium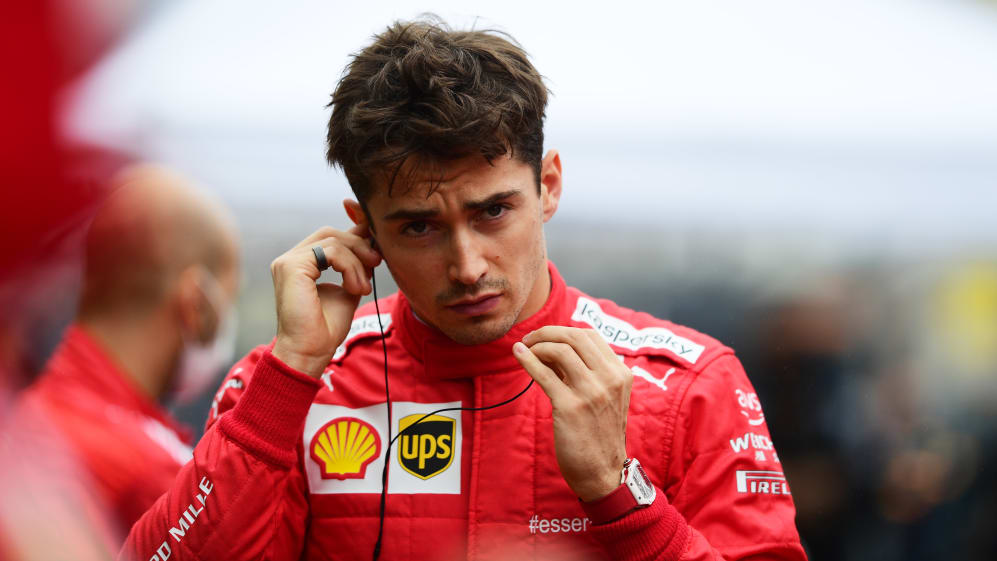 Despite having seemingly had a podium – and possibly even victory – within his grasp, Charles Leclerc insists Ferrari made the right calls in Turkey after he eventually crossed the line fourth in a race in which tyre management was key.
Starting third on the grid, Leclerc looked strong in the first half of the 58-lap Grand Prix, and when polesitter Valtteri Bottas pitted on Lap 37, duly found himself leading the field. And with his used intermediate tyres appearing little slower than Bottas's new ones, the Monegasque's prospects looked rosy.
RACE REPORT: Bottas holds off Verstappen and Perez to claim first win of 2021 in damp Turkish GP
That was until it became clear that once those on fresh rubber had cleared an initial graining phase, their tyres were actually much quicker than the now slick-like inters on the cars of those – like Leclerc – who had not pitted. And the later you left it, the worse things got.
"It was a great race," said Leclerc, who eventually boxed on Lap 47. "On the first stint we were very, very competitive. Then unfortunately we were a little bit out of phase with the others on the second stint, stopping later.
"At first, in the first five, six laps of the others on the new inters, we were quicker than them on the used inters. But after six laps I think they cleared the graining and then they found a lot of performance – around three seconds a lap – and then we had no choice, we had to stop."
That was the end of his podium hopes, dropping him to fourth. With Lewis Hamilton also making the wrong call and stopping even later, Leclerc may have still taken third. However, as he struggled to extract pace from his new tyres, there was nothing her could do to keep Red Bull's Sergio Perez behind.
"For the last 10 laps I was just trying to switch on those inters that never really came to life," added Leclerc. "It's a bit of a shame because that made us lose the podium, but I don't regret anything.
"In Russia I think the communication was not great, but this time the communication was very good, I had a clear picture of the race and we did the right choice, or what we thought was the right choice at the time."
Driver of the Day: Sainz gets your vote after dazzling 11-place climb in Turkey
It was the fifth time this season that Leclerc has finished just one place off the podium. He did however, close the gap on team mate Carlos Sainz in the fight for P6 in the drivers' table, with the pair now split by just half a point.