Interview
Lewis Hamilton Q&A: Taking title lead in Hungary not critical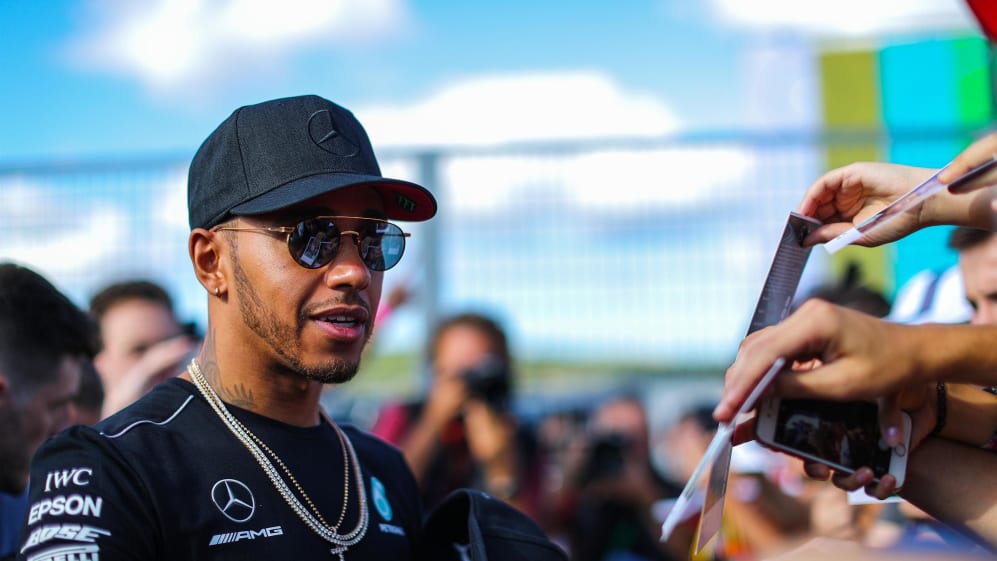 Mercedes' Lewis Hamilton arrives in Budapest on a high, following that imperious performance at his home race last time out – a performance which saw him slash Sebastian Vettel's championship lead from 20 points to one. This weekend could see him go into the summer break ahead of his rival – and could also see him match Michael Schumacher's all-time pole position record. Hamilton, however, is taking nothing for granted…
Q: Will Hungary be a more difficult race for you and Mercedes than Silverstone two weeks ago?
Lewis Hamilton: I really feel great and excited coming here. It is still buzzing after Silverstone. The Hungarian GP has been a great race for me for many years and Budapest is one of the most beautiful cities. I am enjoying it, going into the city and have good food, and also the track is spectacular. The race will for sure be a challenge, knowing that the Friday will be the cooler day opposed to Saturday and Sunday. For the Red Bulls this should be a good track for them, as it is not a great power sensitive circuit, so it will be a good race between the top three teams. At the end of the day it is still the driver that makes the difference - at least this is the plan.
Looking at the last qualifying session in Silverstone, I know that it was not only the good car in place, but also when I came into play. I hope that I am able to extract the fact this weekend even more.
I think this track has been my most successful track, and I hope that this is still the case this weekend. It is also a track that has been a real challenge in regards to the weather ups and downs, but I think this weekend is forecast to stay quite neutral. Nevertheless, this track is very hard to overtake, and I think that it will be very close between us and Ferrari, and this is going to be very exciting for the fans.
Q: How would you evaluate this season so far, now that we are halfway through?
LH: We would be an 8.8 on a scale of 10, I would say. So there is still some room to improve. For sure Silverstone was the best moment of this season, as it would be very hard to top that. It is my home Grand Prix and I do not get to crowd surf anywhere else. Having had my family in Silverstone was really great. They do not really get affected by this Formula One driver status. Of course they do watch the races, but I am still just Lewis to them, and just another member of the family. That helps me a lot to stay grounded. And it was really great to share that experience with them. I wanted them to stand on stage with me and feel what I get to feel. We had a great photo, which was a good memory for us.
Q: You trail championship leader Sebastian Vettel by just one point - what conclusions do you draw from that?
LH: So far it is a challenging season – if not the most challenging season of my career. But an enjoyable one! That also goes for the team. We all have probably worked a bit harder, but when you come to the factory you physically feel that incredible energy.
Q: Coming back to this weekend, you said that you love this track and that it has always treated you well. Where can you extract that extra time – to rightfully say that the driver really makes a difference?
LH: It is a track that you can be aggressive at, a track that allows an aggressive driving style. Sure experience helps, but then it is much about being closest to the edge.
Q: In Canada you reached the 65 pole positions benchmark of Ayton Senna. Here in Budapest you could match Michael Schumacher's outright record of 68. What would that mean for you?
LH: To be honest: I can't say what it would feel like. Yes, I will get that pole at some stage and I'd rather just wait until that moment. I am sure it will be an indescribable feeling, but how it really feels I can't tell. This is the future.
Q: And what would it mean to go into the summer break as the leader in the standings, given that you are just a couple of points off it now?
LH: All I can say is that I am grateful that we are that close. I came to Silverstone with a 20 point deficit – now it's shrunk to one single point. And in the past there have been times where I was 50 points down. But I don't give up. True, these days 20 points felt like a decent gap and to reduce it to one is encouraging, but it is not the most important thing leaving Hungary as the leader. Yes, it would be great, but there is still a long, long way to go. It just would be a sign that things can shift. Ultimately I will do the best job that I can on Sunday – to make sure that I remain in the title fight – and then let's wait and see.