'Lewis helped me become a better racing driver' – Russell on what he's learned from the seven-time champ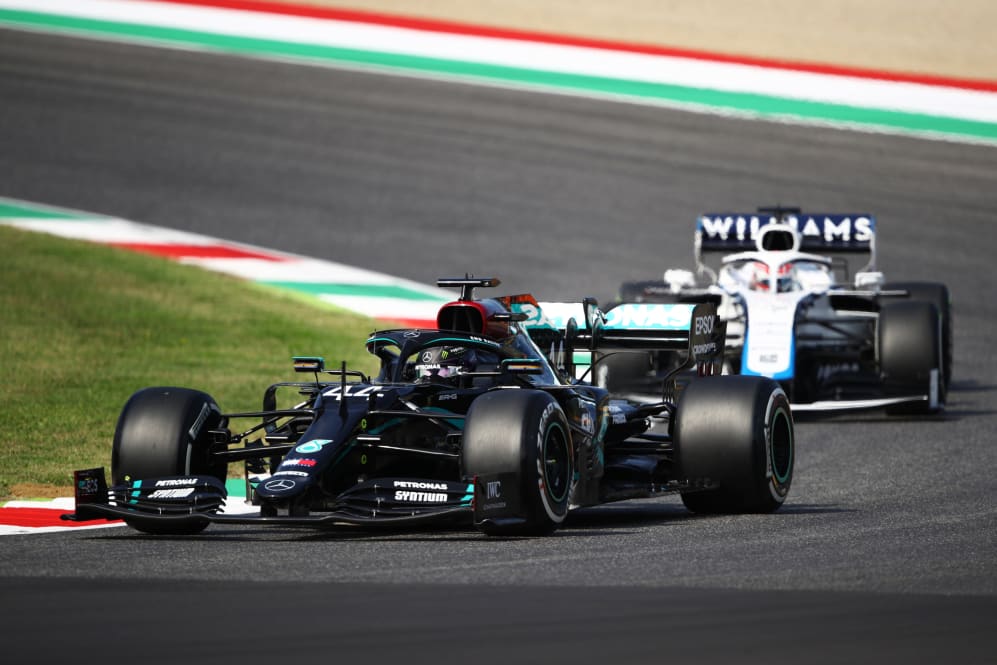 Before George Russell was a front-line Formula 1 racer, he got to spend a year on the sidelines as Mercedes' reserve driver. And Russell has revealed that being able to see how the now seven-time world champion Lewis Hamilton operated behind the scenes helped to make him a better racing driver.
Having joined the Mercedes junior programme for 2017, Russell's role with the Silver Arrows in 2018 allowed him to sit in on the team's post-session debriefs, where he was able to learn from both Hamilton and Valtteri Bottas, as well as Mercedes' engineering team.
READ MORE: Hamilton says he's 'only just getting started' and is motivated to stay in F1
And speaking on our F1 Nation podcast, the Williams driver revealed the lessons he'd taken away from watching Hamilton work – as well as shedding some light on how Hamilton had supported him after his unfortunate crash at the Emilia Romagna Grand Prix.
"Personally, I'm running out of superlatives for Lewis," said Russell. "I think everybody knows how great he is – even while he was a two-time, three-time world champion. But for me, when I joined Mercedes and saw him working first hand, I knew he wasn't purely just relying on natural talent.
"He doesn't just wake up on a Sunday morning and jump in and he's the fastest. He puts a huge amount of effort in, which I don't think he really gets the credit for. That grew my respect for him massively. And he works on the smallest of small details, just to excel and get that little bit extra from himself.
"I spoke to him actually after Imola," added Russell, "and he gave me some incredibly wise words, sort of 'here for you if you need', really. I have learned a lot from him just being in those debriefs, learning what he's looking for to make the car go quicker and what he's working on with his driving style, which has actually helped me become a better racing driver over the past 18 months.
READ MORE: Hamilton, Grosjean and other F1 racers rush to console Russell after Imola mistake
"I've understood what I need to make my car go faster, and I understood that's what Lewis was doing. He's setting the benchmark at the moment: incredible driver, incredible bloke, and just a lot of respect for him."
Meanwhile, although Russell really got to know Hamilton when he became part of the Mercedes family in 2017, according to the Briton, the pair's first meeting had actually come a decade earlier – and it wasn't an experience that Russell was keen to relive…
READ MORE: Russell on the Hamilton advice that helped him win the 2018 F2 title
"The first time I became aware of him was probably back in 2007," said Russell. "I remember he came to [UK karting track] PFI once during his first season in F1. He rocked up in a Mercedes, wearing his McLaren Vodafone race suit and obviously everyone at the track mobbed him, and I got a photo with him. I had a woeful haircut – he'll probably argue that his haircut at the time wasn't much better.
"So there is that embarrassing photo out there… which I saw circulating not long ago, so I think for both of our sakes, we'd prefer that to stay away!"
Listen to the full interview with George Russell on F1 Nation in the player above, or via Spotify, Apple Podcasts, or your preferred podcasting platform.