LISTEN: Alonso's ex-Renault team mate Jarno Trulli explains why he 'can't see him failing' on F1 return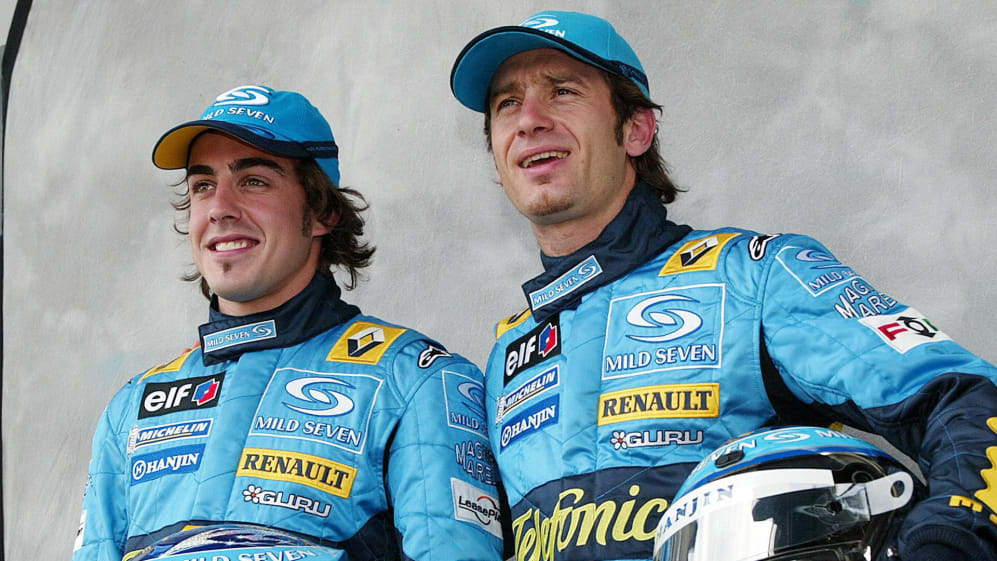 Jarno Trulli may have swapped racing for winemaking, but the former Jordan, Renault and Toyota driver has fond memories of his time in Formula 1 – and says he has no doubt his ex-Renault team mate Fernando Alonso will make a success of his F1 return, on the latest Beyond The Grid podcast.
The Italian, now 46, partnered Alonso at Renault in 2003 and 2004, before the Spaniard won his two titles with the Enstone/Viry squad, and Trulli reckons his old team mate still has the fire within him when it comes to racing.
"I've been talking with Fernando recently, I have to say something: Fernando, as I said, is 10 years younger than me so this is already a good thing for him. But Fernando, differently from me, in his head, he's still eager to drive," said Trulli. "He has nothing else in his mind rather than driving. I can't see him failing in what he will be doing, and he is still very fit.
READ MORE: 'He thinks about it 24-hours a day' – Pedro de la Rosa on what makes Alonso such a formidable racer
"The big question mark is probably not how good will be Fernando; the real question mark will be how good will be his car in order to put Fernando in the position to fight for the top. I have very little doubt about Fernando, simply because I could see him still extremely motivated.
"Let's cross our fingers and hope [Alpine] can deliver a good enough car to give Fernando the chance to enjoy Grand Prix racing for 2021," he said.
The Italian, who began his F1 career in 1997 with Minardi, also said Alonso isn't afraid to play politics to give himself the best chance of winning.
"Fernando is one of those drivers which plays mind games and [is] political in his team," revealed Trulli. "But it's also part of a driver, a top driver which eventually wants to be top of the team and wants to be number one. So I don't blame him.
"I'm not like him; I always prefer to prove myself with results rather than the politics. And probably, this was one of my mistakes," he said.
QUIZ: Can you name the full grid from Raikkonen and Alonso's first ever Grand Prix?
"Of course he always tried to get the best out of the team and politics inside the team, for himself. He always tried to centre the attention around himself, and you have to expect this from the top driver anyway… he wants all the attention for himself."
Now looking after a vineyard that produces around a million bottles of wine every year, Trulli said he has no sour grapes over his time in F1, admitting that his legendary qualifying pace wasn't matched by his speed on race day.
But the 2004 Monaco GP winner and four-time F1 pole-sitter said that there were few who could beat him on a Saturday...
READ MORE: Tsunoda describes 'emotional' pass on hero Alonso – and what he learned from shadowing him
He concluded: "I think there are very little people that were quicker than me, probably on one qualifying lap. I think Fernando probably admitted it a few years ago, [as did] many other drivers.
"But unfortunately, you don't win races on qualifying, you also need to beat other drivers!"
Listen to the full episode of Beyond The Grid with Jarno Trulli in the player above, on Spotify, or on Apple Podcasts!