Podcast
LISTEN: Remembering Paul Ricard's greatest underdog performance, with Ivan Capelli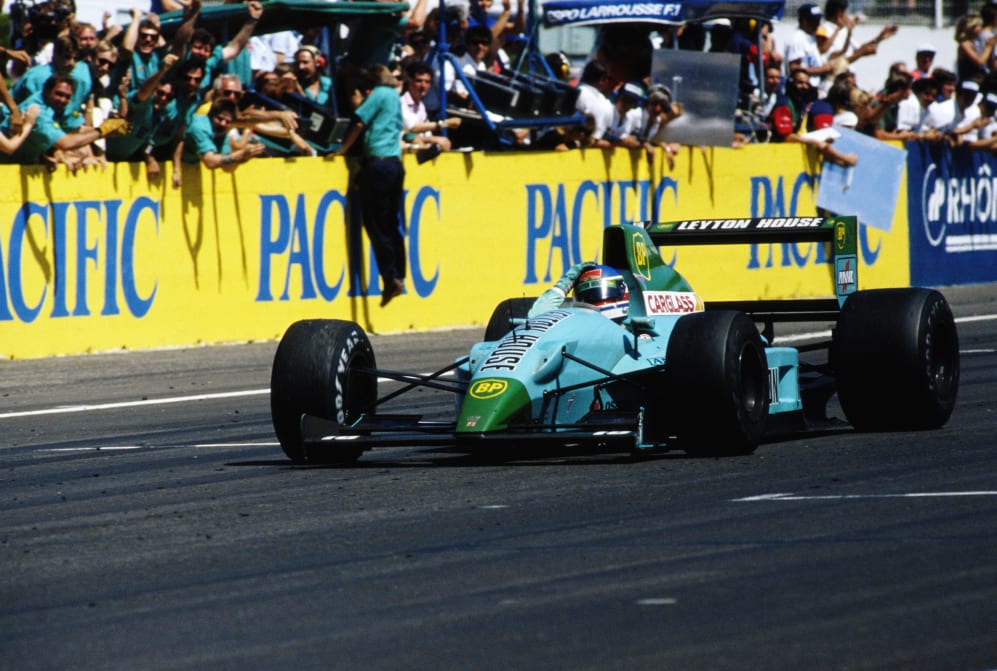 Ivan Capelli enjoyed a stunning junior career and eventually realised his boyhood dream of racing for Ferrari in Formula 1, yet the Italian's career highlight remains his 1990 French Grand Prix podium – with Leyton House – as he recalls on the latest Beyond The Grid episode.
Leyton House, named after a Japanese real estate company, are best remembered for their Miami blue CG901 that punched well above its weight in 1990 – a car which was designed by Adrian Newey. Even though Capelli hadn't qualified for the previous Grand Prix of that season in Mexico, he pulled off the team's best-ever result in the following round at Paul Ricard, finishing P2 behind home hero Alain Prost.
WATCH: France 1990 - Capelli misses out on underdog win
Asked if that was his and Leyton House's greatest race, Capelli replied: "Yes, absolutely, it was the greatest race of Leyton House team and was also my sliding doors [moment], because with a second place we [managed] to realise the best result of the season. It was a crucial time in 1990, and probably, yes, I must say that it was my sliding doors of my life," he added.
Capelli says that his team's Technical Director Gustav Brunner came up with an ingenious solution to the intense heat at Paul Ricard: As others' tyres would degrade and they would pit, Leyton House would run with a set-up that would allow them to forgo pitting for tyres.
"With Gustav Brunner, who was the Technical Director of the team at the time, we managed to start on Friday to find a solution and a set-up not to change the tyres during the race, and we focused on that since Friday morning.
"We found a very good balance, because we managed to approach Signes corner, for example, lighting up the gas throttle and not going full throttle… to save a lot of the left tyres. It worked very well as in the mid part of the race we were first and second with Maurice [Mauricio Gugelmin, team mate] fighting with Alain and it was a good situation for the team, obviously.
READ MORE: A history of the French GP in 7 circuits
"Then Maurice had a problem with the engine and I saw this car that was parked on the straight line with smoke coming out from the [engine] cover and I was really worried about my engine, obviously. And Prost, then, he could catch me in very, very small time. After a few laps he was just behind me…" he says.
It wasn't a victory for the Italian, but France 1990 did prove to be a key moment for Capelli as he would be recruited by Ferrari in 1992. But that relationship with the Scuderia ended swiftly and somewhat acrimoniously, as he explains in full on the podcast...
Listen to the complete story of the 1990 French GP, his 'nightmare' move to Ferrari that followed, and incredible stories about the likes of Adrian Newey, Ken Tyrrell, Jean Alesi and more in the latest episode of Beyond The Grid with Ivan Capelli on Spotify, Apple Podcasts, or in the player above.